An interesting evening with lectures about links, conversion, company growth and the future of SEO happened on Wednesday (20) of July at The Academy in Dublin. This is not a full recap – you'd have to be there to learn it – but rather the main points I learned and will put in practice here at Poki.
I'm going to Learn Inbound next October and if you like what you read below, you should too!
Content that converts – Actionables
In conversion, sometimes you have the right direction, but not the right format to present and convert as you could. Using as an example his own Backlinko's blog, Brian Dean faced a common issue: good traffic, low conversion – in this case, only 1,38% of visitors signing up for his newsletter.
These solutions helped him to move to a new rate of 3,68% overall his whole website. Below are some adjustments he came up to fix that:
Your About Page might be more important than you think: having a strong case about who a company does, believe and can provide for its readers while offering a chance to benefit from it. In his case, this page achieves a 6,18% conversion rate, way above the average;
Fun CTAs are more than just fun: test your copy in many ways to get readers attention instead of a basic call to actions such as "Sign Up" or "Subscribe". The tone of voice also shows what kind of personality your company has.

Exit pop-ups can save you in the very last moment: in combination with creative CTAs, you can still convert a reader that is about to leave your page
Give an extra "bonus content" to prove yourself: It could a PDF, a printable version, an extended version, a tutorial. If you can't do this for all your content, make it at least for your top performing pages.
For Brian himself, his post "Google's 200 Ranking Factors: The Complete List" improved to a 5,40% CTR (and it's also an evergreen content). Another pro tip here is to always provide 100% exclusive content on the bonus part. Give what they really want!
Picture the resource use: create a mental movie of when and how this content will be used and remember your user about that. Copywriting examples provided by him were "Easily save as a PDF or print for daily use" and "This is great to take to the driving range and practice".
Habits of High Growth Companies – Cultivate them!
Providing a great landscape of the common aspects of high growth companies (the "unicorns"), Joanna Lord pointed out many interesting habits she found across many of them. This is almost a comparison between the old vs new mindset for companies looking seriously for success. Interesting even if you're not a marketer, because of following reasons. I'd try to recognize these patterns in your own working environment.
Marketing used to be the only responsible for growth, not anymore: now several areas of a company (nearly everyone) are involved in the process of growing. While marketing used to be the main responsible for this, currently this is shared with product, engineering and data teams.
We need much more skills than before: marketing was very often lead by creative minds. This is still a core skill but doesn't play alone anymore. On the digital world, is impossible to not have an analytical mind to take the right decisions as well at least understand the technical aspects related to a product.
Below is what Joanna calls a "T-Shaped mind", including many fundamental skills necessary to push a company's growth: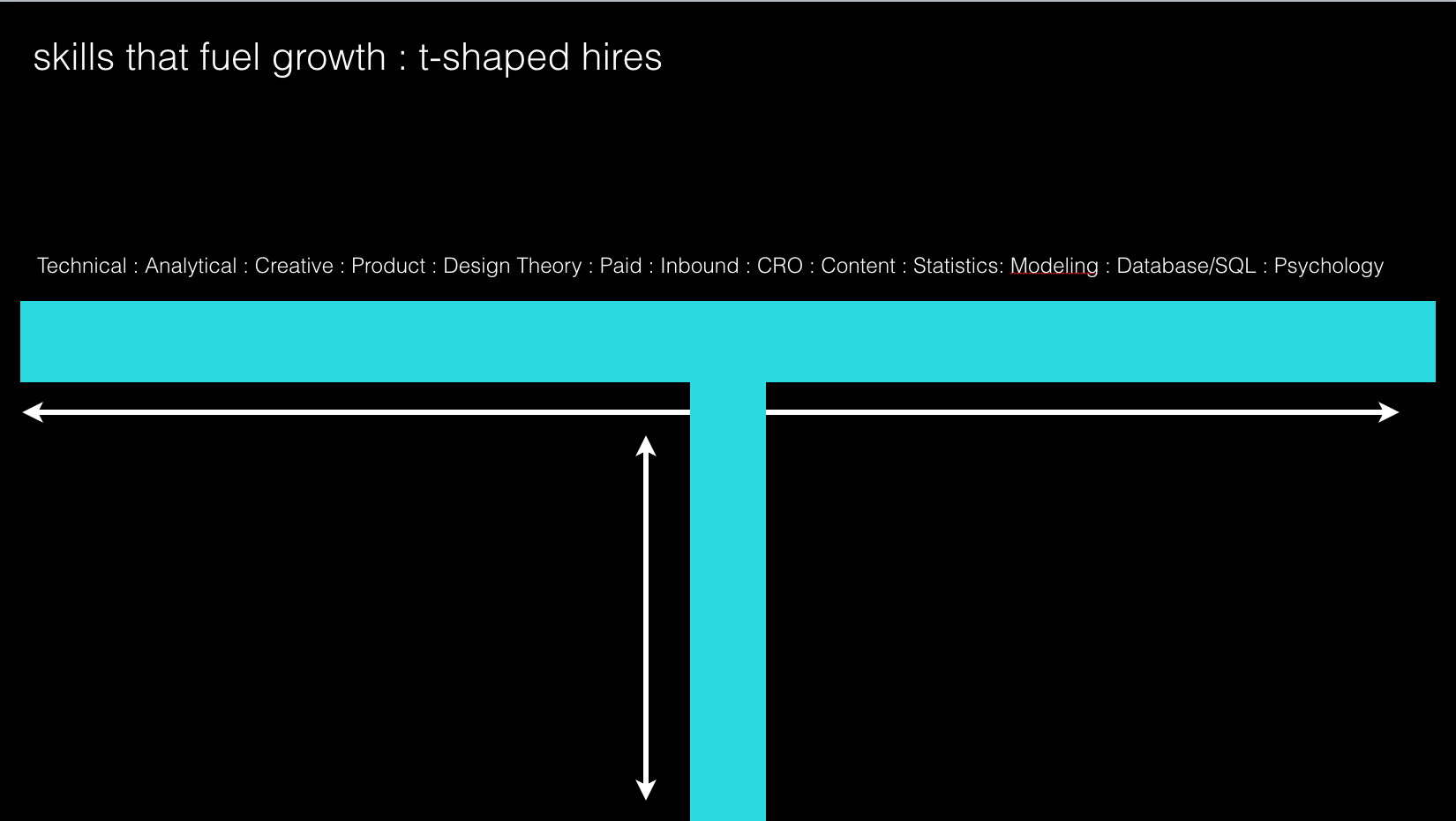 Create a rally point worthy of their time: another crucial factor on the mindset of high growth companies is to have a motto that leads employees in a common goal – the reason they go to work everyday. It might sound silly, but having this clear can save a lot of time and resources. Take a look in some of these below and how they clearly state what the company is there for.
Acquisition doesn't stand alone as a growth channel: here is a mistake I committed myself as a marketer and it's a common one. A study from Price Intelligently analyzed more than 10000 articles about growth and 75% are focusing on acquisition. On the other side, improving by 1% all channels (acquisition, monetization and retention) shows that strategy is the least effective (study based on SaaS companies):
Participate fully in the ecosystem is a chance to stand your beliefs: is your company expanding to products and causes that will bring more brand awareness and show what they care about? AirBnb is a frequent example on marketing conferences and they deserve it.
The company has joined many causes such as organizations helping refugees, supporting the LGBT rights and bringing their own printed magazine are some great ways to bring a positive attitude towards the brand – especially when you're not fully expecting to see a brand there.
Are you ready for SEO judgment day?
One of the main SEO topics of 2016, if not the biggest, Machine Learning was approached in a fun way by Larry Kim. If you're not following this subject yet, it's still time to "join the force" next to John Conner (Yes, the fictional character from "Terminator"). Follow him to survive the judgment day:
Machine Learning (ML) is out there already: Google is using on Image Search, Speech Recognition, dynamic translation, YouTube and AdWords (entirely based on ML for ad targeting). Facebook uses on the newsfeed and ad targeting, as well Twitter. ML is the present and the future.
On a minor scale, ML is already affecting search: RankBrain, stated by Google as the "third most important ranking factor" is affecting long tail queries since the second semester of 2015. Here is "Larry's Greatly Simplified RankBrain Diagram":
Use Larry's Mobile Donkey/Unicorn Detector: identify which pages are unlikely to survive SEO judgment day (also known as donkeys). Find on Search Analytics which pages have low CTR and high bounce rates and improve them. Define what is a good CTR based on your own data, in your niche.
Then, pull the trigger of your Donkey to Unicorn Converter: Donkeys generally are the 10% worst performers of a website. Try really different titles (+10), test them on AdWords always bidding on the same position (It's ok to run these tests in cheaper markets). Use emotional triggers and a "viral" template to find the unicorn and finally substitute on your page title. "The Same Emotions That Make People to Share Things Cause High CTR", reminds Larry.
Finish with a secret weapon, the Engagement Rate Detector: a unicorn should in average convert 5x better than a donkey. The status comparison is also measurable by dwell time, which can be increased by how a content is presented. One way to do this is with improvements such as spacing, better images, font type, button colors. Going in the same direction as Brian Dean mentioned early in the day, another way to improve engagement is to completely change the offer: