2016 was a busy year for Learn Inbound. We held four events, attended several international conferences, kicked off a website redesign project, and added new members to the team. In reminding myself what had happened in 2016, I realised we hit a couple of milestones throughout the year which I didn't process properly at the time. So with that in mind, I thought this would be the perfect time to hit "pause", reflect on our successes and failures, and to let you know what our goals for 2017 will be.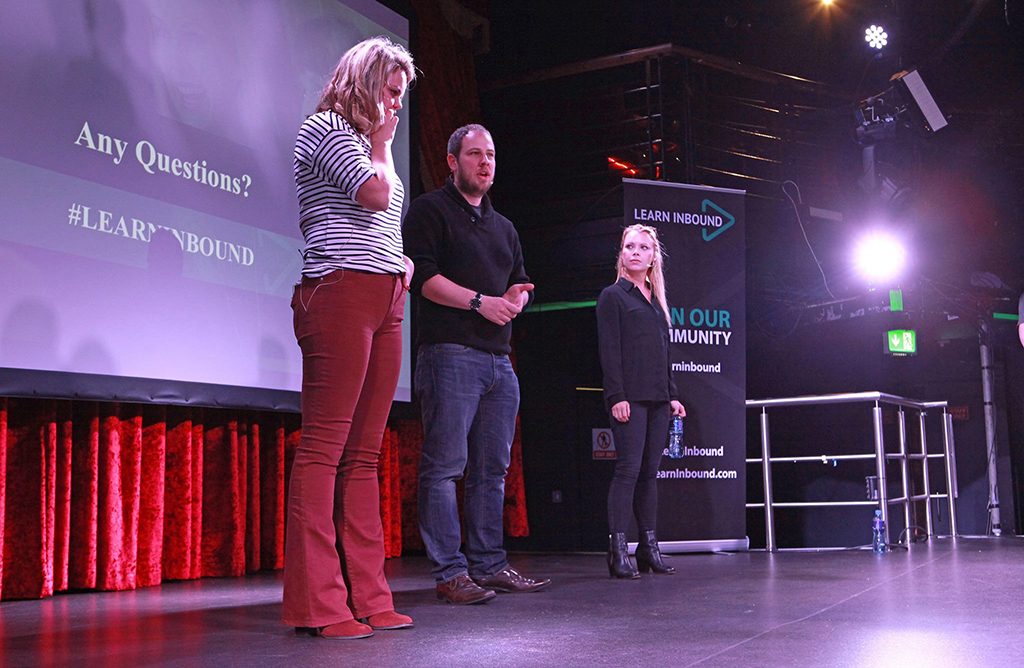 (Kirsty Hulse, Paddy Moogan and Lexi Mills)
January, a quiet month for marketing conferences (dreaded credit card bills), saw the first Learn Inbound event of the year take place in The Academy. We were delighted to welcome Kirsty Hulse (Manyminds), Paddy Moogan (Aira) and Lexi Mills (Manyminds) to Dublin for an evening of SEO, PR and Content Marketing talks. Along with this, SEMrush provided us with loveable cuddly toy foxes to give away to the attendees on the night, which seemed to gain as many social shares as the talks themselves! And aside from the three amazing talks and swag, we brought in a professional AV company for the first time to oversee the technical setup of the event. We also invested money into a professional Wi-Fi setup at the venue to avoid similar technical issues to those experienced throughout our 2015 series of events.
February kicked off with Paul speaking about link-building at the Swipe Summit, where 500+ marketers and 30+ speakers descended on the RDS in Dublin to learn, network and share digital marketing knowledge. As February and March progressed, we finalised preparations for our April event by locking down travel arrangements, speaking topics and the schedule for the day. And alongside event preparations, we started to have some initial conversations around a new website build to accommodate the growing number of videos we're recording at each event.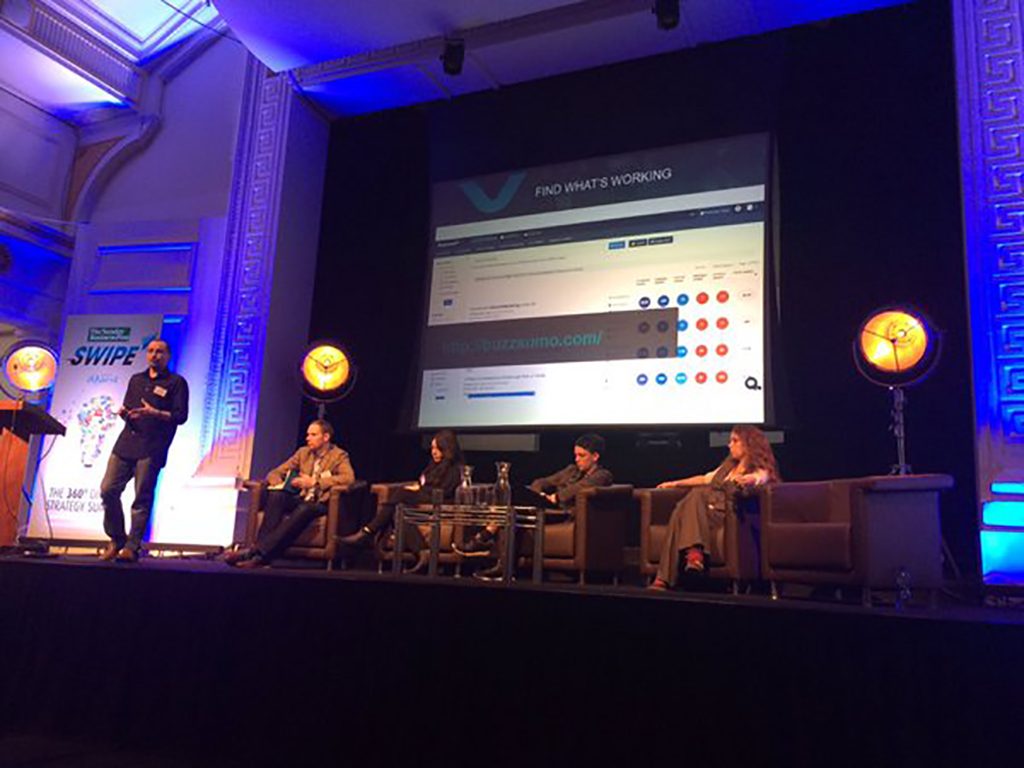 (Paul speaking at Swipe Summit in Dublin)
As the slightly warmer (and less damp) weather returned to Dublin, we finalised last-minute tasks for our April event where Marcus Tandler (OnPage.org), Oli Gardner (Unbounce) and Bridget Randolph (Distilled) joined us for one of our best-received events of the year. For the first time, we brought in a catering company to oversee the food for attendees throughout the event. And as someone who dreaded going to Tesco before each event to stock on up food, it was a welcome change to have professionals look after this aspect of the event *phew*
With our second event of the year successfully completed, I flew to Spain to attend 'The Inbounder' conference in Valencia; an amazing city on Spain's southeastern coast. As a fellow inbound marketing conference and one in a much warmer climate than Ireland's, I couldn't resist the chance to take an extended break to attend it. Throughout the two days of the conference, a list of inbound marketing experts took to the stage to share tips and tactics on their areas of expertise. Aside from the talks, I had the pleasure of meeting really talented people like Brian Corcoran (Turing Festival), Kate and Olga (SEMrush), Aleyda Solis (Orainti) and many of the past speakers we had at Learn Inbound. But more importantly, I had the opportunity to briefly meet Gus, who would later become a member of our team. More on that later.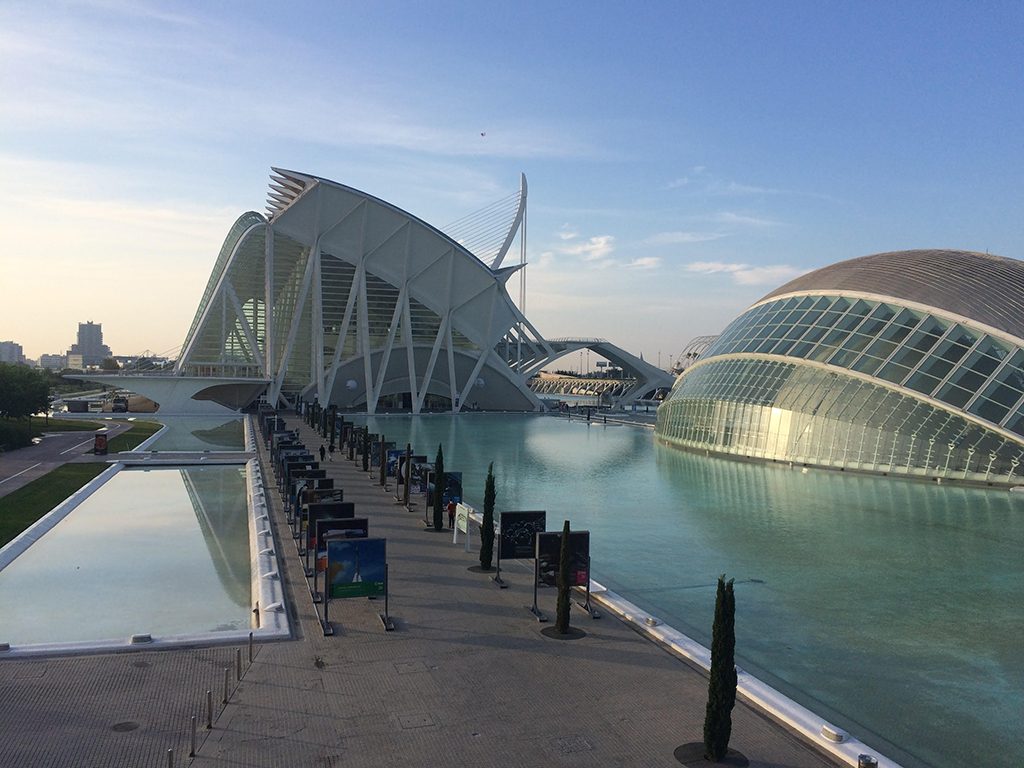 (The Inbounder conference in Valencia, Spain)
June was a relatively quiet month for the team as we knuckled down on preparations for our July event, and put tickets on sale for our first full-day conference due to take place in October. As a reward for the people who supported our events to-date, we created a special 'Combo Ticket' that allowed entry to both the July and October events for just €99. Quite a few people snapped it up in the first two weeks on sale.
As Dublin experienced its warmest month of the year, we hosted our third event of 2016 on Wednesday 20th July. While it may have been a difficult month to encourage people to spend their evening indoors at a marketing event with the sweltering weather, we were delighted to be joined by 300 marketers eager to learn. Larry Kim (WordStream), Joanna Lord (ClassPass) and Brian Dean (Backlinko) flew to Dublin to deliver three talks on SEO, Growth Strategy, and Content Marketing. And I also had the chance to catch up with Brian of Turing Festival and Gus who I had met in Valencia back in May. It's pretty rare that we find the time to catch up properly with people at each event, so it was great to spend some time with people like this after the event.
August wasn't a quiet month either. We travelled over to Edinburgh to attend Scotland's best digital marketing conference – Turing Festival in Edinburgh. After chatting to Brian Corcoran (Founder of Turing Festival) in Valencia, I didn't hesitate to accept his invite to fly over for the second day of the conference. The speakers on the day were top-notch, the venue was stunning, and the food and coffee available throughout the day were delicious. It was a great opportunity for us to kick-back and enjoy a really great conference without having to be involved in the running of it. I should definitely do this more often 🙂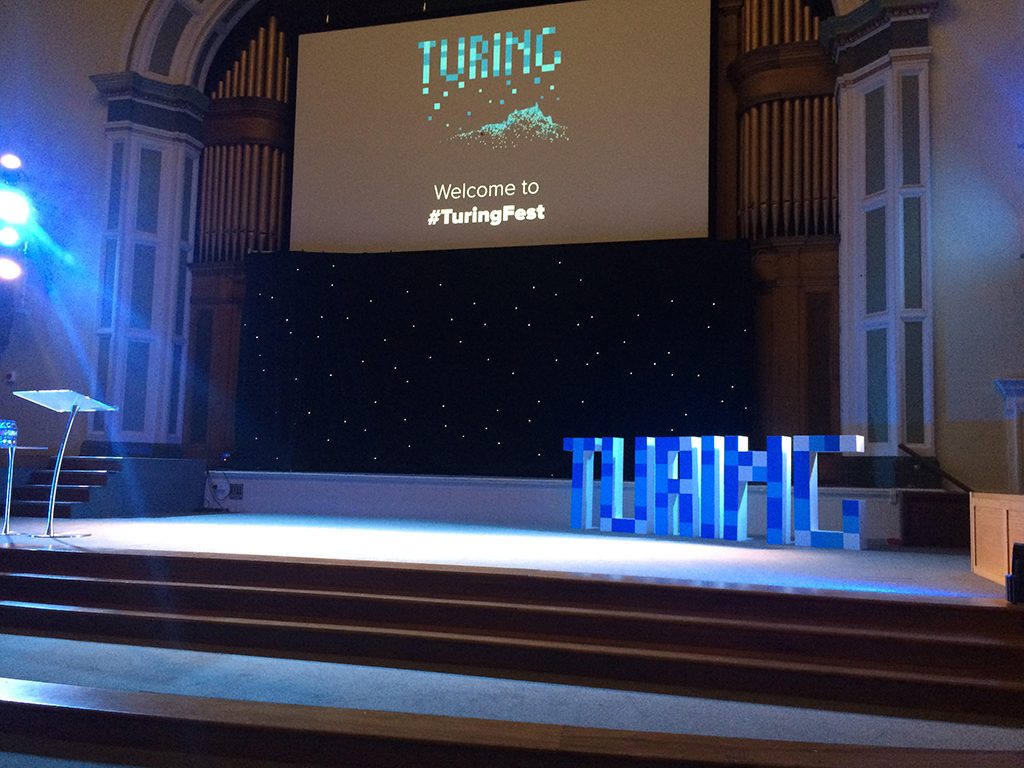 (Turing Festival conference in Edinburgh, Scotland)
Autumn also brought about our busiest period of the year. After 7 evening events, we started to focus on final preparations for our first full-day conference in Dublin. Unlike past events, we lined up 10, instead of 3, international speakers to join us for a day of actionable talks. It was also during the October event preparation phase that Gus made the move from Amsterdam to Dublin to start a new life here. Having an extra pair of hands to help with the marketing, venue setup and management of sponsors and speakers was a great asset to us as a team.
But with all of the positive momentum we built up over the year, we kept running into problems with the venue we originally booked for the conference. If you had been following along to our events, you will have known that The Olympia Theatre in Dublin was the original choice of venue for our October event. However, due to issues with serving food and drink in the venue (and multiple AV issues), we made the difficult decision to return to The Academy as our choice of venue in order to prevent any compromises in the overall event experience. It was a bitter pill to swallow at the time, but ultimately it was the best choice as The Olympia may have caused a lot of problems on the day.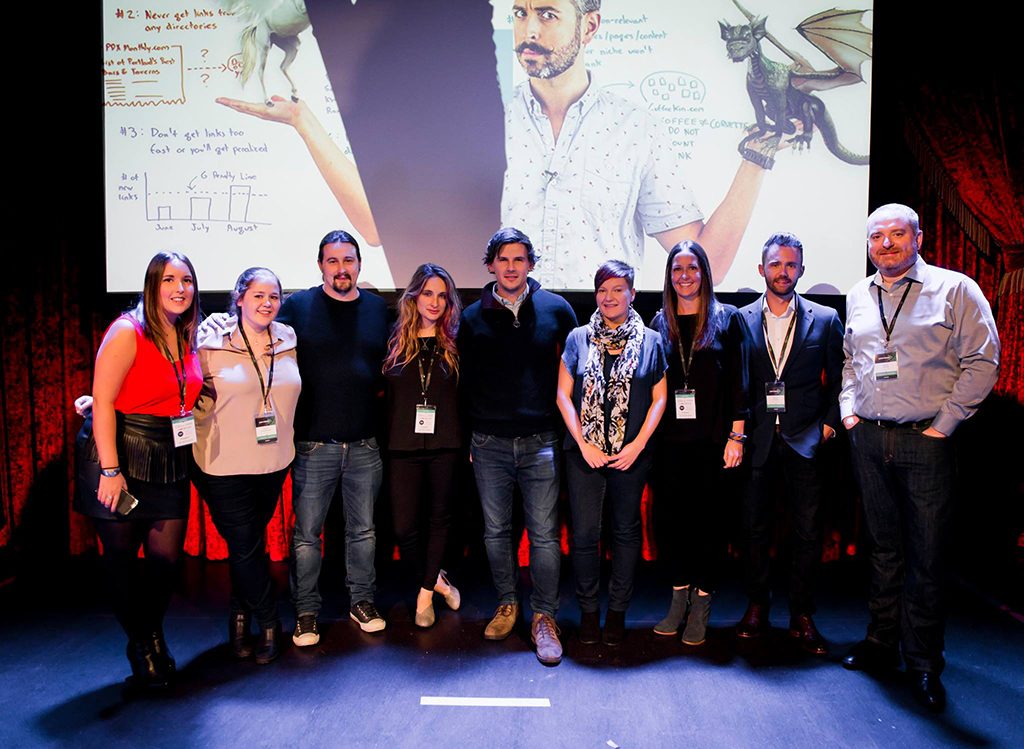 (Learn Inbound – October 2016 Speakers)
So, what's next?
When I look back at the initial conversations we had about hosting events, the intention was never to become the "Biggest Digital Marketing Conference in Ireland". A few events are fighting at the moment to label themselves as such, but to us, the quality or measurement of success of an event will never be determined by the number of people in attendance.
I want us as a company to focus on the key areas which make an event amazing for the people in attendance. That's why we've been reluctant to allow sponsors to have a speaking slot at our events, and we will only work with companies who we feel have similar beliefs to our own. Ultimately, it holds back our growth rate as we turn down sponsorship deals which could bring in much-needed capital, but we never started Learn Inbound to simply make money. It was born out of a passion for digital marketing, and a lack of high-quality events in Ireland worth attending. And that's what we're going to continue to focus our efforts on next year.
Our key focuses for 2017…
Maintaining a 50/50 split at each of our events. At the moment, we're achieving close to 50/50 attendee profile and speaker line-ups.
Dialling back to three events (2 evening & 1 full-day) for the year. This will allow additional time to focus on the quality of each one. Hosting an event every 12 weeks over the past two years was a little chaotic for us.
Launch a new Learn Inbound website to provide a home to the repository of video content we've been compiling since our first event in January 2015.
Work on a new side of the business that will complement the events and our overall aims with Learn Inbound. More information about this will be available soon.
Strengthening our relationships with both attendees and speakers. We love y'all, and more time will be set aside to thank the people who have helped to make Learn Inbound possible.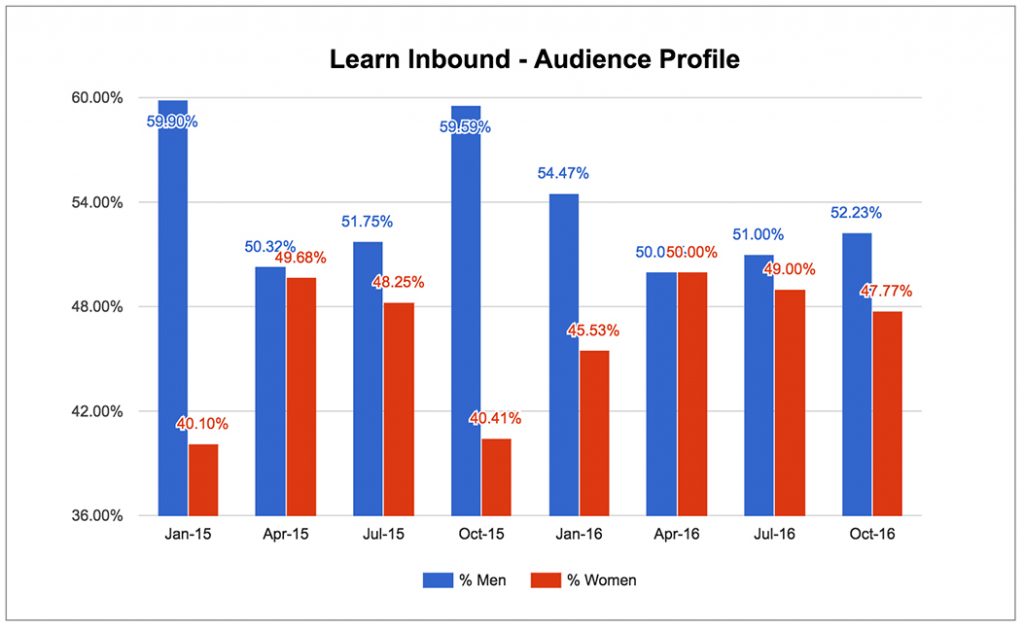 (Learn Inbound – Audience Profile)
And finally…
A big 'Thank You!' to all of the attendees, speakers, and sponsors who supported our events this year. Without your incredible support, Learn Inbound simply wouldn't be possible. Please keep sending us your feedback about our events. And let us know if there are any particular speakers you'd love to see at an upcoming event which we haven't already featured at Learn Inbound.
I hope everyone has an amazing 2017 and that you can make it along to our next event on Wednesday 25th January where we will be joined by three amazing speakers: Stephen Kenwright (Branded3), Dana DiTomaso (Kick Point) and Samantha Noble (Koozai). You can expect three great talks on the night that cover SEO, PPC and Content Marketing. Hope to see you there! 🙂