As we return to work with a pre-prepared list of goals for 2018, I thought I'd take another crack at writing a roundup post of all that we've achieved over the past 12 months. In 2017 we hit a number of key milestones, transitioned into an inbound marketing training company and added new people to the team. We also rebuilt the Learn Inbound website from the ground up, doubled down on what we believe makes an event great, introduced a new monthly marketing meetup, and attended multiple international events. A lot of the work we completed last year helped to set the foundation for where we will be taking Learn Inbound going forward.
On a personal level, I continued to learn a lot about what it takes to organise a digital marketing conference and identified a number of areas that we need to improve. The past three years have been a steep learning curve on a number of levels, but I'll always be thankful for the enormous support we've received from the marketing community, amazing companies who have sponsored us, and the international speakers we have welcomed to Ireland. In 2018, we will be hosting fewer events, but placing greater emphasis on all of the smaller details which we believe will separate us from a lot of the other digital marketing conferences here in Ireland. We've always focused on being an event for marketers by marketers, and in 2018 we will continue to strive to become the best digital marketing event in Ireland.
For now, let's run through everything we've been working on over the past year.
January: We kicked off the year by running our third successive January event in Dublin. We were delighted to welcome Samantha Noble (Biddable Moments), Stephen Kenwright (Branded3) and Dana DiTomaso (Kick Point) to The Academy for an evening of Content Marketing, SEO and PPC talks. Aside from the three great talks, we introduced our newest event MC – Barry Adams of Polemic Digital. He is the only person to have attended every Learn Inbound event since our inception back in January 2015. Having gotten to know Barry well over the past couple of years and been impressed by both his knowledge on stage and through his blog posts, we couldn't have found a better person to take over as MC at our events.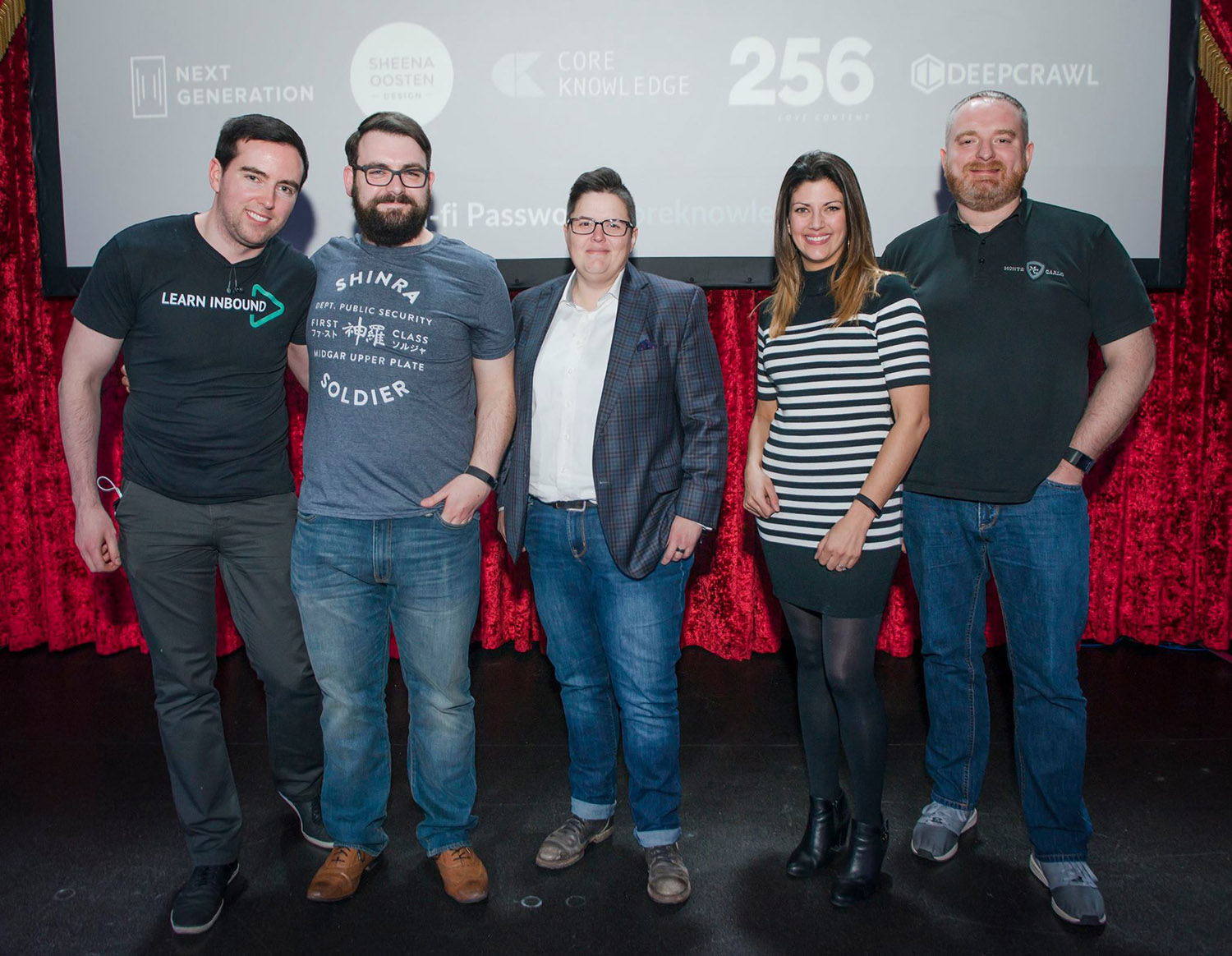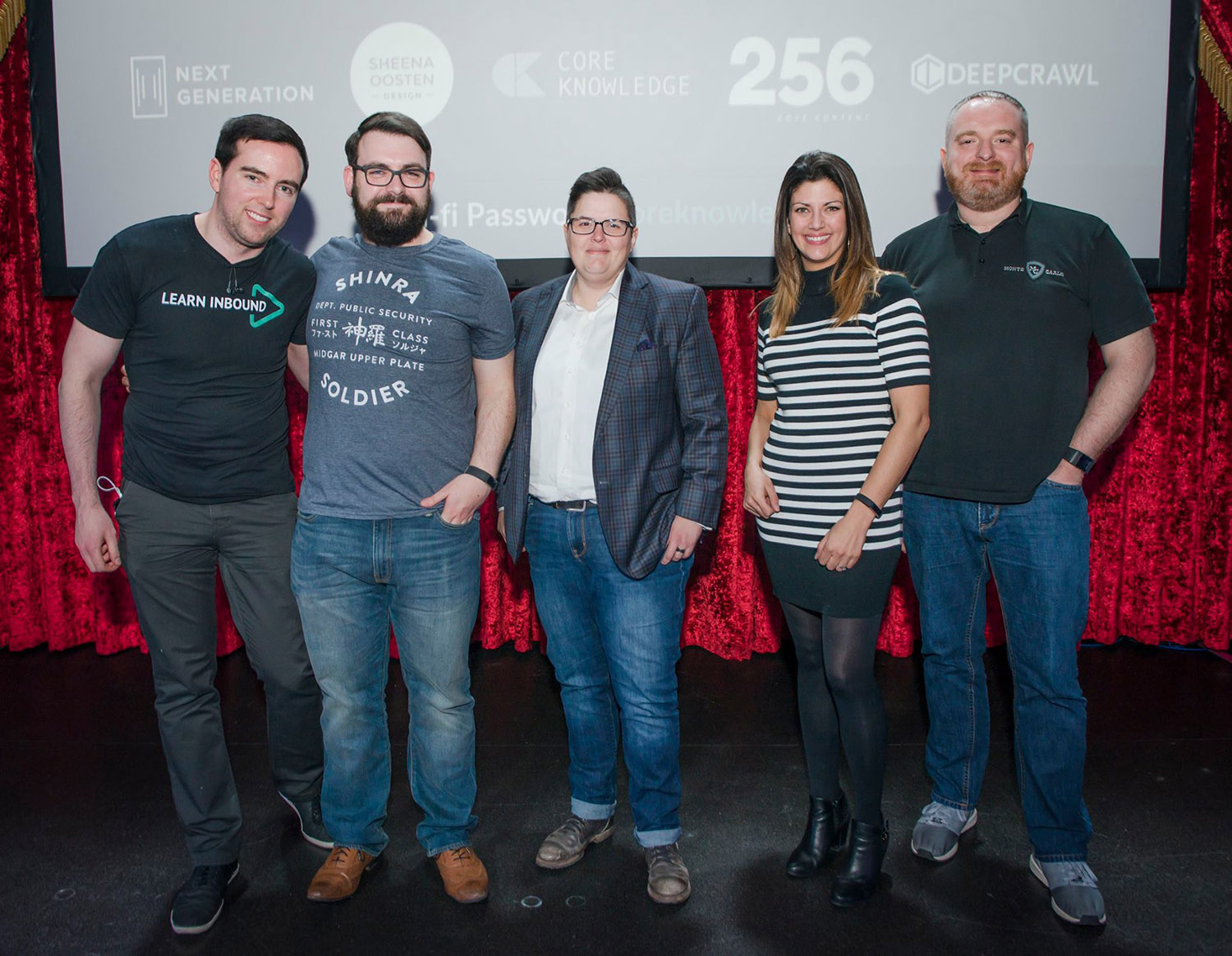 (L-R) Mark Scully, Stephen Kenwright, Dana DiTomaso, Samantha Noble and Barry Adams
Never ones to stand still, we also greatly stepped up the quality of our event videos by bringing in a new team to record the talks on the night. While we've always been fairly happy with the footage from past events, we had a few inexcusable mishaps with our past team who lost over 30% of the footage from our October 2016 event (Ouch!). The new video team brought about a much quicker delivery date for the video pack (7-10 days post event), better equipment (4K cameras and lighting rigs) and an existing relationship with our AV team which led to a closer collaboration on the night. The best advice I can give to any event organiser about video is to ensure you know exactly what you are looking for and be responsible for maintaining the relationship between lighting, sound, AV and video technicians – don't pass the blame onto others if the end result isn't what you had intended.
Once our January event was out of the way, we were left with a six-month gap until our next event in July. It was decided towards the end of 2016 that we needed a longer break between events in order to improve the quality of our events and to work on other projects to transition Learn Inbound into a digital marketing training company. Some of the projects planned during our period of downtime included a complete website rebuild, introduction of classroom based courses, and improvements to how we manage the safety of our community.
April: After missing out on BrightonSEO for the past two years due to us hosting events in the same month, I was excited to fly over to Brighton with Gus for Europe's best Search Marketing event. It's a bi-annual event which brings together search marketers from all across Europe (and even further afield) to learn and network with each other. There's no other event like it in terms of scale, emphasis on supporting upcoming speakers, and the welcoming atmosphere you feel before, during and after the event. Like many organisers, I look towards the work Kelvin does at BrightonSEO with admiration – he has created a world-class event and remained humble since its inception as a small meetup in a room above a pub. If you're a search marketer you need to be there – no excuses accepted.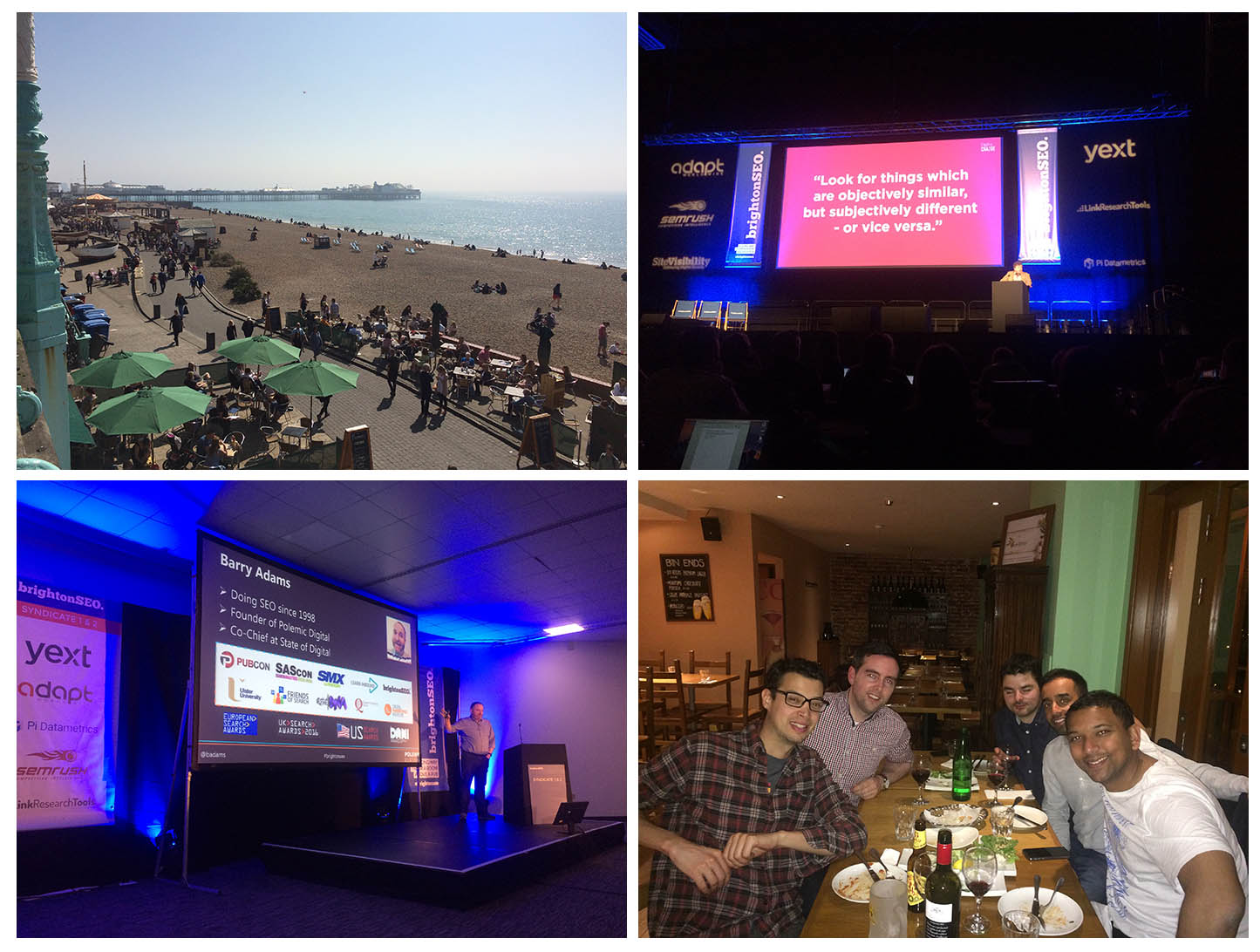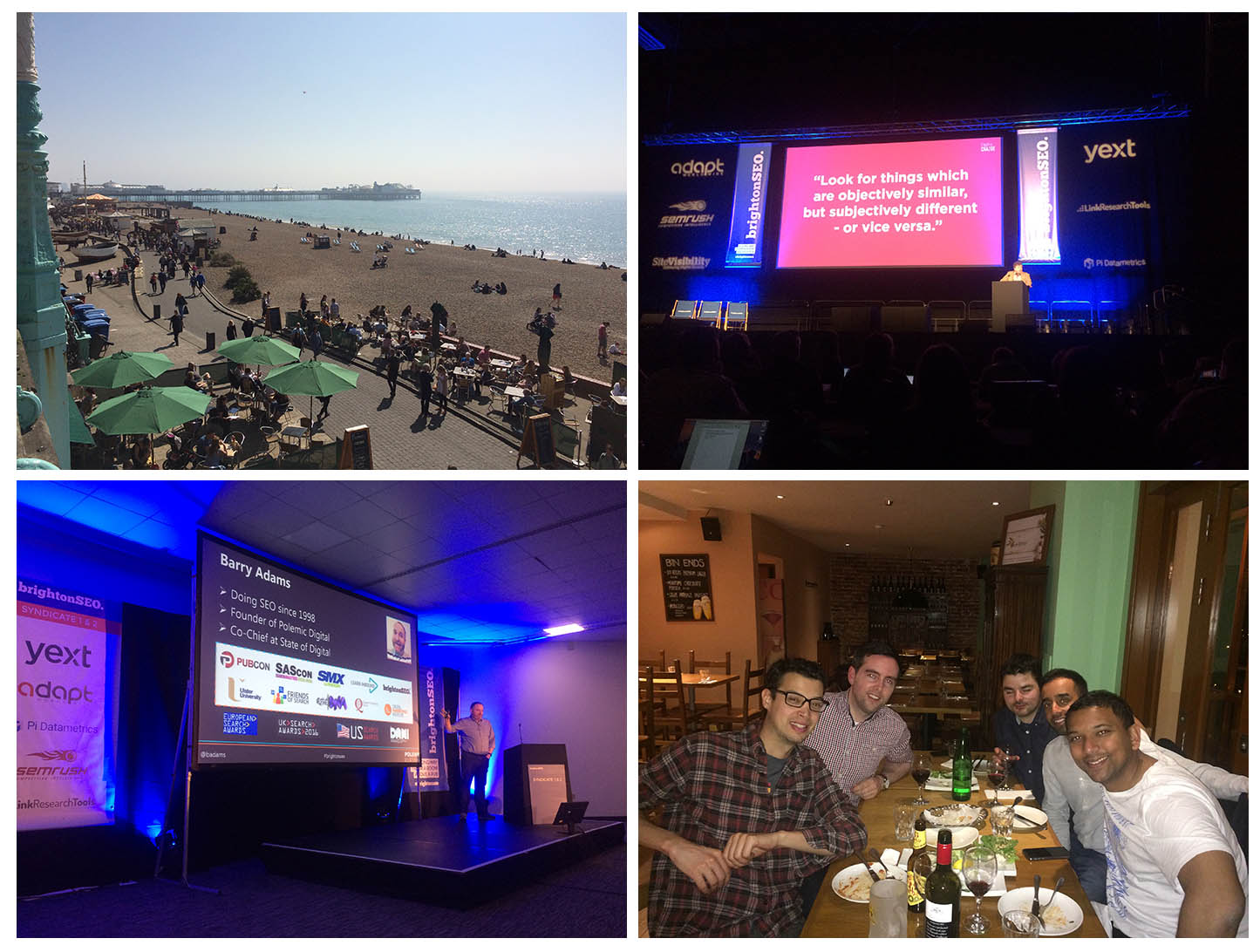 May: Following our trip to Brighton, we were excited to move into our co-working space at The Brickhouse, Iconic Offices on Lower Mount Street. For some time, we had been arranging team meetings in whatever coffee shop had free space (usually Costa!) which was far from ideal, plus we had plans to kick off training courses later in the year that required a dedicated training room.
After chatting with the team at Iconic Offices, we realised the office space at The Brickhouse had the 'cool' factor we were looking for, was in an easily accessible location and matched the brand values of our company. If you're searching for co-working space then you should reach out to their team to find out more about the multiple buildings they operate across Dublin – you won't regret it.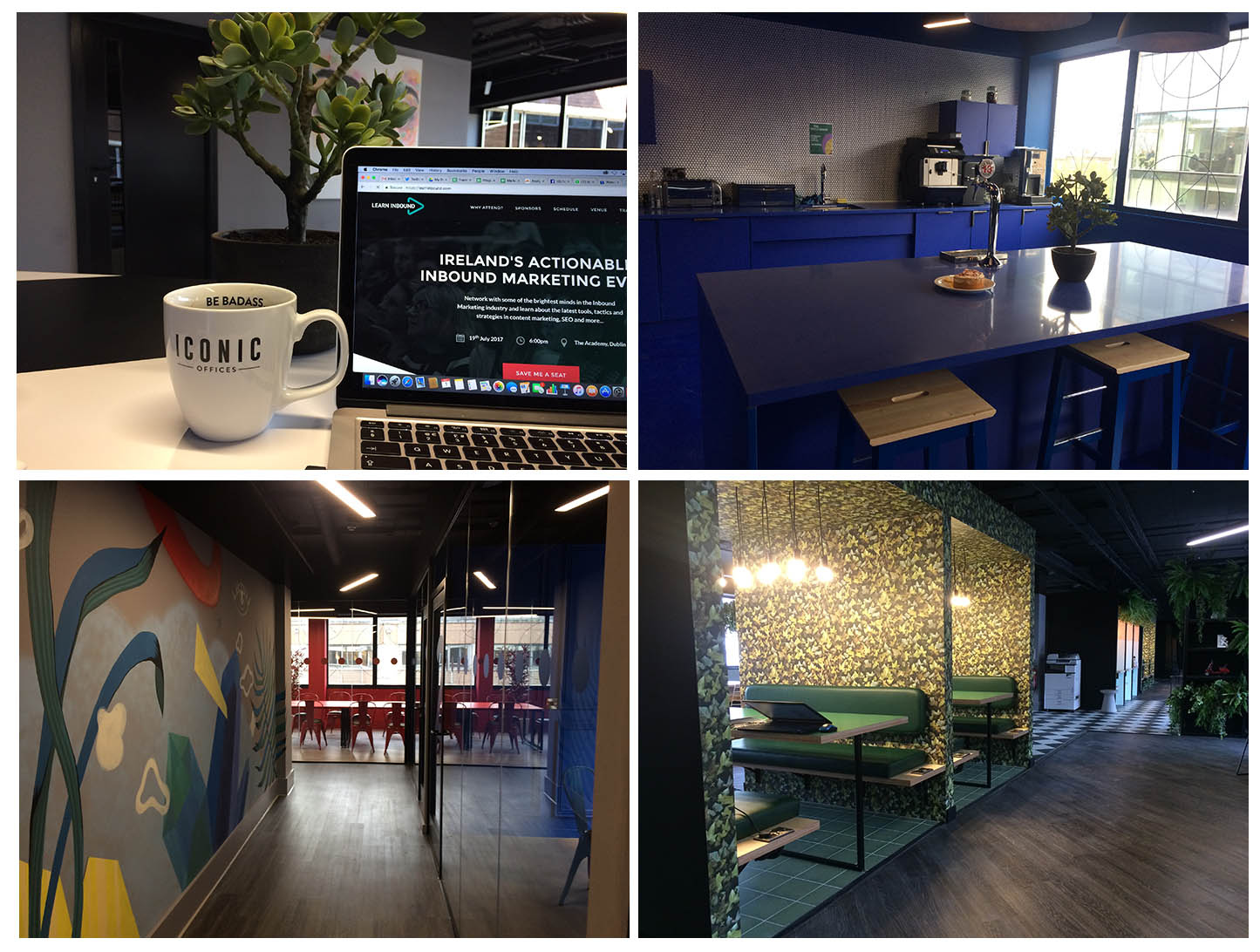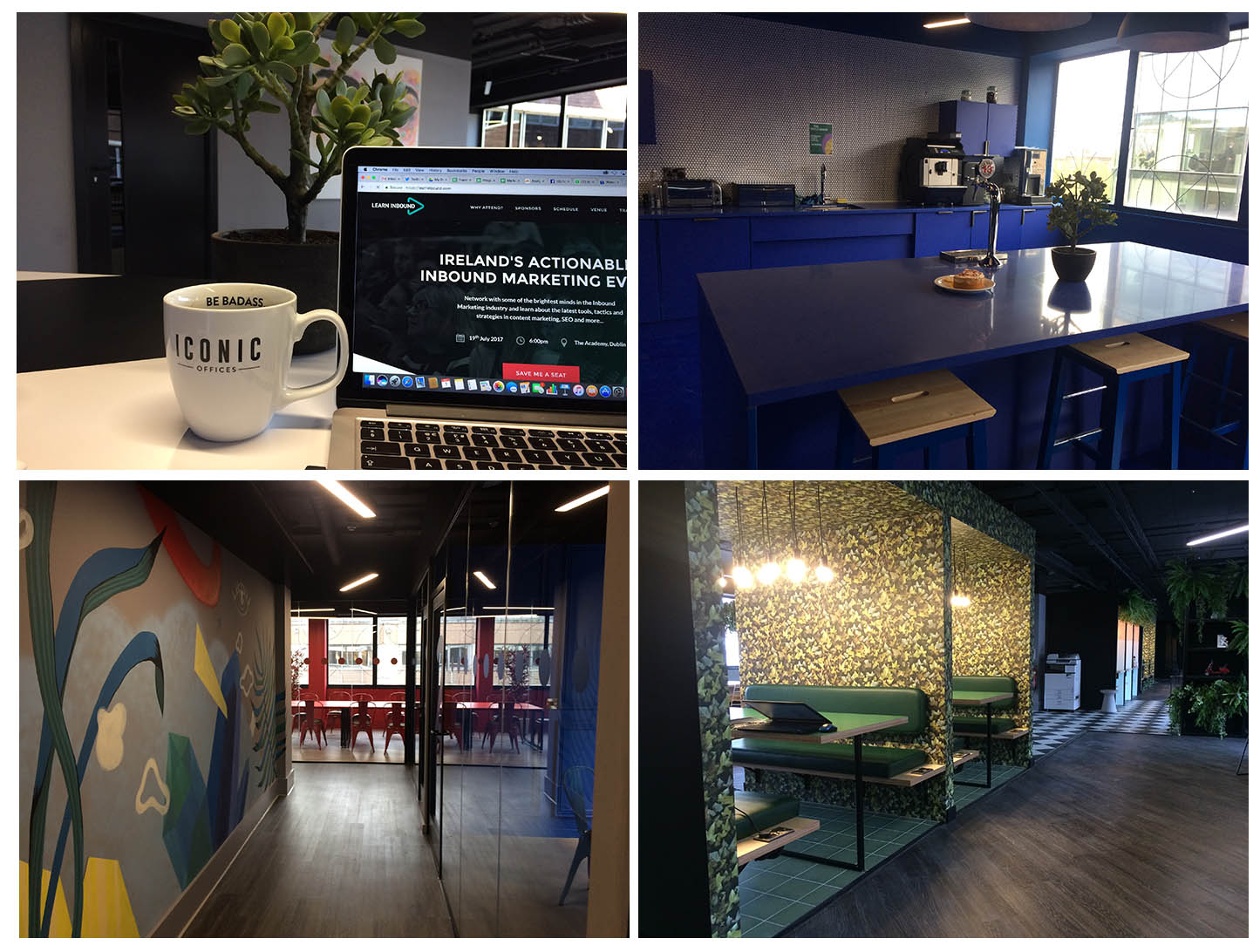 Aside from moving into our new home, Marijana attended the full-day BloggerConf event in the Mansion House. It's an annual event organised by Emma O' Farrell which brings together bloggers, digital creatives and influencers to learn more about social media, PR, advertising and content marketing. One of the highlights of the day was Simeon Quarrie's Masterclass on how to produce better content which Marijana covered in her brilliant roundup blog post. Check it out now.
July: As summer finally arrived in Dublin, we knuckled down by putting the final touches to our July event, new website and preparations for our full-day conference in November. It was, without doubt, one of the trickiest months I've had in the history of Learn Inbound as I was balancing full-time consultancy work with the launch of our digital marketing courses, migration to a new website and preparations for two digital marketing events. Looking back now I realise that was too ambitious as I was keen to use our tenth event as the launchpad for where Learn Inbound will go over the coming years. Our new website was scheduled to go live just as the event started (7:00 pm), but we ran into a few technical problems which meant it missed the deadline by an hour.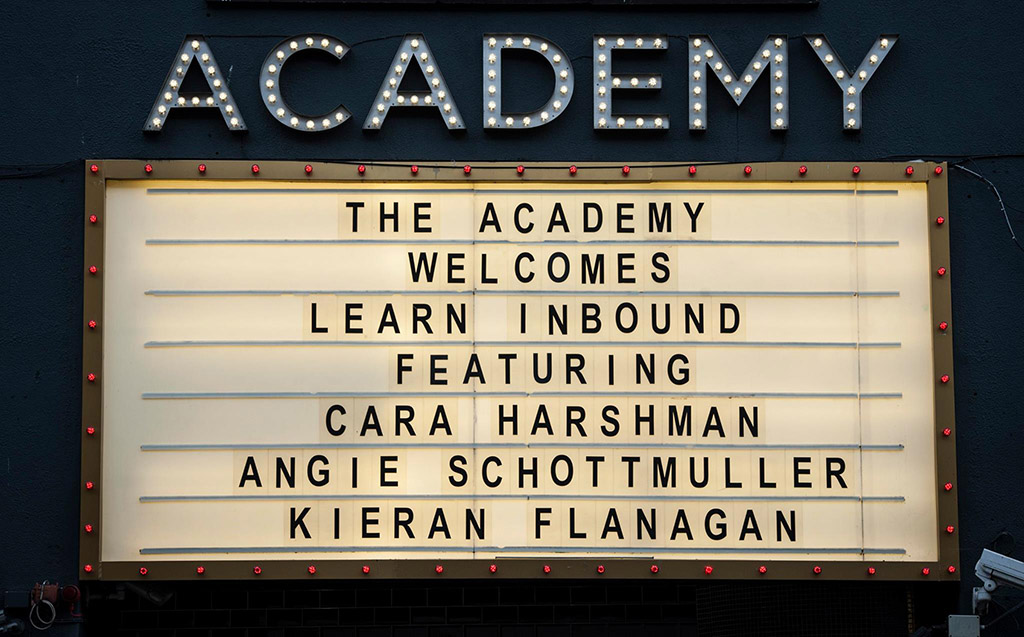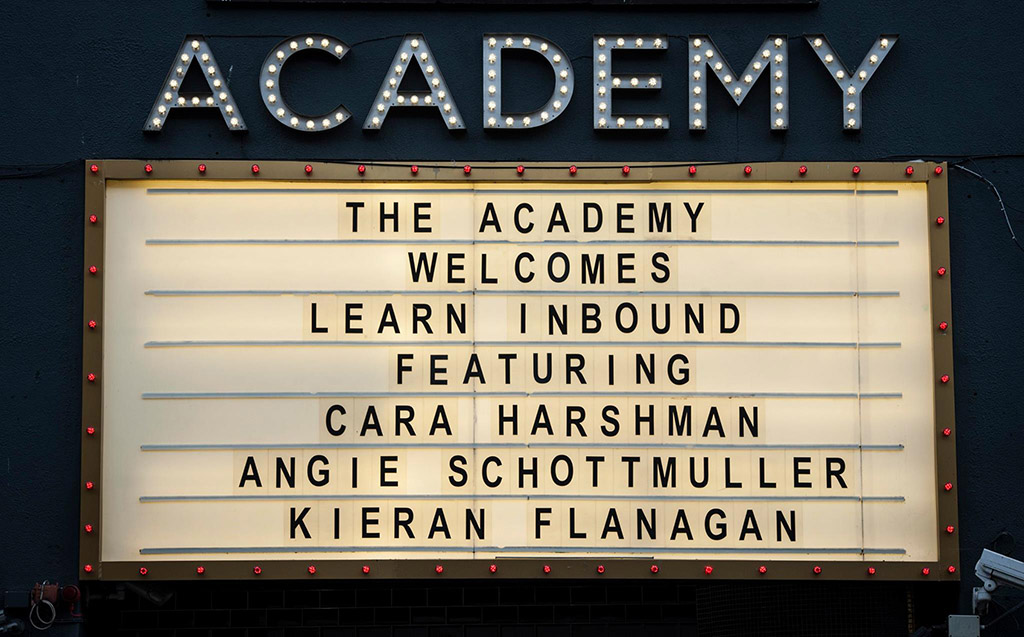 For our tenth event, we were excited to be joined by Kieran Flanagan (HubSpot), Cara Harshman and Angie Schottmuller (Artisan Interactive) who delivered three talks on website personalisation, finding your product-channel fit and the importance of collaboration between IT & marketing teams. As per past events, you can check out all of the videos from the event for free here.
August: Following my first trip to Edinburgh in 2016 for Turing Fest, I was excited to make the trip back again with Marijana this time as it's one of the must-attend conferences for any digital marketer in the UK. Brian Corcoran consistently brings together some of the best marketing speakers for a day packed to the brim with actionable insights and entertaining talks in an environment that's both laid-back and friendly for those attending by themselves. It was a great opportunity for us to just sit back and take in some of the information from the sessions without the stress of managing an event ourselves. Aside from the talks, we had the opportunity to catch up with some of the speakers who had previously presented at Learn Inbound, as well as other marketers that we had met at similar industry events.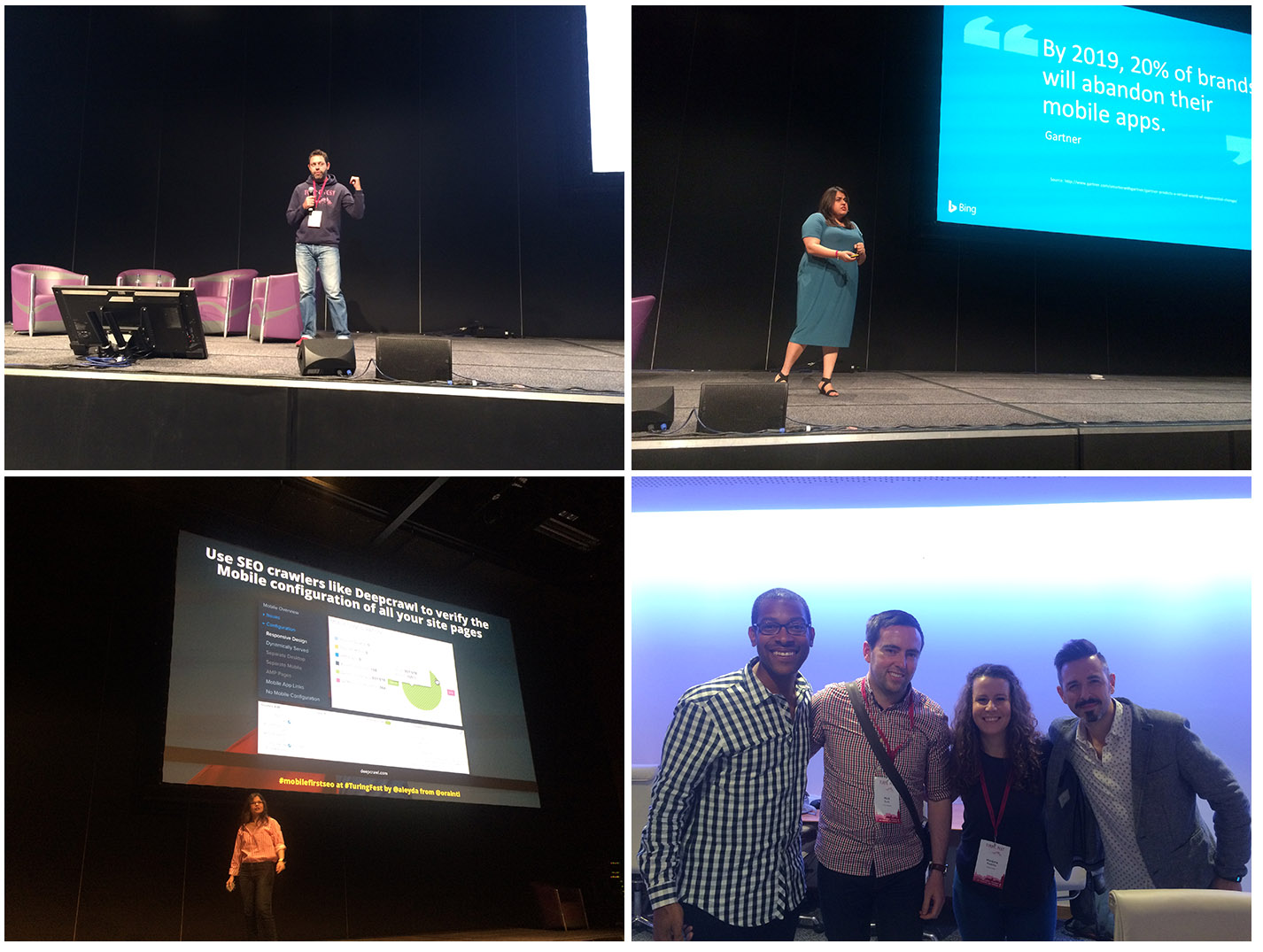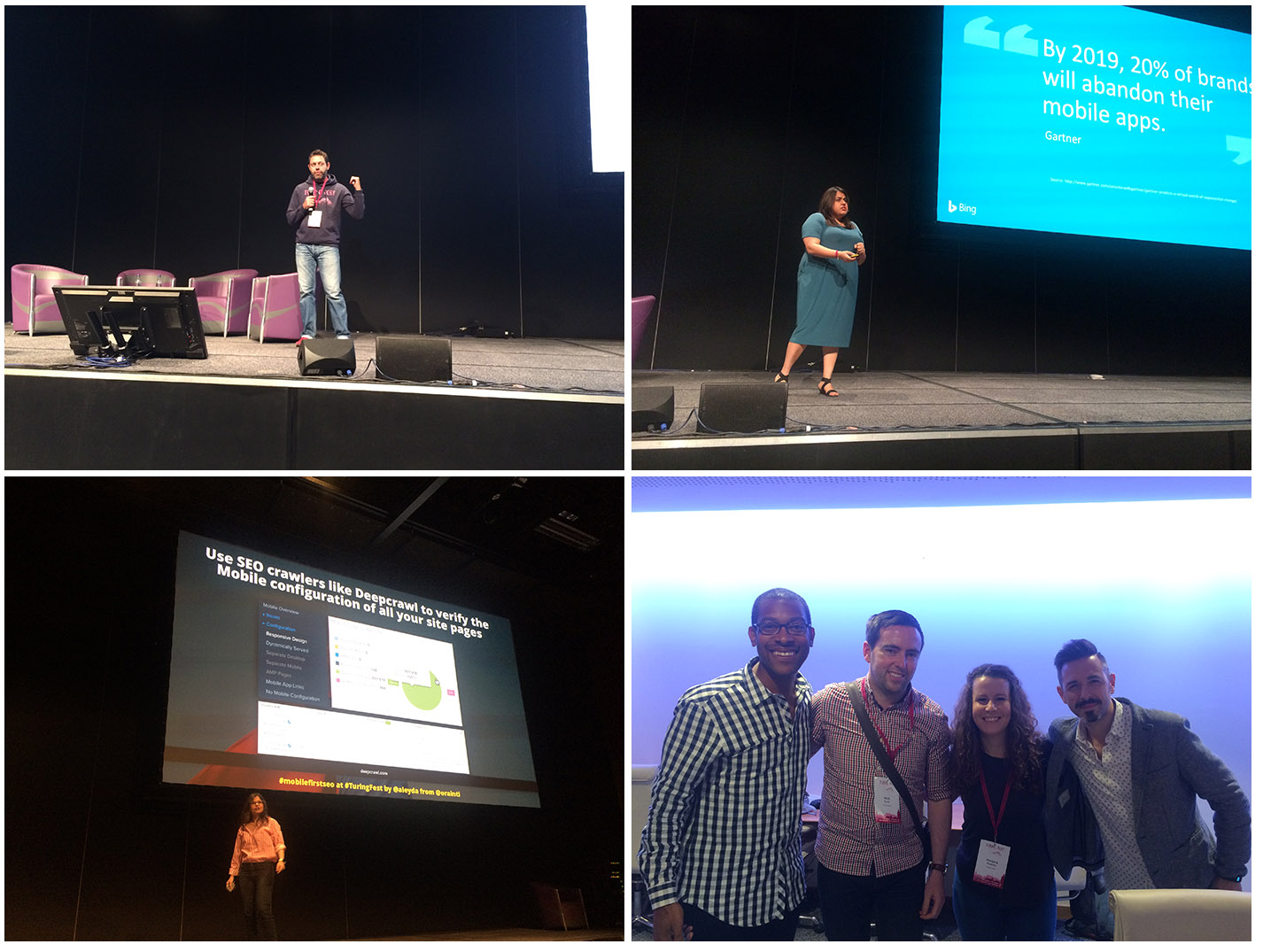 Upon returning to Dublin, we finished off the preparations for our first digital marketing course – Technical SEO with Barry Adams of Polemic Digital.
Not that he needs an introduction, but Barry has for years been one of the leading experts on Technical SEO having spoken at industry events such as PubCon, BrightonSEO, SearchLeeds and Ungagged. As someone who has built his own SEO agency and won Best Small SEO Agency at the UK Search Awards, we couldn't think of anyone better than him to host a Technical SEO course for us. We were delighted to have 15 people in attendance at the course in our new training space – The Brickhouse, Iconic Offices. The feedback from course attendees was overwhelmingly positive and led us to arrange a second course date for October.
Feedback from my 1st Technical SEO Course with @LearnInbound: attendees gave the course an average score of 9.5 out of 10. #chuffed

— Barry Adams 📈 (@badams) August 31, 2017
September: Following the success of Barry's course, we were excited to host our first Advanced PPC course with Samantha Noble of Biddable Moments. Similar to Barry, Samantha doesn't need an introduction as she's already a renowned PPC expert having worked with major brands and spoken at events such as SearchLove, BrightonSEO, TuringFest and UnGagged. Back in January, Samantha had spoken at our first event and impressed our audience who rated it as one of the best talks of our 2017 events. She was the perfect choice to educate our audience further on advanced tactics and strategies for Google Adwords when we identified a need for an Advanced PPC course Dublin.
@SamJaneNoble Thanks for really great session Advanced #PPC Workshop at #LearnInbound @LearnInbound loved #GoogleStudio ✅ #DigitalMarketing pic.twitter.com/Vw9xF0obzd

— Rhona OConnor (@rhona_o) September 29, 2017
September also meant the return of BrightonSEO. Unfortunately, I had to skip this one due to November event preparations, but Marijana and Gus made the trip to Brighton for the second and last event of the year (they loved it!).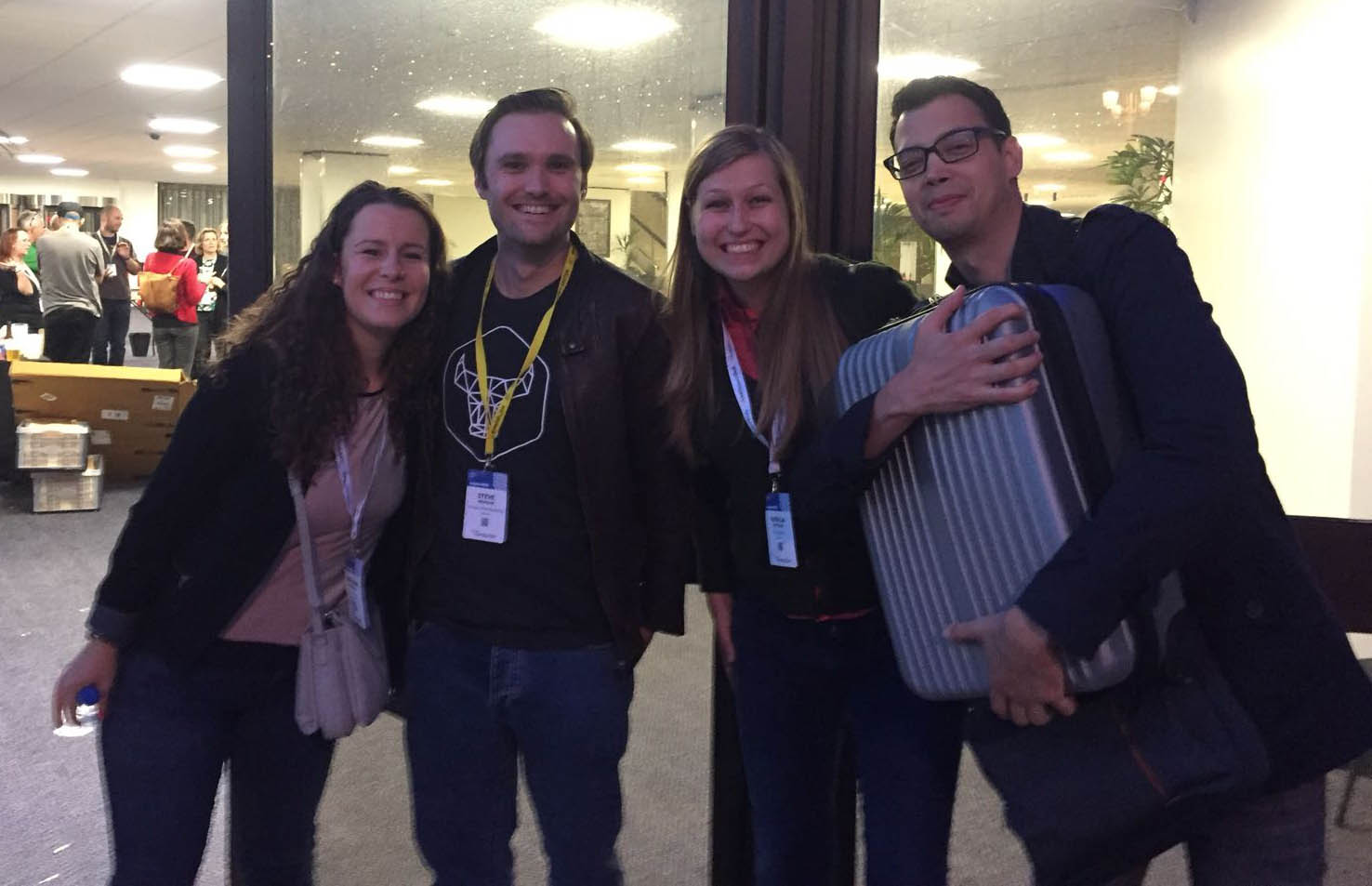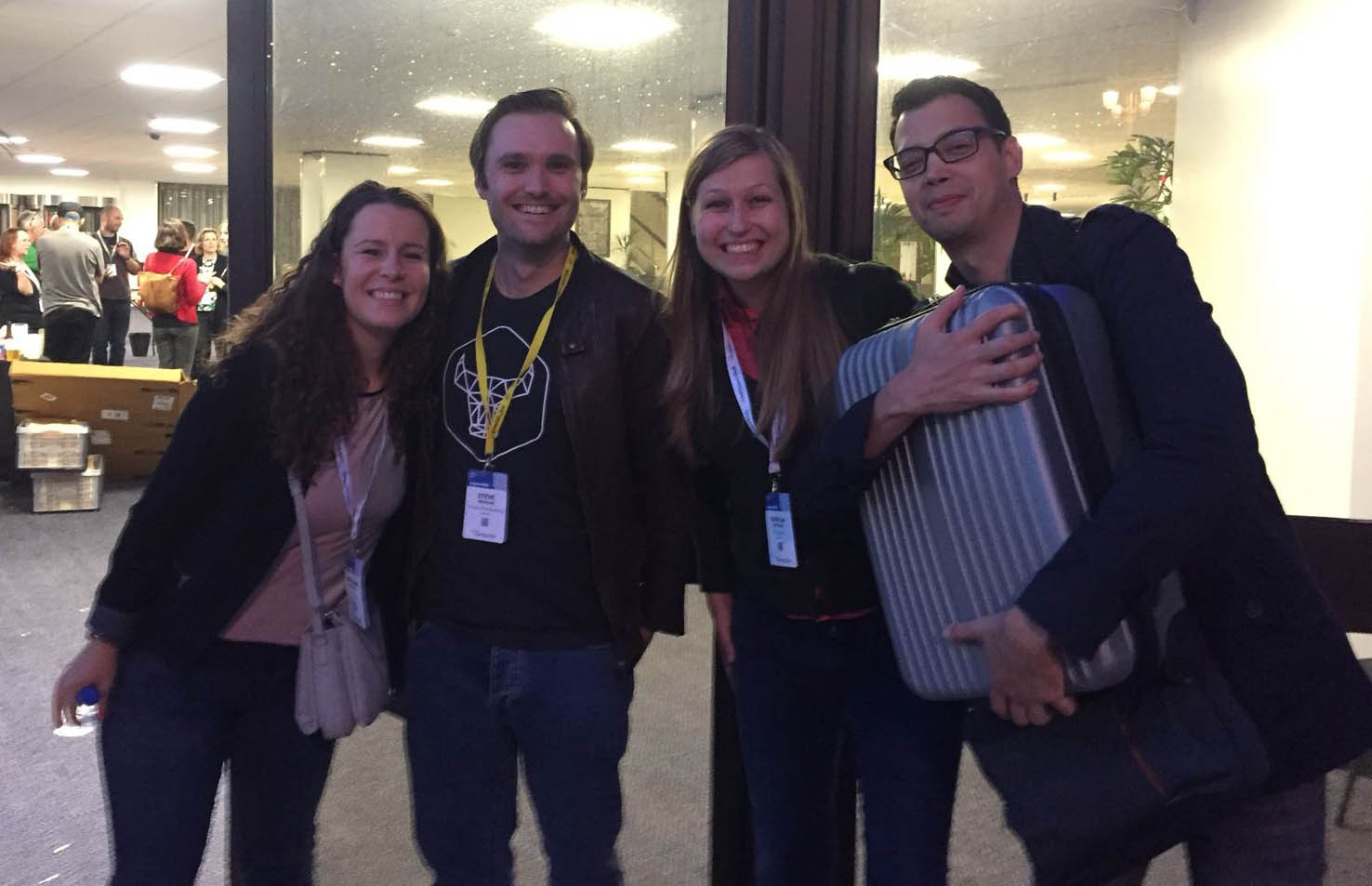 (L-R) Marijana Kostelac, Steve Morgan, Natalia Witczyk and Gus Pelogia
October: I was delighted to be invited to speak at the very first WordCamp Dublin event in DCU Business School. It was a two-day event that brought together entrepreneurs, WordPress users, designers, developers and marketers to share tactics and strategies with one another. Some of the companies who presented at the event included Intercom, Sage, Google and Automattic.
Typically I'll only talk about SEO as it's part of my day-to-day role, but for this event, I decided to take a step back to talk about the importance of building a brand that your audience will care about. A lot of the information I shared was based on the experiences we've had with building Learn Inbound over the past three years – this included both the good and bad situations we've run into that have proved to be challenging. Thanks to Rodolfo for the invite and to those who made it to my early morning session and provided feedback to me afterwards.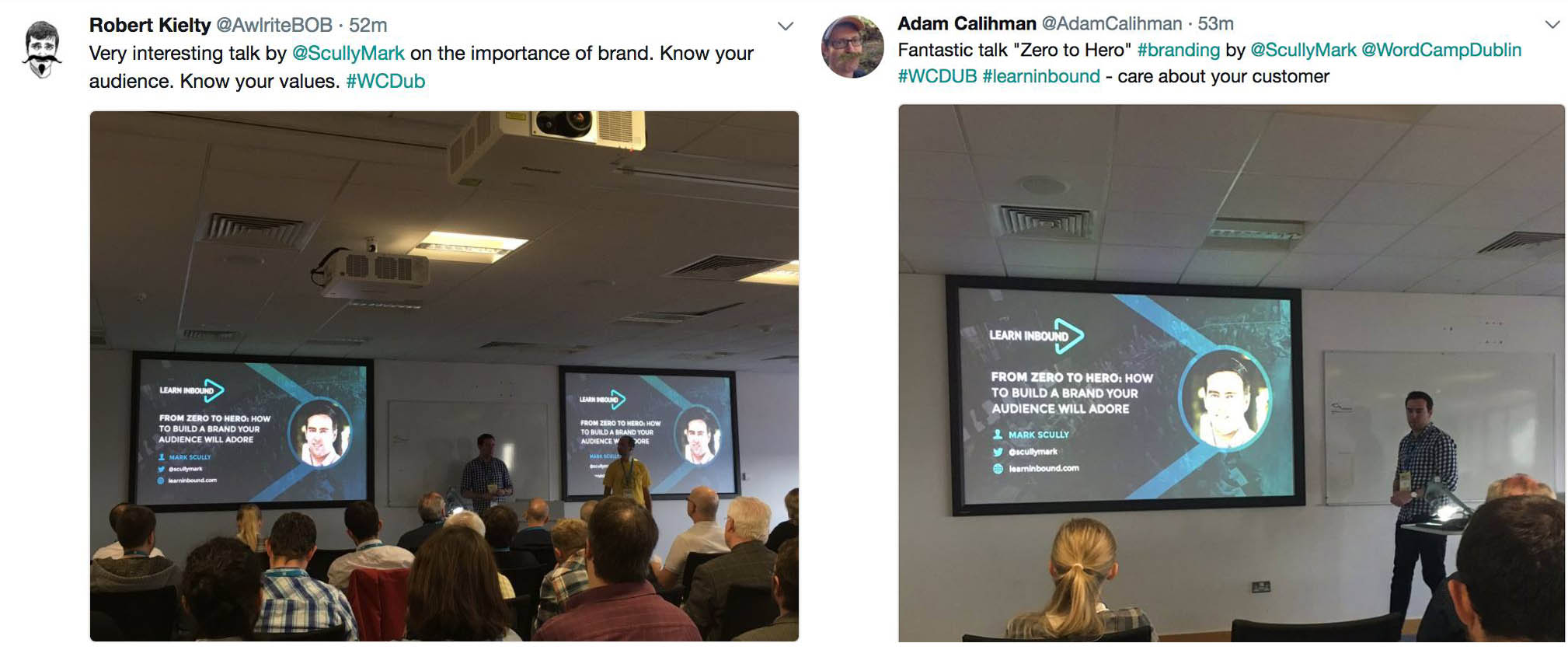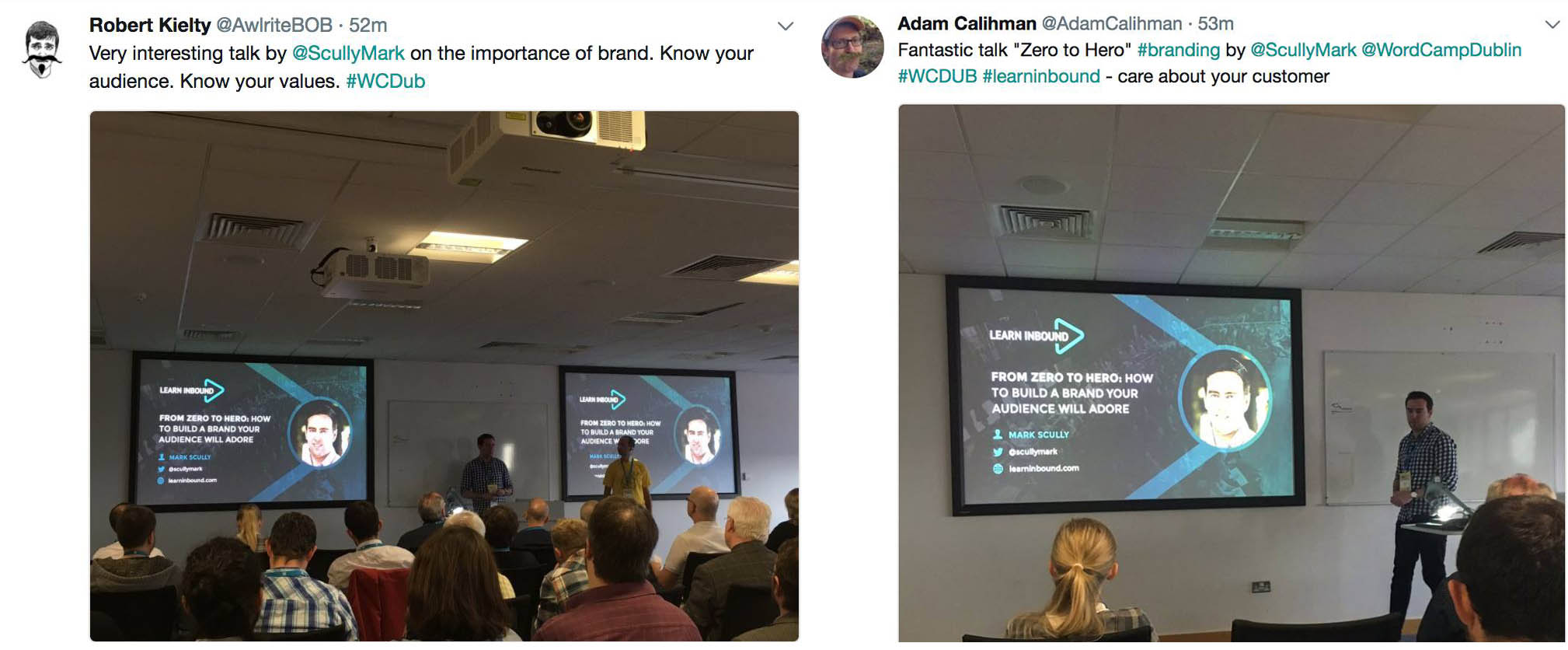 Besides public speaking, we held two more digital marketing courses in October which included the second Technical SEO course date from Barry Adams and the first Digital PR & Link-Building course from Laura Crimmons of Branded3. Each of them was well attended and received overwhelmingly positive feedback from those who had made it along. Stayed tuned for announcements about future course dates which will be going live soon. We will be expanding our course offering in 2018 to cover a wider number of topics, but will still continue to focus on providing advanced level tactics and strategies for marketers to put into practice the next day.
As we continued to work on preparations for the 1st November full-day event, we added an extra member to our team to assist Marijana with the management of our social media channels. Antony will be a key member of our team going forward by overseeing our Facebook page and helping to build out Paid Social campaigns to increase both the engagement with our existing audience whilst also reaching people who are unfamiliar with Learn Inbound. We'll have more to share about Antony soon, but for the moment, follow him on Twitter and be sure to say "hello" to him!
Hahaha ok…is official! pic.twitter.com/8lPYECZw2L

— Antony Ramirez F (@antonyramirez_f) October 31, 2017
Whilst October was the busiest month in Learn Inbound's history, we also decided to launch a monthly meetup for digital marketers called 'Pint-Sized Marketing'. One of the problems we had identified with a lot of digital marketing events is that as they scale, they lose a part of what made them so appealing in the first place. That's one of the areas I had wanted to improve upon with Learn Inbound, as for some time I felt the focus on growth was making us weaker in a number of key areas.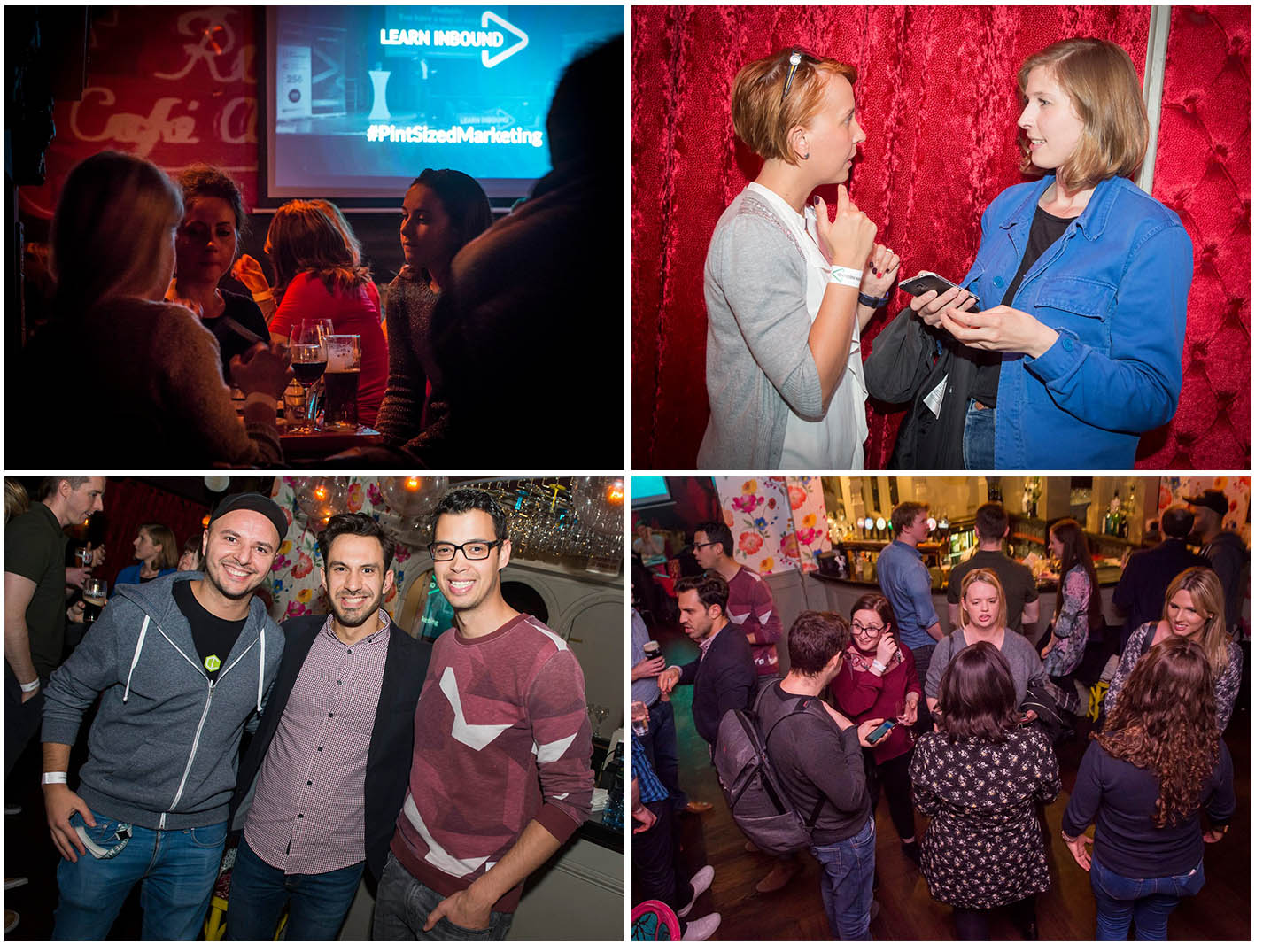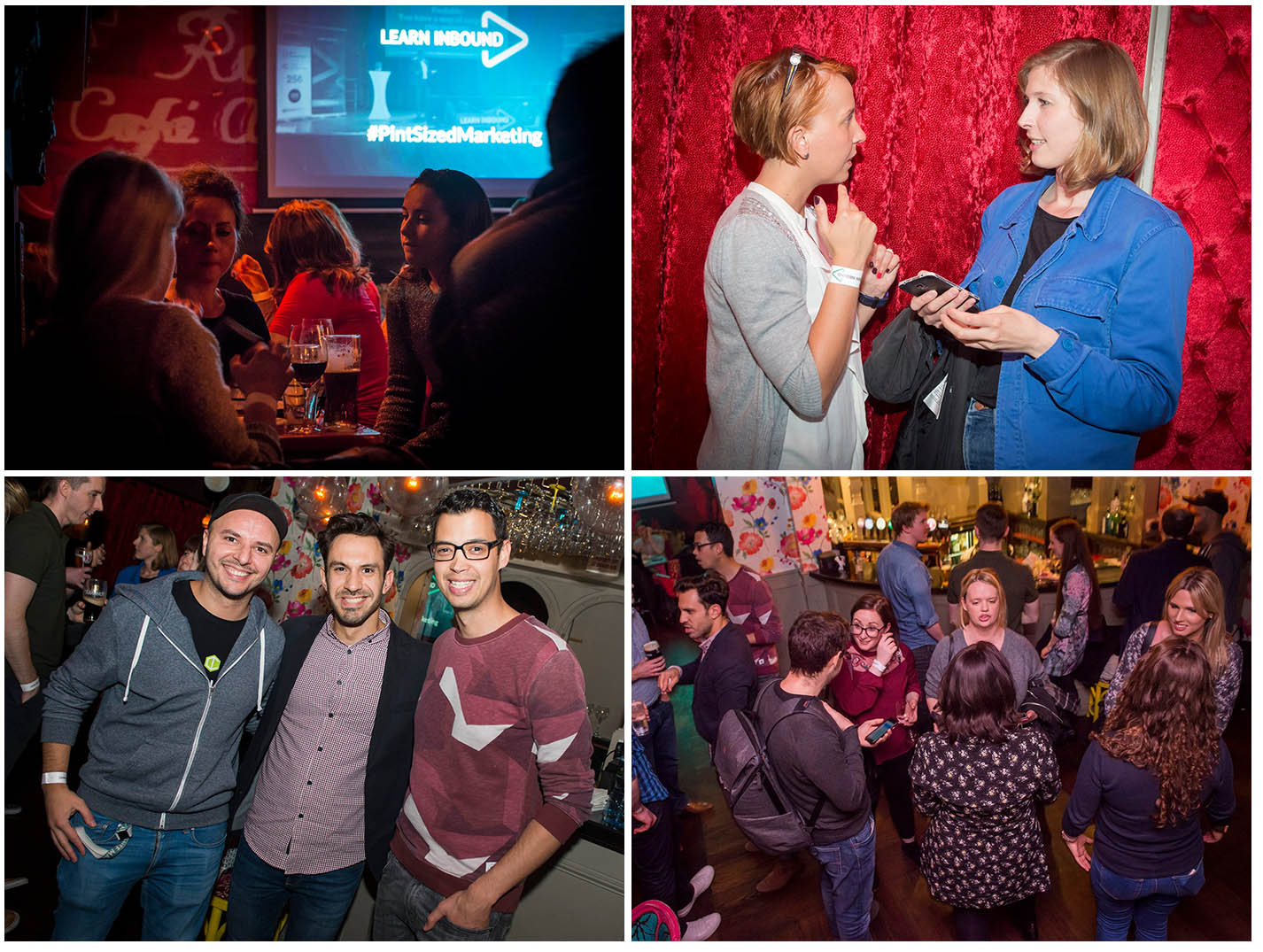 The solution in our minds was to host a small meetup (around 100 people) every four weeks that was free to attend, had a laid-back atmosphere and provided ample opportunities for marketers to make new connections. The first event was treated as a blank slate whereby it had no structure besides free drinks, snacks and an environment where everyone could easily chat with one another. The initial feedback from the first couple of meetups has been positive, but we will be making a few tweaks to the format by introducing three short talks from upcoming speakers and tactics to make conversations with strangers a little less daunting.
November: We hosted our largest event to-date on Wednesday 1st November when we moved to a new venue – The Round Room at The Mansion House in Dublin. Similar to our October 2016 event, we had ten keynote style talks on the day from leading international digital marketing experts that included Wil Reynolds, Aleyda Solis, Oli Gardner and Annie Cushing.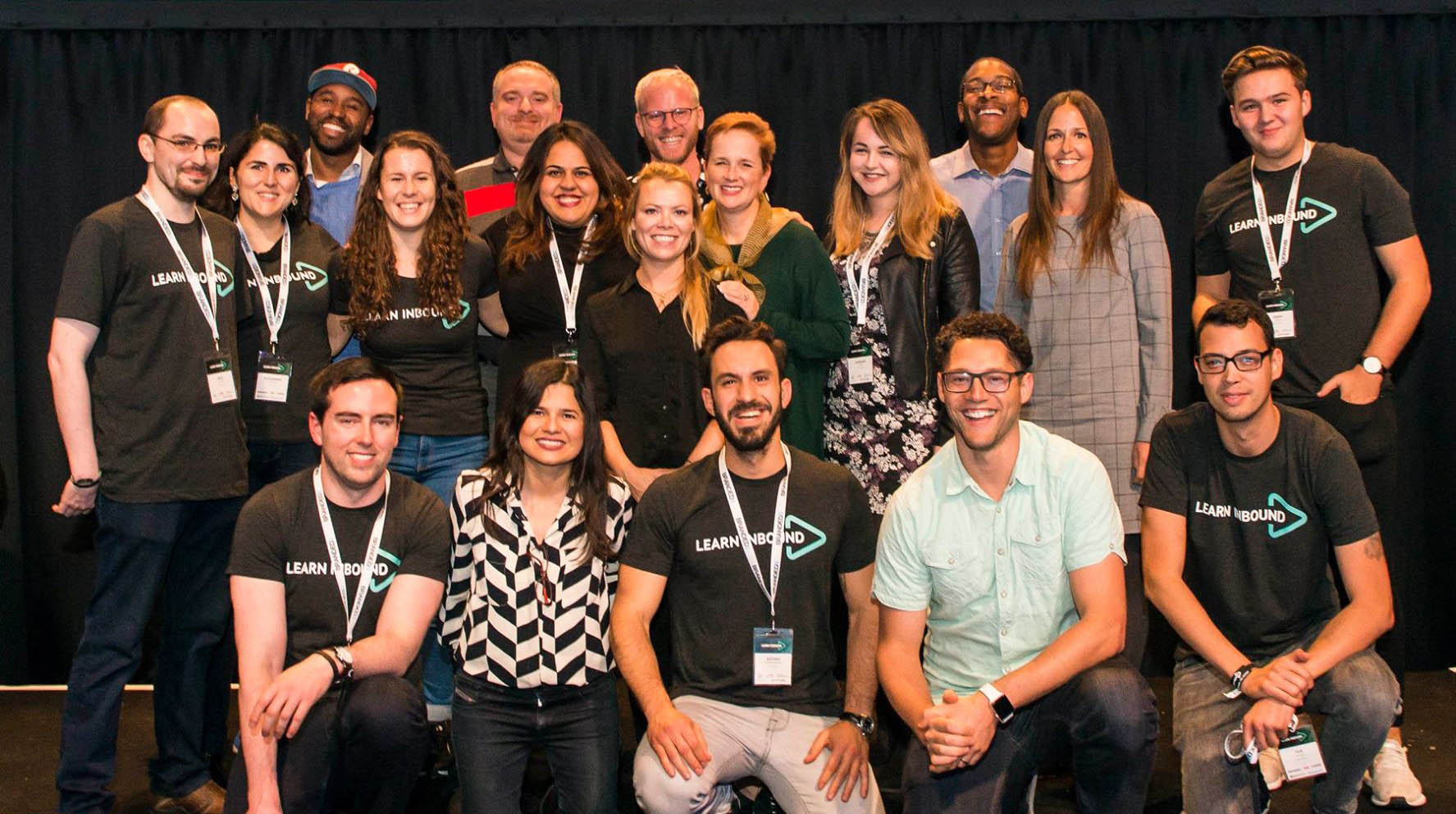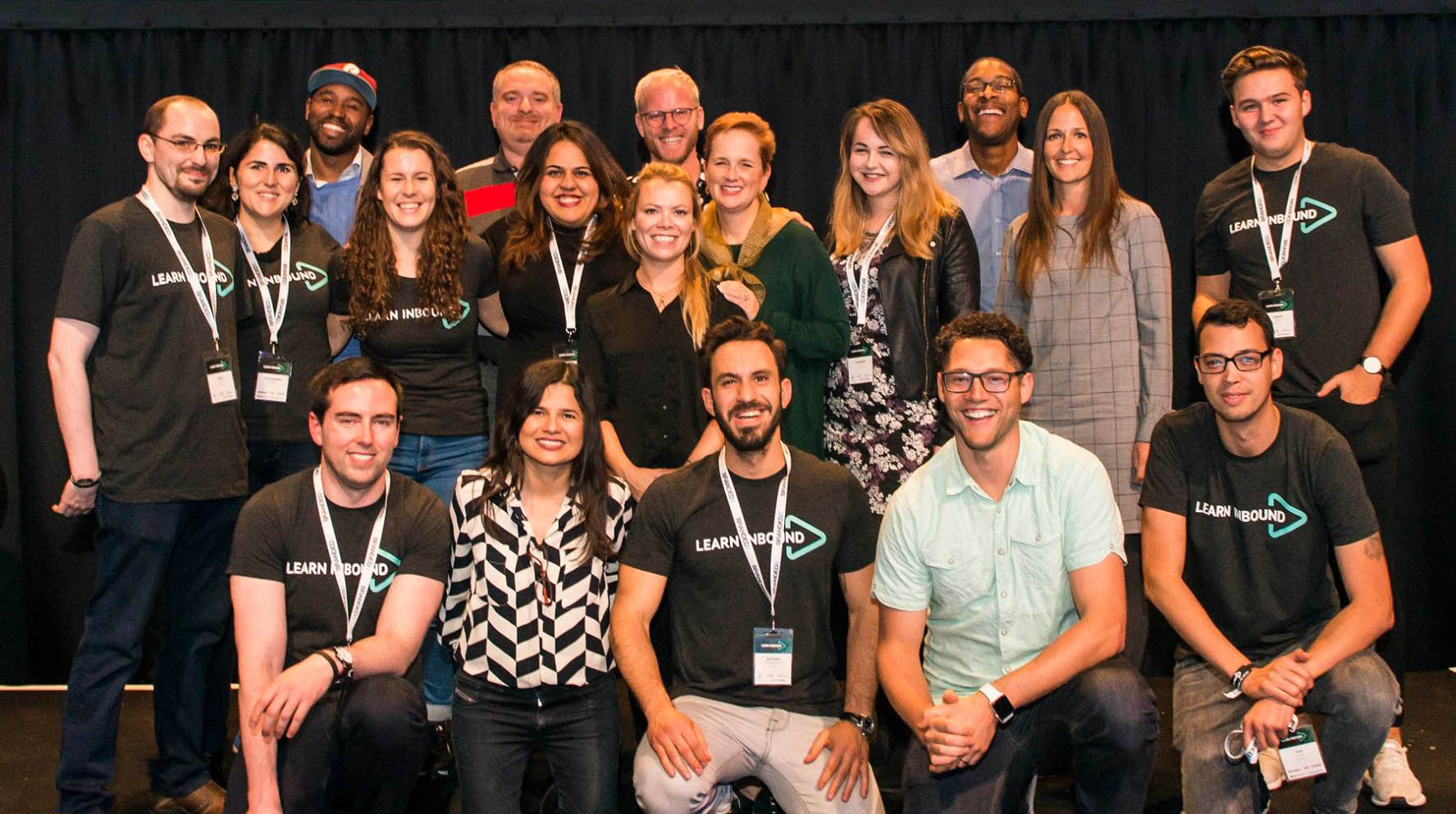 A move to a new venue brought about a lot of challenges as we were well accustomed to hosting events in The Academy, but it also helped us to identify a number of areas where we could improve our branding. From stage banners, branded Gobo, venue flags, event safety signage, stage logo and speaker posters, we stepped up the branding considerably which was well received by speakers, attendees and sponsors on the day. I'm excited to see what we'll do next with the venue as we prepare to host a two-day conference later this year. Details about it will be released over the coming months!
Following the November event, we welcomed CRO expert, Talia Wolf of GetUplift to Dublin to host her first 'Emotion Sells: The Workshop' with us. Talia brings a wealth of experience to every talk she delivers at events such as SearchLove, CTAConf, WistiaFest and MozCon, so we were excited to have her in Dublin to share her knowledge with our audience. If you missed Talia's session then don't worry – she will be back in Dublin again later this year 🙂
Fun day at @LearnInbound – teaching these awesome people how to create customer-centric experiences. pic.twitter.com/AcFt25yiNR

— Talia Wolf (@TaliaGw) November 17, 2017
As we recovered from a busy month of events and training courses, we also held the second and last Pint-Sized Marketing meetup of 2017. Similar to our October event, it was an opportunity for like-minded digital marketers to come together to build new connections, share knowledge, and to remind each other that a world outside of the office exists. It also provided us with another opportunity to gather feedback about what type of meetup the marketing of Dublin would like us to host. We'll be rolling out some of these recommendations with the next meetup coming up in three weeks' time.
December: As we neared the end of 2017, December was thankfully a really quiet month for us. We hosted our first International SEO course with Aleyda Solis – an internationally renowned expert in this area with years of experience training and consulting with European, American and Latin-American companies. Needless to say, Aleyda's course proved to be a hit with those who attended so we've already set the next date for her course (Friday 6th July).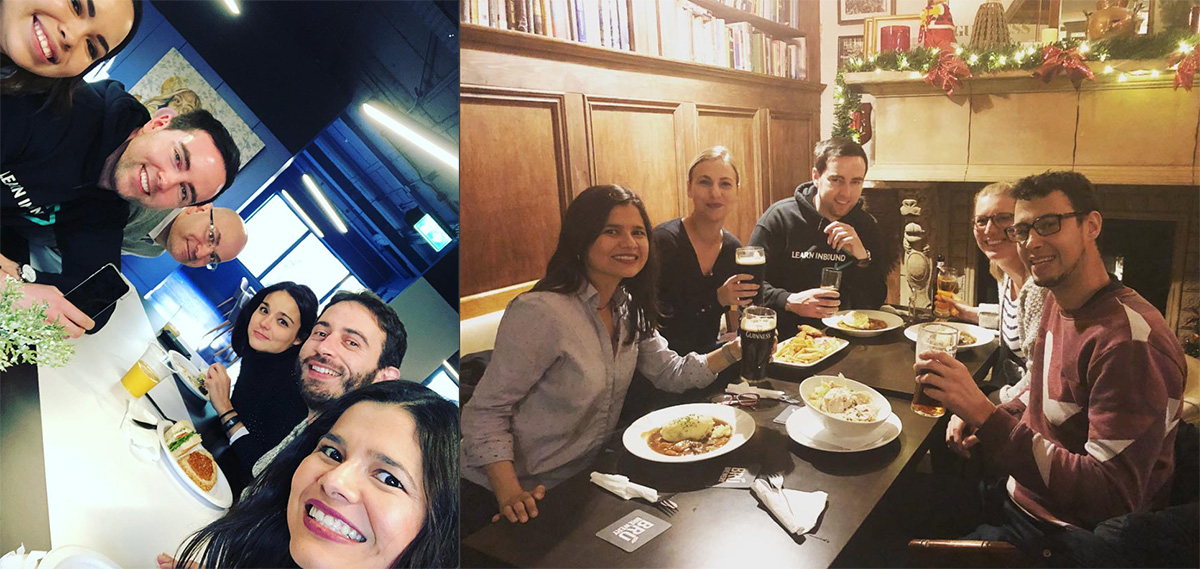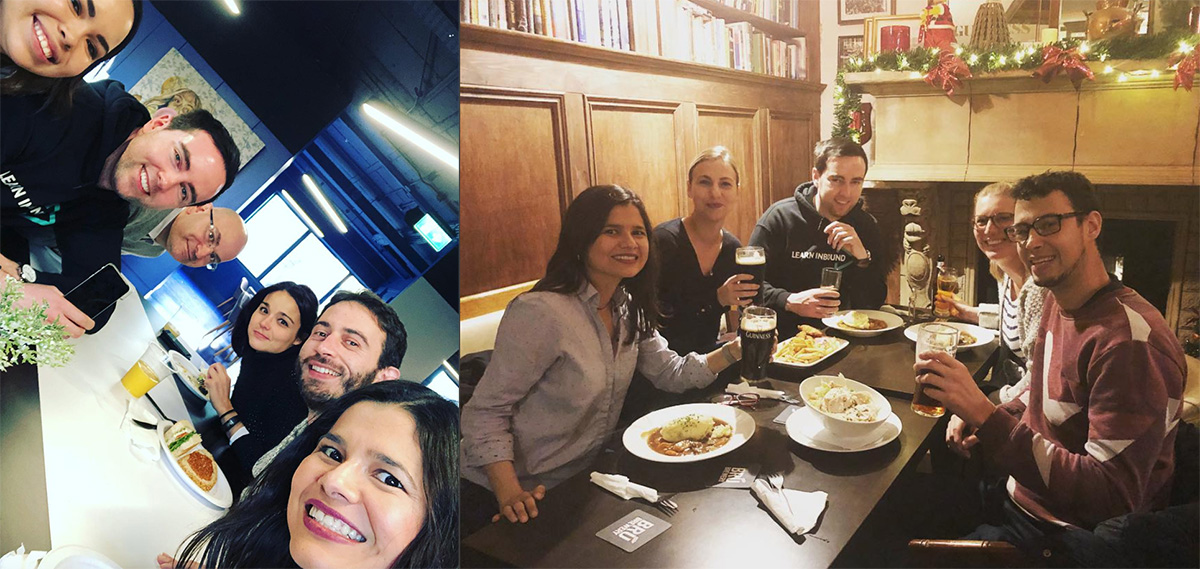 So, What's Next?
The past three years has been an intense learning experience for us as event management is something I happened to fall into after moving to Dublin. While I believe we have helped to raise the standard of digital marketing events in Ireland, I know there are a number of areas we need to improve upon going forward.
Since we held our first event back in 2015, a growing number of new events have started to pop up here in Dublin. A few have adopted a similar approach to our own, invited the same speakers, or in some cases, copied parts of our site (gulp). As we move forward with planning our 2018 events, we're taking a step back to think about what makes an event "memorable" and a great experience for attendees, speakers and sponsors. It's the intangible parts of our events that we will be doubling down on as we pair back the number of events from three in 2017 to two events this year. While the overall number of events will be less, the second event later in the year will be a two-day conference which will build upon the foundation we set with our November 2017 full-day conference. The date and details will be announced in March – you will not want to miss it!
OUR KEY FOCUSES FOR 2018…
EVENTS: We're dialling back the number of Learn Inbound events this year – from three to two as we want to make substantial improvements to each one. While we've enjoyed hosting multiple events per year, the problem with this approach is that besides the different speaking lineups, many areas were left unchanged. I'll share more information about what we'll be tweaking/changing over the coming months.
MEETUPS: Our monthly Pint-Sized Marketing meetups will continue throughout 2018 with ten dates already blocked out on our calendar. We're keen to build a community of digital marketers who care as deeply about the industry as we do. If you have attended one of our past meetups then please share any feedback you have with me ([email protected]).
DIGITAL MARKETING COURSES: We have mapped out future dates for the courses we held last year, along with some new additions which will be announced over the next couple of months. We're keen to keep the classroom sizes small as it's a better experience for both student and tutor.
GENDER BALANCE: Over the past three years we have placed an increasing focus on achieving gender balance both in our audience profile and speaking lineups. While this will continue to be the case, we will also try to improve the representation of ethnic minorities at our events.
EVENT SAFETY: At our November event, we introduced a number of event safety initiatives that included: bracelets with a contact number, posters in the men's and women's toilets, free taxis for those travelling alone, as well as a safe area in both the event afterparty venues. We will be stepping this up a notch in 2018.
COMMUNITY BUILDING: Along with our monthly meetups, we will be working on other areas that will help foster a community of digital marketers here in Dublin. Thanks to Antony and Marijana, we have a great team of people that can bring a level of energy and excitement to our brand.
NEXT STEPS: From day one, I had mapped out the three stages of growth for where I had wanted Learn Inbound to be in 5 years' time. We put a foundation in place in 2017 to assist with this growth. Hopefully, by the end of 2018, I will have some exciting information to share about this.
AND FINALLY…
Learn Inbound wouldn't be possible without the support from our attendees, speakers and sponsors who have continued to support us. It's the feedback you keep sending us that helps us to shape the events and training courses into what they are today – so thanks to each and every one of you who has supported us.
We're back again in a couple of weeks' time with the first Pint-Sized Marketing meetup of the year, followed by our 15th March evening event with three unmissable speakers. Hope to see you there!