Back again? You must be eager to try out another inbound marketing tool.  Grab a coffee and sit back while we walk you through a tool we've been using over the past week as part of our inbound marketing efforts. Did you miss last week's post? Lorna took a look at Camera 360, an amazing photo editing app that allows you to get professional photography results from your humble smartphone.
If you have any questions about any of the tools we cover, be sure to drop us a line via the comments section down below, by tweeting us or by popping us a mail.
Our Tool Of The Week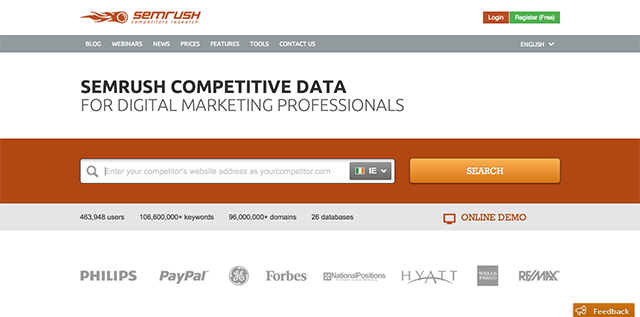 If you ask anyone in the industry about their favourite inbound marketing tool, they'll mention a few they use on a daily, weekly or monthly basis to assist with the planning, measurement and reporting of inbound marketing campaigns.
Lately, I've found that I return to the same handful of tools to help me to be more productive within my roles at the Digital Marketing Institute and Learn Inbound. There's a tool I continue to mention more often than others to digital marketers in order to help them be more efficient with campaigns; that tool is SEMrush which I have a little bit of a crush on at the moment.
Have you tried SEMrush yet? Read on to find out 3 quick ways you can get the most out of this tool for your inbound marketing campaigns.
1) Recover Lost Keyword Data
Let's face it, the loss of organic keyword data within Google Analytics has been a major annoyance for SEOs everywhere. No longer can you inform your boss or clients about the volume of traffic and conversions that have been achieved as a result of increasing the rankings of a particular set of keywords.
While the days of just focusing on keyword rankings alone as a measurement of SEO success are slowly disappearing (about time!), it has always been useful to see what keywords drive the highest volume of traffic to your website. Thankfully, SEMrush helps to alleviate this problem a little bit.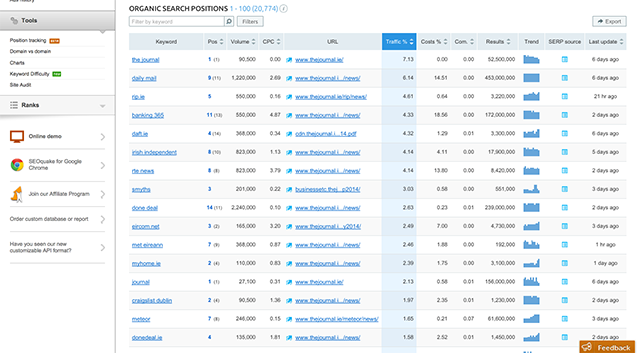 If you enter the domain name of your website, you can quickly see a list of organic keywords driving the highest volume of traffic to your website. While the numbers will not be perfectly accurate, it should help you to identify the most important keywords for your own website and those of competitors.
You may also want to keep an eye on what terms are the most important traffic generators for your competitors and the pages that are attracting greatest share of this traffic.
2) Identify Keyword Ranking Changes
You may be rolling your eyes by thinking that you're already covered in terms of tracking keyword rankings for your website. I hear you. However, ask yourself whether or not you're tracking every single keyword that drives traffic to your website. I imagine you're not.
One of the things I love most about SEMrush is the ability to quickly see the drops or gains in rankings for a given domain/URL. If you look at the chart below, it gives you data for new keywords, old keywords, improved positions and declined positions for a particular domain.
This data is invaluable for SEOs – especially when you're pitching to a new client or doing competitor analysis when you haven't got readily available data through lack of Google Analytics access. It's also quite useful if you're seeing unexplained fluctuations in your organic traffic which you're finding hard to account for.
3) Find Your Competitors
I've already mentioned how you can use SEMrush to view the organic keywords driving traffic to competitor websites, but how about we also use the tool to find out who our competitors are? Interestingly, you can quickly see which websites are in competition with you in the SERPs by entering your domain and sorting by those that are ranking for similar keywords to you.
If we take for example the SEMrush.com domain, we can quickly compile a list of their organic search competitors: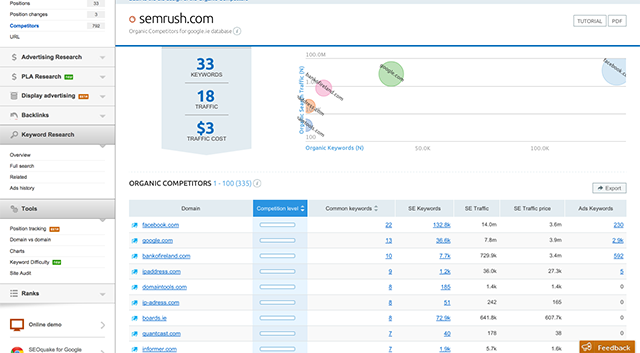 I've found this feature to be particularly useful when working with new clients whose industry I may be unfamiliar with. I can enter the domain of their website and export the list of search competitors that target common keywords similar to them and really start to build out large competitors to track for potential link building and content outreach opportunities.
To Wrap Up…
If I had one search marketing tool to take on a desert island, I'm pretty sure SEMrush would be it. With the growth of "Not Provided" and Google restricting access to the Keyword Planner Tool to people with an Adwords account, SEMrush becomes an essential part of any SEOs toolset.
The cheapest SEMrush package available is a reasonable $69.95 a month, but the value that this tool will bring about in terms of competitor analysis and keyword data will keep you returning to it on a daily basis.