Social Media is becoming more important every day. But that doesn't just include Facebook and Twitter. While you can use either to some success when you are looking for a new job, nothing compares to LinkedIn in that regard. It is arguably the best place online to build a network for professional purposes.
Anyone who has ever been on the lookout for a new job knows how important connections are. LinkedIn takes this to the online level. But there are many mistakes to be made, especially by beginners. So here is a list of the top 5 beginner LinkedIn mistakes you should avoid.
1. Unsuitable Profile Picture
Many users think they don't need to use a picture at all, but your profile picture is the first thing a recruiter will see. If you do not have a picture there is a high chance your profile won't even be clicked on. Recruiters assume that there must be a reason for the missing picture. Imagine you are looking to buy a used car online. Some of the ads there have pictures, others don't. You will automatically assume that there must be something wrong with the car, if the owner doesn't want to put up pictures. How likely are you to be interested in ads without pictures?
But that is only one part of the problem. Worse than having no picture at all is having a fake picture. Remember this is not Facebook, you are looking to get hired. This means you should have your own picture on your profile and not that of someone else. Photo manipulation should also be avoided.
The best thing to do is get a professional headshot. If you want to look professional that is the only way. A Selfie or a picture from last week's party just won't do.
2. No Network and Groups
LinkedIn will only then be useful if you create your own network and join groups. There are plenty of groups for professions or interests you could have. Joining them does not only provide you with news or other useful information, it also gives you the chance of meeting potential recruiters or people to add to your network.
Connect with your friends, relatives and colleagues to build your network. Then try to connect to people within your field. Make sure to let them know why you want to add them if they don't know you. Connecting with someone who has a lot of connections on his own can give you a boost in the search ranking. You may also be able to see and use his connections. But don't just add everyone you come across, do a little research on people you don't know to see if you could make use of a connection to them.
3. Not Customising Your Privacy Settings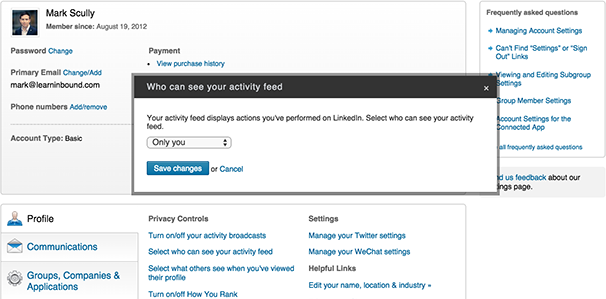 Any social media site has privacy settings but for LinkedIn, they can be especially important. You don't want your current employer to know that you are looking for a new job. Change your settings so that your company can't see that you have updated your profile and reached out to connect to potential recruiters.
4. Incomplete Profile and Summary
To make a good first impression it is important that you filled out your profile completely. In this online resume, you can show what credentials and experiences you have. List projects you have worked on and what you could do for any company that hires you. Make sure you add all your past work experiences. Even if it is experience in other fields, don't leave it out. Holes in your experience can look bad.
The summary is meant to highlight important parts of your career. If you have a lot of experience this can be used to show the most important things. Make sure to only add the highlights, this it not meant to be your life-story. Write in first person and try to add some personality. Use it to sell yourself to any potential recruiter.
5. Not Being Active
It is not enough to have a profile, make connections and join groups. You need to be active in these groups. Potential employers won't find your profile just by chance. Following companies you are interested in can let you know when someone leaves. This you can then use to find the perfect time to apply for a newly opened position.
LinkedIn can be used to great effect if you know how to do so. Don't expect to succeed overnight. Like anything in life, it takes work. But avoiding these mistakes can help you get to your goals faster.