We're excited to announce the next Learn Inbound event of 2015 will take place on Wednesday, April 15th in the Button Factory in Dublin. Similar to our January event, we will bring together three of the brightest inbound marketing experts to share their expertise with our community (that's you!).
We have Bryan Adams of Ph.Creative, Kieran Flanagan of HubSpot and Richard Baxter of Builtvisible coming along to share some nuggets of knowledge that will make you more effective in your day-to-day inbound marketing job. Get following them on Twitter…and why not Tweet them a few questions before the event?

Not only will you learn actionable inbound marketing tactics that you can put into practice the next day, we will also be giving away some super cool swag to every attendee on the night from our friends at Moz, SEMrush, Buffer, and BuzzSumo.
And that's not all. As we've moved to a venue with a bar, we will also be offering some free drinks (thanks to our friends at Get Focused!) and snacks to everyone on the evening to get you through a marathon inbound marketing session. We all need to eat, right? We won't be providing a feast but we're sure that it will stop your stomachs from growling for a while.
Tickets are now on sale for €30 each (or two for €50!) so grab one now.

Miss Our Last Event?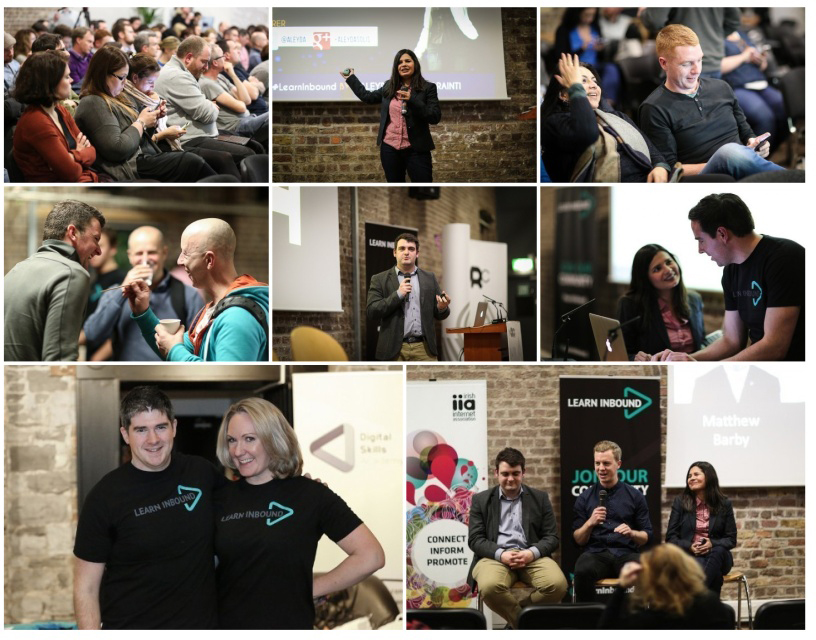 Back in January, we held our first event in the Digital Hub with Matthew Barby, Stephen Kenwright and Aleyda Solis presenting to an audience of passionate inbound marketers. We're delighted with the attendee feedback we have received so far, so thanks for letting us know what you thought!
If you missed out on the event then be sure to catch up by reading our roundup blog post and by watching the videos of each presentation. You'll be sure to pick up lots of useful inbound marketing tips.
And if you're still not convinced about coming to this event, here's some of the amazing feedback we received from January's event…
#learninbound Excellent conference guys. Great session from each of the keynotes. Well done @Siobbz @ScullyMark and the Learn Inboud team!

— John O'Brien (@johnob2000) January 22, 2015
Somehow @learninbound as a free event is more useful & insightful than 80% of paid conferences out there. Well done folks! #learninbound

— Barry Adams (@badams) January 21, 2015
Thank you guys @learninbound for this great event.Brilliant speakers @matthewbarby @stekenwright @aleyda Brilliant insights #learninbound

— Susan (@Smarketing_ie) January 21, 2015
And finally…if you're wondering why we've switched from free tickets to charging for them, it's pretty simple. Running events is a LOT more costly than we ever expected. While we would love to keep them free, it's unfortunately not possible without us giving up our lunch money every day. We've got to eat.
We're looking forward to catching up with you all once again at our April event. Be sure to say 'hi' to the team! 🙂