Are you hungry for another inbound marketing tool? We're back for another edition of 'Tool Time Wednesday', our weekly series which looks at a different tool each week to help us be more productive at our jobs. Did you miss last week's post? We took a look at Buzzsumo which allows you to identify the better performing content on your website and that of competitors. If you have any questions about any of the tools we cover, be sure to drop us a line via the comments section down below, by tweeting us or by popping us a mail.
Our Tool Of The Week
This week we're taking a look at a tool which we have been using for quite some time. Because we're a small team, we're all about saving time here at the Learn Inbound HQ. It is incredibly important that we focus our efforts on the bigger tasks that have the greatest impact for us as a business. While we love to be actively engaged in discussions on Twitter (we do love our community), we try to automate the curation of inbound marketing news from around the web that will appeal to our devoted Twitter followers.
In order to save a little time each day, we use Buffer to help us manage multiple social media accounts. We use it to schedule inbound marketing content we want to share and to collaborate as a team seeing as we sometimes work from remote locations. If you're thinking that social media automation offers more risk than reward then read on and we promise you that by the time you've learned more about the platform, you'll be craving a paid Buffer account to use with your team.
Save Time – Create An Update Schedule
You're a busy person, right? If you're struggling to find time during the day to share interesting content on your Twitter, Facebook, LinkedIn or Google+ accounts, you can quickly connect your profiles to Buffer and then create a schedule to specify the time you would like your content to be shared.
Setting up a schedule in Buffer is a painless experience and should only take you a couple of minutes to do. Once you have at least one social account connected to your profile, click the 'Schedule' tab in the top navigation to create a "New Posting Schedule".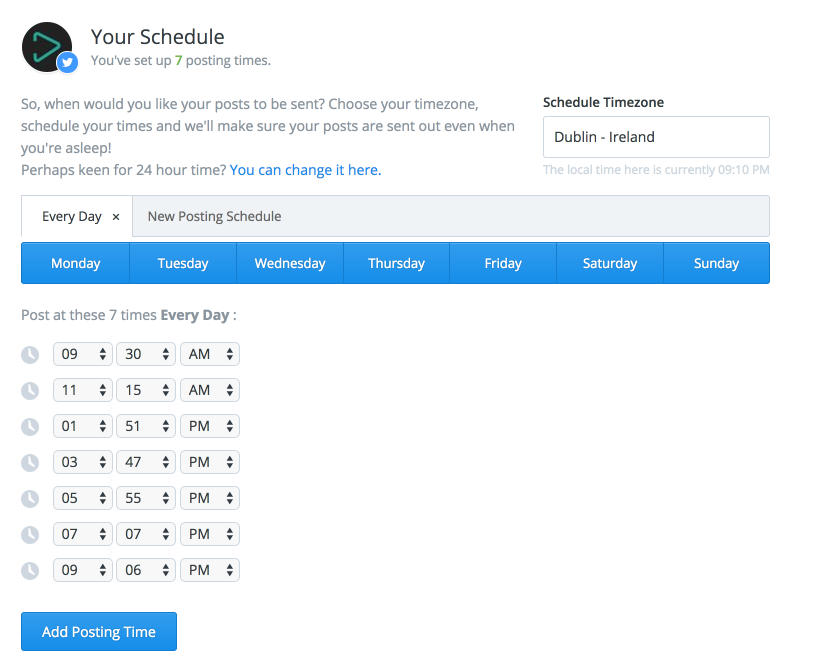 You can select both the days and the times of the week you would like to share content which is best suited to having maximum engagement with your audience. If you're just starting out with a brand spanking new social media account, you may not know what times to add to your schedule. Our suggestion is to try experimenting with a different schedule every week over the course of a month and then taking a look at Buffer Analytics to identify what tweets or posts performed best.
However, if you've been active on Twitter for some time, you can use a social media analytics platform like Followerwonk to identify the most active hours of your followers. The great thing about this tool (which we covered two weeks ago) is that it links up with your Buffer account to allow you to create your post schedule easily by just clicking the "Schedule at Buffer" button.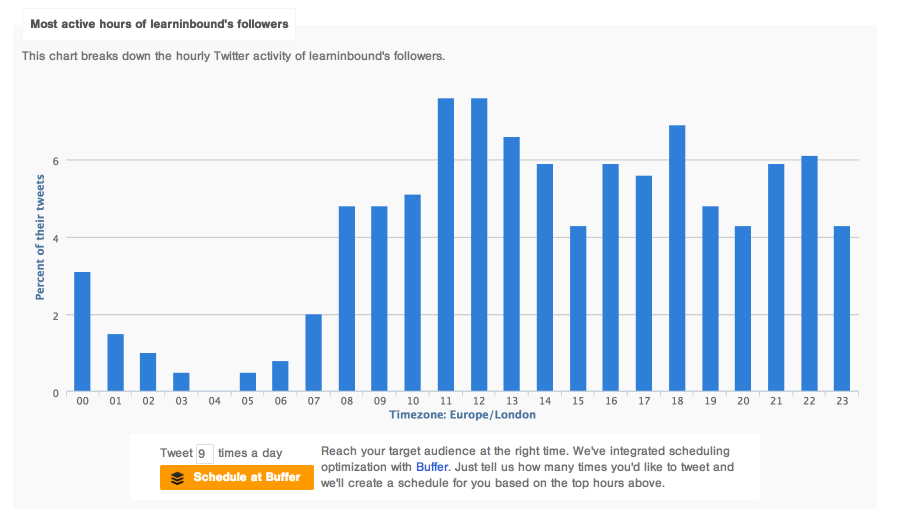 Accessibility – Apps, Extensions and Other Platforms
There's no question about how accessible Buffer is for users wanting to automate their social media sharing due to the availability of a browser extension, mobile App and intuitive website.
Mobile Apps
If you're like me, you may find a few precious minutes during your morning commute to scour the web for the latest inbound marketing news, guides and opinion pieces. Obviously, you'll want to share the few content gems you encounter with your social media following, but it can be time-consuming to do this if you have more than one social account.
I've been using the Buffer iPhone app over the past couple of months and found it to be a breeze to use because of how simple it is to add content to the queue. If you fancy giving the App a try, click one of the links below to start the installation process –
Buffer for iOS – https://itunes.apple.com/ie/app/buffer-for-social-media-twitter/id490474324?mt=8
Buffer for Android – https://play.google.com/store/apps/details?id=org.buffer.android&hl=en
Browser Extensions
Are you sitting at your office desk checking out the latest articles on Inbound.org or another inbound marketing news type website? If you do find the content you love, sharing it with your industry peers can and should be a painless process as let's face it, most of us struggle to find any downtime during a busy working day. If I'm not using the Buffer iOS app during my morning commute, the Buffer extension for Chrome makes the sharing of content as equally painless due to it being a one click process to add content to my Buffer queue.
Other Platforms
As already mentioned, you can use Buffer and Followerwonk together to identify the best times to schedule your content to be shared at for maximum engagement from your audience. If you've been following along to our weekly Tool Time Wednesday posts, you will also be aware of IFTTT – an automation tool which allows you to combine multiple platforms so that an action from one service triggers an action at another. If you're searching for some great IFTTT recipes to get started, take a look at this article on the Buffer website.
Measurement – Identify What's Working With Buffer Analytics
So you've set up your schedule and added content to your queue to share through your social accounts, now it's time to find out how well this content has performed.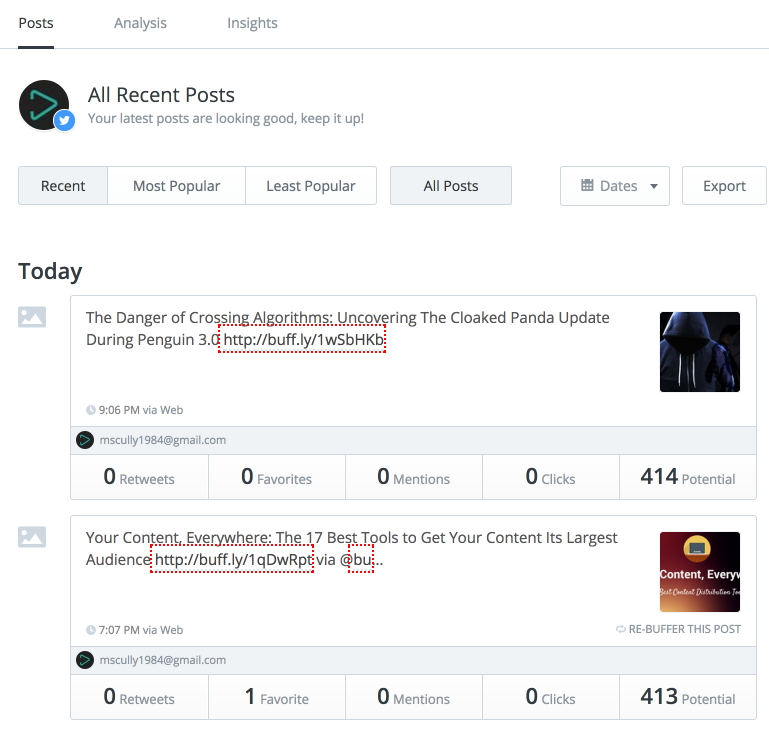 If you take a look at the Analytics tab in Buffer, you can quickly filter your recent posts by date and how they rank in terms of popularity. Do you want to dive a little bit deeper? By purchasing a business plan you will be able to access more detailed statistics within the 'Analysis' and 'Insights' sections of Buffer Analytics which allow you setup Google Analytics integration, track the growth of friends and followers of your accounts, and export useful data to share with your team.
Don't just take our word for it, Buffer provides a 7-Day free trial of the $50 monthly plan so you can try out all of the features the platform has to offer.
To Wrap Up…
If you're struggling to find time to keep multiple social media accounts updated, Buffer will make things a little bit easier for you.With an intuitive interface and accessibility across multiple devices and platforms, it makes social sharing a painless experience. If you've been using Buffer within your business, let us know in the comments section below.