It's that time again; the tickets are now on sale for our July event! Similar to our previous events, we're bringing together three of the brightest inbound marketing experts to deliver actionable tips and advice to you in a fun and relaxing environment. So make a note in your diary now: the next event is taking place on Wednesday, 22nd July in the Button Factory.
We have an amazing lineup for the July event: Ben Norman of Koozai, Stacey MacNaught of Tecmark and Lisa Myers of Verve Search. All of our speakers haven't spoken in Dublin before so we're super excited to have them fly over to share some of their expert knowledge at our event. Get following them on Twitter and tweet them a few questions before the event if there's something you'd love them to answer on the evening.

Along with the presentations, we are giving away awesome swag to every attendee from our friends at Moz, SEMrush, BuzzSumo and Prosperity. Everyone loves a freebie, right? We won't disclose what the goodie bags will contain just yet, but we think you'll love it.
But that's not all. We will be providing some light snacks to help get you through a marathon inbound marketing session and some coffee to keep you caffeinated. If you fancy something a little bit stronger, you can always take advantage of the bar in the venue which will be open before the presentations kick off.
Tickets are now on sale for €30 if you're going alone, or €25 per ticket if you bring friends.

Miss Our Last Event?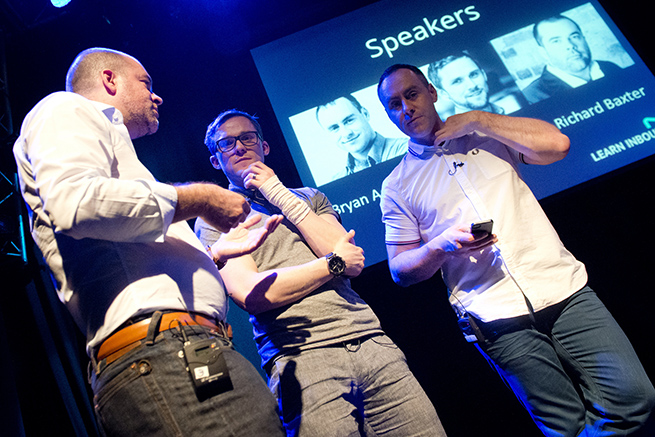 Last month we held our second event in the Button Factory with Bryan Adams, Kieran Flanagan and Richard Baxter sharing their knowledge to over 200 inbound marketers. If you missed out on a ticket to the event then catch up now by checking out the videos of each presentation and the snaps taken by our photographer.
And if you're still not convinced about coming to the July event, here's some of the amazing feedback we received from the last one…
Great #learninbound event last night by @learninbound, @Siobbz, @ScullyMark and the team. Suffice to say I'm an eager beaver this morning.

— Colm Reilly (@realcolm) April 16, 2015
Well done on an epic 30 mins last night at #learninbound @richardbaxter. Our team were enthralled #hugeknowledge Thanks — VROOM Digital (@VroomDigital) April 16, 2015
And finally…if you have any questions about the event, we'd love to hear 'em. Feel free to ask in the comments section below or pop us an email: [email protected]
Hope to see you there! 🙂