Here at Learn Inbound, our community is incredibly important to us. Over the past four years, we've been fortunate to have received such enormous support from digital marketers based here in Dublin, as well as those that have made the trip from international locations. As we wouldn't be where we are today without that love and support, we kicked off a monthly 'Member of the Month' feature a couple of months ago to both recognise and reward people who have been supportive of our events. The winners are people who have regularly attended our events, gotten to know our team, and been welcoming and helpful to others.
For this month, we have chosen Michelle Francis as the winner. Check out the interview we had with her below to learn how she started her digital marketing career, what she enjoys most, and how she discovered our events.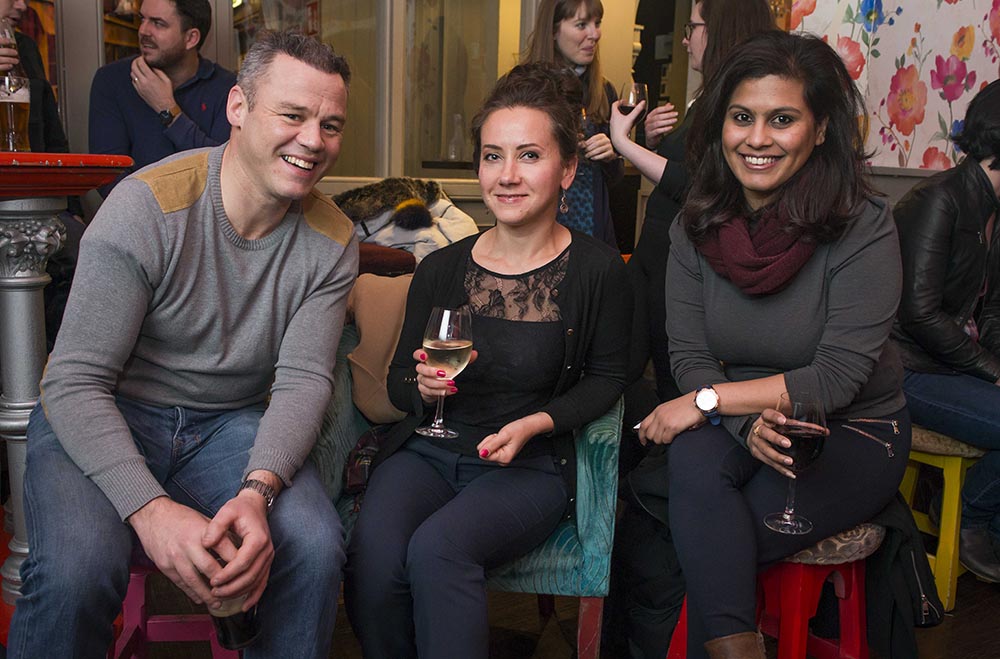 (Michelle Francis (right) at a monthly Pint-Sized Marketing meetup)
Tell Us About You
---
I'm 32 going on 33 soon. I was born and raised in Karachi, which is the most populous city and the country's main hub for industrial and financial services. I did most of my schooling back home before I moved to the UK to pursue a Bachelor's degree in Marketing. My experience in Nokia was a cross-functional role between Marketing & Sales Ops and that's when I discovered Marketing was where all the action was and it was thrilling (this is going back to when Digital was not a prerequisite to survive).
I love working in teams and marketing has always been a field of collaborative efforts; we see that in today's Digital Age where organizations have abandoned channel based silos while forming teams and have moved to creating horizontal teams to think through the entire customer experience. Like many, I've had my shares of ups and down, wherein some moments I've been on cloud 9 yet I've also been humbled. I've had my successes and some failures too, but if I could go back, I don't think I'd want to change much because it's made me resilient, tough, eager and more motivated than ever to live by the rule, 'if you love what you do, you'll never work a day in your life!' I haven't reached that stage yet, but I am confident I will get there J
I have always been passionate about Marketing as a subject. The primary objective of any business is to maximize profits and what I love about marketing is the opportunity to experiment and adapt with traditional and digital platforms to drive revenue to the bottom line. My name is Michelle and this is why I love marketing!
Marketing hero or Influencer if you may call him is Marc Pritchard (Chief Brand Officer-P&G) who has really shaken up the giants of the advertising platforms (Facebook & YouTube) by pressing for accountability and at the same time I love his concept of developing creative talent internally, rather than employing agencies, replacing multiple layers and decreasing enormous agency costs.
Favourite TV Show: Breaking Bad and Walter White has certainly taught me a thing or two 😉
Life's Too Short, Take That Risk
Educate Yourself, You Can Fall Back To It When All Else Fails
It's Ok to Be Selfish for Yourself
Oh and while I'm at it…I do enjoy planting when time and weather permits! 
You're from Pakistan but left the country four years ago, moved to the UK and now Ireland. What's your story behind this journey?
As mentioned earlier, I moved to pursue my higher education because at that point Digital Marketing courses weren't very popular or offered as a specialization back home. I graduated with a Masters in Digital Media from Dublin Business School and went on to complete an internship with an Events Company.
As a Digital Marketing Officer, it looks like you do a bit of everything in marketing. What do you enjoy most?
I like to play around with data J it can be overwhelming at times but the beauty of analytics is real time info!
Apart from work, I am a huge fan of Twitter Chats and indulge in weekly conversations with 3 of my favourite ac's Buffer, Content Marketing Institute & AdWeek. It's a fantastic place to learn and you develop the art of conciseness J (drafting your response in 280 characters or under!)
Are there things in digital marketing that you feel are very different when comparing Pakistan and Ireland?
When I left the country 5 years ago, digital marketing was in its infancy. Brands are now investing a large portion of their marketing spend on digital where previously traditional media took a huge chunk of the budget. Internet penetration rates are growing YOY with about 70% of the web traffic coming in through mobile, e-commerce is growing at a stellar rate too which indicates a huge progression.
You certainly like to study a lot! On top of your BA and masters, you have quite a lot of certifications in digital marketing. What are the top 3 certifications you did that help the most in your career?
I recently came across some inspirational words by Les Wexner (Chairman & CEO, L Brands) on a series by Forbes called "100 se conds of Advice" and those words have resonated with me; "Curiosity is the most important thing. People that cultivate a sense of their own curiosity and are open-minded about the world; that is the most important ingredient for survival….."
Doing these certifications has given me a chance to fill in gaps where I lack experience. Going back to Walter White's lesson about educating yourself, I am now also a tutor at the Digital Marketing Academy of Ireland (Studying helpedJ )
Courses I benefited from: Hubspot's Inbound Marketing (highly recommended), Google Analytics Individual Qualification and currently in progress is the new Social Media Certification by Hubspot.
Your Learn Inbound Journey
---
How did you find out about Learn Inbound?
Power of Social! I saw some friends attending a 'Pint Sized Marketing' session on Facebook and showed up at one after that. Love the concept of delivering 3 short presentations over a Pint! Ever since then, Mark the 'Bot Whisperer' has been popping up on my screen now and again :-p
In September we have a big line-up of speakers coming to our conference. Is there anyone you follow closely, would like to meet in person and have a chat? Is there something you learned at one of the meetups and became part of your working routine?
I attended a session where Jon Myers presented and most of us were clueless about Mobile First Index. So I went back and the next day went into research mode and found out all about it. I've packed on quite a bit of knowledge through these meetups. I see he's a speaker at the event again and I'd also particularly be interested in John Collins (Intercom) session on Content Marketing. 
How has attending the Learn Inbound events helped you in your work life? Or personal life? (Any funny stories?)
For starters, it's a fantastic place to gain some hands on knowledge on the current trends, tools and tricks to use in your digital marketing strategy. So, if you're not already, DO register to attend one of the sessions. But I've also met a lot of people through Learn Inbound! (Great place to network and share your biz card)