Last month we kicked off our monthly 'Member of the Month' feature where we recognise and reward people for being a part of our growing community in Ireland. How do we select our winner? Good question! As a team, we select people based on a number of factors that include: how often someone attends our events, the support they offer others, and whether they hold the same values we have as a digital marketing community.
We're excited to announce that this month's winner is Alejandro Marín, an aspiring digital marketer who moved to Dublin in January 2015. If you have attended any of our meetups over the past six months, you will have spotted Alejandro in the audience. Learn a little more about him by reading our interview with him below.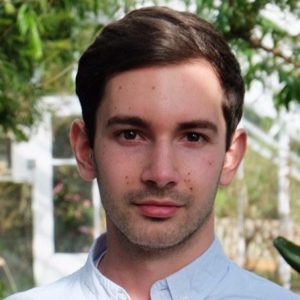 Tell Us About You
---
So, I'm Alejandro, I'm 27, and I'm from a coastal town in Málaga (Spain). I've been living in Dublin since January 2015, and before this, I was living in Paris for almost a year. During my degree, I also lived in Aix-en-Provence (France) and in Limerick (here in Ireland), so these two countries are quite special to me.
I studied a double degree in Translation and Interpreting and Applied European Languages, and as part of it, I had to study a Marketing module taught by the amazing John Fahy, who made me become quite interested in this field. Then when I moved to Dublin I started working for a Google vendor and was surrounded by people working on AdWords, AdSense, GDN,…so I decided to learn about all these things that at the time were new to me. One thing led to another, and at the moment I'm finishing a postgraduate course in Online Marketing. I've never had a proper marketing job so I hope I can land one soon!
I don't think I have any marketing heroes in particular as there are many great marketers out there that I follow on Twitter because one can learn a lot from them and they contribute a lot to the community. However, I admit that I really look up to Wil Reynolds and Aleyda Solís — I'm also a big fan of Wolfgang Digital.
I used to be a bookworm when I was a child but now I don't read as many books as I'd like to, although I still read and keep buying books. From the books I've read recently, I really enjoyed "Angela's Ashes" by Frank McCourt, and "Letter to Father" by Franz Kafka.
I really like watching series: Game of Thrones, Stranger Things, Impulse, La Casa de Papel, The Walking Dead, American Horror Story, Criminal Minds, The Handmaid's Tale,… but my favourite series/film genre is horror.
Could you tell us a bit about what you do in marketing and how your career has changed since you started?
I'm currently finishing a postgraduate course in Online Marketing, so I hope my marketing career starts soon.
What is something that we'd be surprised to find out about you?
I can be quite shy when it comes to talking to strangers or attending a conference by myself, but when I feel "safe" I'm very open and love making jokes. I guess I'm a bit of an introvert sometimes!
English, Spanish, French… The list of languages you speak goes on. How did you learn so many?
I just LOVE languages. As I said before, I come from a coastal town in Málaga, so I've grown up surrounded by tourists from everywhere and having foreign schoolmates. I would always try to sit next to them in school because I wanted to know more about their country and help them integrate into the group. Unfortunately, the level of foreign languages in my school wasn't good so I had to learn things by myself. During secondary school, I studied two years of Latin and one of ancient Greek, and then English and French in college at a higher level during my degree. I started learning German in college in my free time and I would like to be fluent in the near future. The basic Italian and Portuguese that I know is thanks to some workmates I've had in Paris and here in Dublin, who would talk to me in their language as I could understand a bit of it. I've also studied a bit of Irish and Turkish, but I've forgotten virtually everything. And being from Andalusia and having studied in Granada, I would love to learn Arabic at some point in my life. A few friends call me "dweeb" because I really enjoy talking about grammar, etymology, and so on. I just can't help it!
Tell us about your travel blog: how does your marketing knowledge feed into your blog and vice-versa?
My travel blog is just a project I had had in mind for a while as I love travelling and writing and now I'm getting into photography too. Checking marketing jobs I saw that some companies want people with some knowledge of CMS and blogging in general, so I saw the chance of killing two birds with one stone: I would learn something useful for my career while doing something that I enjoy. It's also good for practising SEO and finding out ways of attracting and retaining readers. I'm only starting though, I still have a lot to learn!
We know you love travelling and attending marketing conferences. If you could combine both in one trip, which city and event are on your bucket list?
Actually, I've never thought of this! I guess I would choose the USA since I've never been to that part of the world and there are really talented people there! Maybe MozCon next year?
You lived in Ireland during your Erasmus and came back again years later. Why Ireland and what are the things you like most about living here?
My degree was different than its normal version, in the sense that I had to spend two Erasmus years studying abroad. My home university had an agreement with UL in Limerick so I didn't really have a choice (I would have chosen England as I had been there before and wanted to see more of it). Once in Ireland, I made some good friends here and fell in love with its landscapes and its history so I decided to come back. There are also far more job opportunities here than back home, that's also a big reason, and I like everything foreign I guess so it was really a mixture of different things.
I like living in Dublin because it's a big multicultural city (compared with my hometown, with roughly 40 thousand residents) and there are many leisure options so you can always find something to do. Irish people tend to be quite welcoming and that helps too. I don't like the Irish weather but as I always say, "it helps to create these amazing landscapes".
Do you have a blog, a book, a podcast or an expert you keep learning from but maybe is underrated or is rising at the moment?
Does Twitter count? Lots of useful information shared there and also good networking opportunities.
What is the next big thing you want to learn in marketing?
I'm still a beginner so I'm in "sponge mode", trying to absorb as much information as I can, especially with things changing so quickly! I guess the next step would be to learn while working and see how things are done in real life for real clients.
Your Learn Inbound Journey
---
How did you find out about Learn Inbound?
One day I was working on my blog and on the settings page, I saw there was a WordPress event taking place in Dublin soon. I wasn't planning on going because I had no idea about WP by then and I didn't want to go on my own, but I did go in the end. Mark was one of the speakers and I really enjoyed his presentation so I started following him on Twitter. From there I learnt about Learn Inbound and decided to attend the big conference last November. I knew it was going to be quite specialised, but to learn you need to surround yourself with the best people and the panel was incredible. After that, I started attending the monthly meetups, and here we are now! We can never know where one simple thing will lead us to.
Is there something you learned at one of the meetups and became part of your working routine?
I'd say to understand a bit of everything but specialising in one field and becoming an expert in doing that thing, and also to keep learning every day.
What do you enjoy most about being part of the Learn Inbound community?
I think it's just great that we get the chance to attend these monthly meetups for free and still be able to listen to great speakers and get free drinks and snacks. I'd like to thank Alex (@AlecGuimaraes) for coming to talk to me while I was on my own waiting for a friend during a meetup. The introvert in me was unable to talk to the other attendees so she saved my life! After that, I ended up chatting with the rest of the team and we're still in touch on Twitter and try to meet when we attend other events (I'm looking at you Marijana hehe).
How attending the Learn Inbound events helped you in your work life? Or personal life? (Any funny stories?)
It has shown me that there are people out there willing to help and that I still have a lot to learn.