This month we're kicking off a monthly 'Member of the Month' feature whereby we recognise and reward people for being a part of our growing community. We select people based on a number of factors that include: how many events they have attended, their contributions to the community (knowledge sharing & supporting others), and those that act as a brand advocate for Learn Inbound. As we're hosting a two-day conference in September, the prize will include an invite to join us at the speakers' dinner the night before.
This month's winner is Francesco Baldini, an SEO Specialist based in Dublin. He has been attending our events since 2015, is a regular face at our monthly meetups, and someone who's more than willing to share his Technical SEO knowledge with anyone who needs assistance. We couldn't think of anyone better to kick off this monthly feature.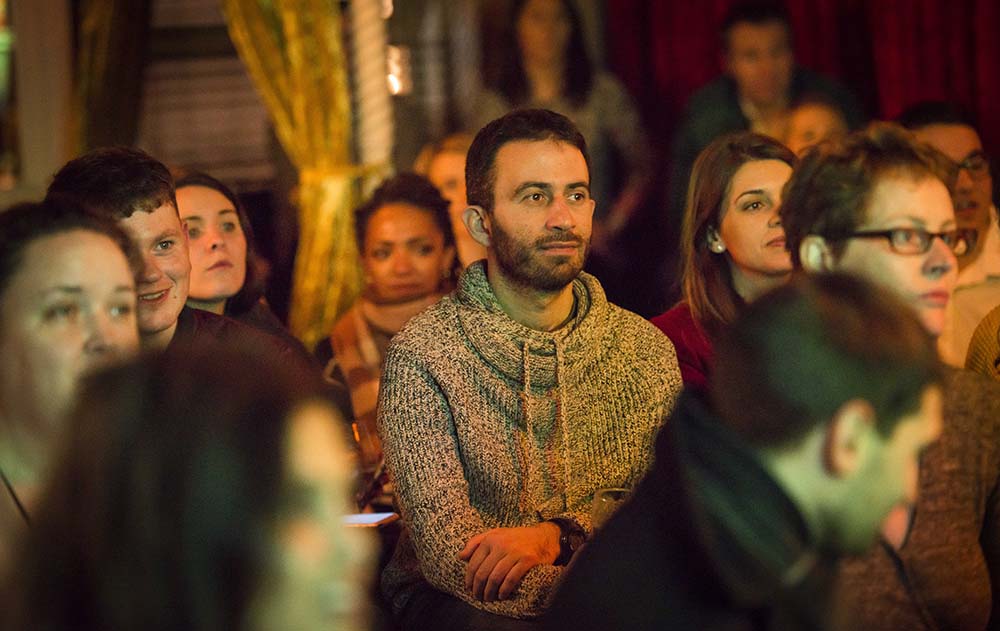 Francesco Baldini (centre) at Pint-Sized Marketing, January 2018
Tell Us About You
---
Were you expecting to be appointed Member of the Month?
No, even though I've attended loads of Learn Inbound events the last few years. I'm so excited to be the first one!
Could you tell us a bit about what you do? What made you decide to take this route?
I work as an SEO Specialist, which basically means I help people solve problems, and answer their own questions. I essentially help companies, and my own websites, to rank more highly with Google which enhances organic traffic and improves business.
I consider myself highly privileged to work with my clients, championing their work by helping them create, craft and grow their businesses (and my own projects). I work like a bespoke chameleon tending to their needs and nourishing them like the precious sprouting roots of a flower. It gives me immense joy and satisfaction to see my clients being successful in ranking better on Google, increasing their traffic and income. I have a breadth of previous experience having worked for several years in digital marketing, as a web designer and Linux system administrator.
What is something that we'd be surprised to find out about you?
You mean besides being one of the few Italians who appreciate the lovely Irish weather? I dance, or at least I try to.
What or who inspired you to become a marketer?
Many years ago, while working on some of my clients' websites, I realised that a website with no traffic was pointless. Websites needed to be visible to potential customers and easy to find. At this time, I was volunteering with local organisations. However, as I continued working in SEO, I realised that wasn't the whole story. That the human part of it was essential when working with an SEO consultant; that it was about connections, understanding clients, building relationships, knowing what they needed before they did. This is what I now provide with my bespoke, tailored and intuitive work.
If you were the mentor of your 20-year old self, what would you like to teach him?
To think big and trust your gut, because it's generally always spot on. Also to study more and test what you.
Do you have a blog, a book, a podcast or an expert you keep learning from, and do you have any recommendations?
I am always learning, growing and developing myself. A few suggestions are listed below (in no particular order):
– Podcasts Expert on the wire
– Search Talk Live (not live now, but some of their episodes are goldmines)
– MozPod
– Glenn Gabe
– Moz
– Ahrefs
– Kaiserthesage
What is the last thing you've learned? It doesn't need to be related to marketing.
That when I dance the Charleston, I need to be more forceful with my back step!
Your Learn Inbound Journey
---
How did you find out about Learn Inbound?
I was invited by a friend, Rodolfo Melogli, the organiser of an e-commerce meetup that I attended in 2015.
Tell us about your first event/meetup you attended?
Being honest, I wasn't sure what to expect, although there was a lot of talk about it at the time. Since then I have attended almost all of the events, so I think it's fair to say I enjoy them!
What made you come back (then)?/ What keeps you coming back?
The quality of the speakers, and the originality and breadth of topics is second to none. It's also really nice to hear speakers whose work I regularly read.
What do you enjoy most about being part of the Learn Inbound community?
It provides a great environment and high-quality presenters and attendees.
How has attending the Learn Inbound events helped you in your work life? Or personal life?
It has given me a slightly different perspective on what I do on a day to day basis, which has lead me to stop procrastinating and re-start my personal blog.