Last year we launched our Pint-Sized Marketing meetups in Dublin. The aim of the monthly meetups is to bring together marketers of all backgrounds and industries to share ideas, make new contacts, and develop a community that is as passionate about inbound marketing as we are.
Following the feedback we've received from attendees after the first two meetups, we introduced three 20-minute talks to each event where both upcoming and seasoned speakers have the opportunity to speak in front of 100 marketers of all backgrounds. To date, we've had the pleasure of working with 15 people as speakers at Pint-Sized Marketing, and we're planning to build upon this with our upcoming meetups.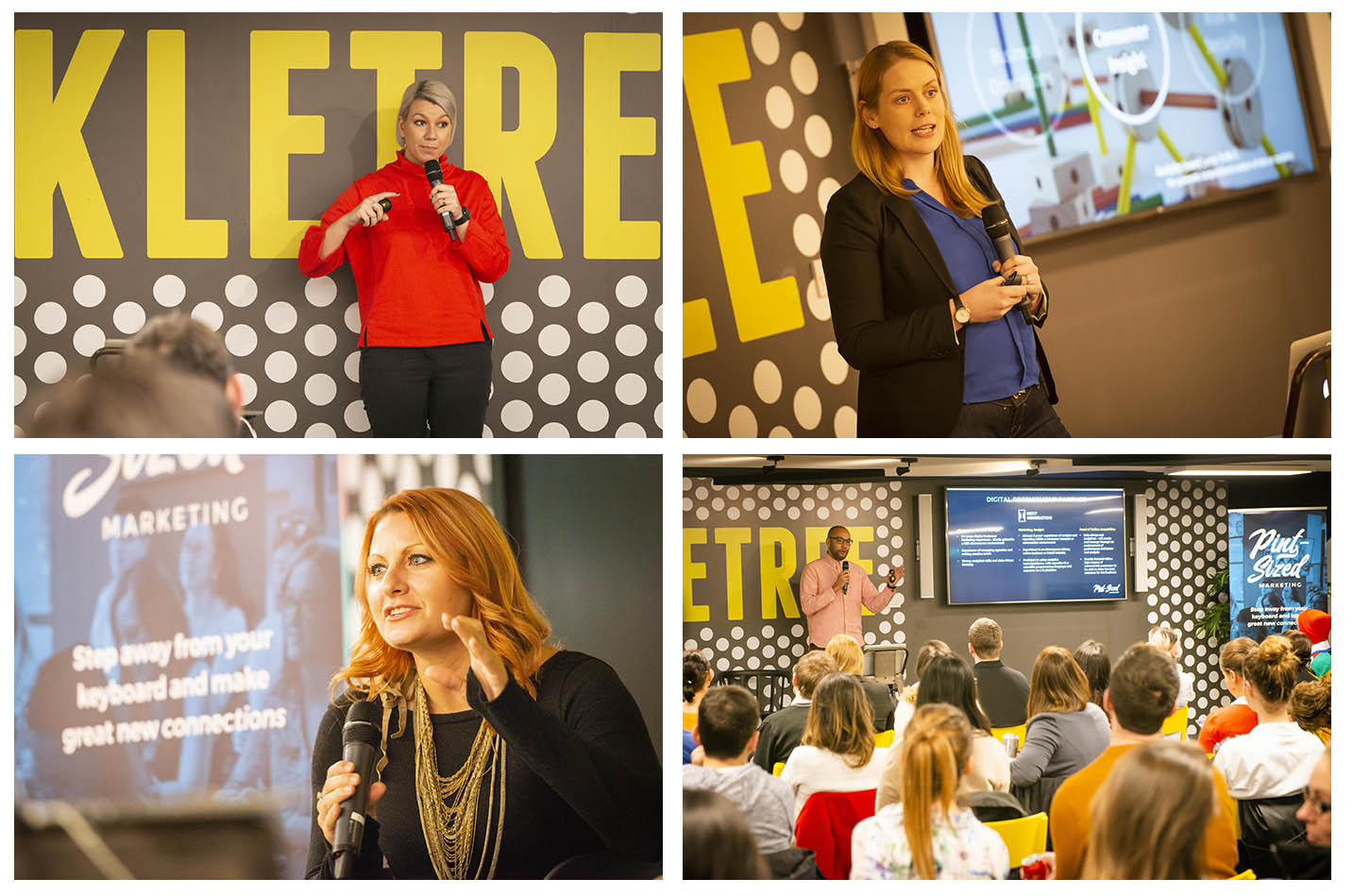 Why Speak at Pint-Sized Marketing
Like some digital marketing events, we don't accept speaking pitches for our standard Learn Inbound events. We're often scouring the internet for videos, slide decks, social mentions, podcasts, photos and anything else we can find of people's past speaking experiences. Our team will always try to see every speaker present in person before we reach out to them, but this often proves to be a difficult task as we typically invite speakers from outside of Ireland.
Smaller events can be a great way to grow your personal brand and develop your skills without the stress of facing a larger audience. A library of speaking experience will help you when pitching to other events and may open up conversations with event organisers who operate an invite-only approach to speaker selection.
AUDIENCE: Our meetups tend to attract 70-100 marketers from different backgrounds and industries.
PHOTOS: At each meetup, our resident photographer takes shots of each speaker presenting. You can use these as part of a speaking portfolio page on your website. Take a look at the photos from past meetups now.
AUDIO: The audio from each talk is recorded and edited to produce individual podcast episodes. You can listen back to past talks by checking out our Spotify playlist.
FEEDBACK: A short 20-minute talk is a great opportunity to test a new talk in front of an engaged audience. We will be sending out a survey to attendees following each meetup with the intention of sharing all feedback with speakers that present.
How Do I Pitch to Speak at Pint-Sized Marketing?
It's simple. You need to complete this form which shouldn't take any more than five minutes to complete. Here are some tips about what our team will be looking out for when selecting speakers:
NO SALES PITCHES: You may have achieved some amazing results for a client (kudos), but we find that case study style talks tend to be a little bit too self-serving and not relevant to a large percentage of our audience.
BE SPECIFIC: Tell us about your session's intent and how your talk will be delivered. Provide an overview of what you will cover, who it's aimed at, and what you hope the audience will walk away with.
ACTIONABLE TALKS: We will select talks that focus on providing actionable tips and tactics for our audience to put into practice the next day.
SKIP THE INTRO: You can assume we already understand the importance of your topic, so rather than trying to explain why "SEO isn't dead", dive into the details about what you want our audience to learn. You only have 20 minutes – don't waste it 😉
If you're not accepted the first time you apply then don't be too disheartened – keep trying. We will often select speakers who we feel are a match for those already confirmed to speak. We want to ensure there's as little overlap as possible on particular topics, and as gender balance is important to us, we may sometimes turn down speakers if we find ourselves with a ratio we're not happy with. Keep producing great work, communicating with our team and we will keep you in mind for future Pint-Sized Marketing meetups.
Ready to pitch? Complete our application form and we'll be in touch when selecting our next panel of speakers.