Twitter advertising is arguably the best form of social media advertising. That's if you believe the statistics that show that Twitter ads have a clickthrough rate 24 times higher than that of Twitter's social medial competitor Facebook.
(Source: Smart Insights)
Moreover, 42% of users follow companies and brands on Twitter. Therefore incorporating Twitter ads in to an advertising strategy is a must for any enterprise that is looking to have a strong online presence and widen its clientele base. Twitter ads vary and are categorised into three main categories, promoted account, promoted tweets and promoted trends.
Promoted Accounts

When setting up a Twitter ad it is important to know the difference between the three types of Twitter ads. Promoted accounts are used to promote a specific Twitter account. This type of Twitter ad is used to advertise companies, institutions and brands. When users log in to their Twitter account they get suggestions based on their interest. The promoted account Twitter ad uses this feature to promote the account being promoted. Twitter users will also view Promoted Accounts while viewing other users' accounts. This will depend on the target audience and location specified. Thus when setting up a Twitter it is important to have a target group in mind.
The promoted accounts ad helps to divert traffic to a company's or a businesses' Twitter account. In addition promoted account ads will be instrumental in exposing a brand to its targeted audience. This type of Twitter ad can also be used to increase traffic to a company's account in the preparation of a significant event such as the launch of a product.
The first step when setting up a promoted account ad is selecting the target audience. The target audience can be selected based on a variety of factors, including:
Location
Gender
Interests
Followers
A Twitter ad campaign may have a target group based on their topics of interests, meaning that the company account will be promoted to users whose interests relate to the company's products or services. A target audience can also be selected based on the geographical location where a company is based. The target audience can also be selected based on past website visits as well as using a company's data.
Monitoring is crucial to the success of any Twitter ad campaign, particularly a promoted account. Since Twitter ads are not free, it is important to monitor the progress of an ad campaign. This will help a company or business owner decide whether to change their ad budget or the strategy altogether. The three main goals of advertising are; acquiring new clients, increasing awareness on a brand or company, and maintaining the already existing clients. Twitter advertising is no exception and has to achieve these goals. If a Twitter ad is generating new followers it is important to implement new strategies to keep them engaged and their attention hooked on the company, business or product.
Promoted Tweets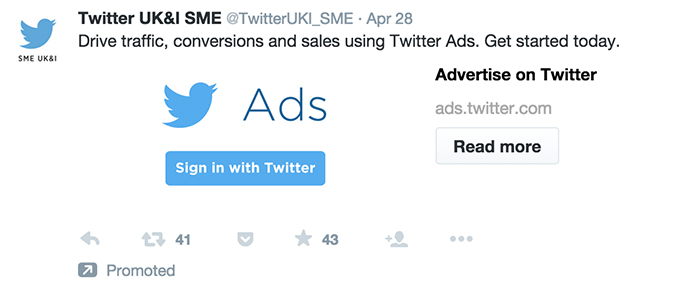 Promoted tweets differ from promoted accounts in that promoted tweets are used to promote specific updates. A promoted tweet ad campaign exposes a businesses' account status update to its target audience. Promoted tweets will come in handy when the aim of the ad campaign is to build awareness on a certain topic or product, to offer deals or to build a brand.
When using promoted tweets ad there are a number of matching options available. The broad match is the first keyword matching option available. This is an option that matches on tweets containing keywords in any order; including other words between those selected, misspellings, slang and synonyms. The phrase match is much narrower than the broad match as it targets people who use the exact words used in the ad as keywords.
Promoted Trends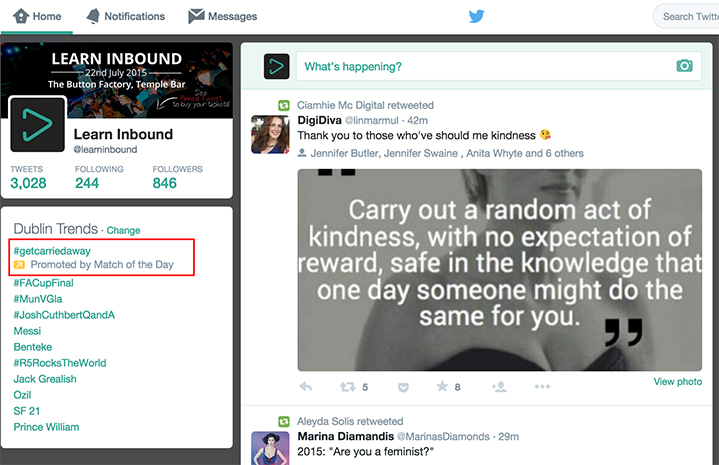 Twitter ad campaigns can also be done through Twitter trends. Twitter trends are topics that appear on top of the Trending Topic list. These trends will be visible to all Twitter users through their homepage. Promoted trends are useful when the aim is to get the online populace talking about a certain topic. Hence are great when it comes to creating widespread online awareness on events, and product launches. Promoted trends are also useful in building a brand through association.
There are several important questions you should ask before setting up a Twitter promoted trend ad. First is whether you have a unique product or service that is worth sharing. As already mentioned, promoted trends are exquisite for promoting events, product launches and announcements. Therefore, not all topics will generate the desired traffic or hype.
Question number two is the size of the audience being targeted, whether it's national or global. Promoted trends are best suited to advertising to a national or global audience. It does not make any financial sense to have promoted trends for state or citywide advertising.
The whole idea of a trending topic is a topic that will have massive online appeal. To achieve the desired appeal it is important to avoid capitalisation in a promoted trend ad. This is because capitalisation alludes to aggressiveness or spam content. Symbols, punctuations and spaces should also be avoided for the ad to trend organically.
A short tweet is recommended when using promoted trends. Naturally, a trend cannot go beyond the 20 character mark. In addition to this, the trend must be related to the business, service, event or product being promoted by the Twitter ad campaign.
Selecting Type Of Ad To Use
Before setting up a Twitter ad it is important to outline the objective of the ad campaign. The Twitter ad selected should fit the objectives of the ad campaign. Therefore if the objective of the ad campaign is to simply better an organisation's Twitter and online presence, the promoted account ad option is the best choice. On the other hand, if the primary objective of the ad campaign is purely generation of leads, the promoted tweet is a better option.
Time is critical to the success of any Twitter ad campaign. If the campaign is for a specific event, for instance, a product launch, the campaign start and end dates should be in harmony with the event's date.
Want to improve your inbound marketing knowledge? The next Learn Inbound event takes place on Wednesday 22nd July in Dublin. Buy a ticket to watch three leading inbound marketing experts share actionable tips that you can incorporate into your day-to-day job.