Retail Search can drive customers to your products on eCommerce platforms like Amazon, and help generate sales.
But what is it? How does it work? And how can you improve your own approach to this vital eCommerce activity?
What is Retail Search?
In the simplest terms, Retail Search is the online search facility that helps shoppers find products on eRetailer websites like Amazon.
Requiring a great deal of continuous work to help brands keep a competitive edge, Retail Search works in much the same way as a search engine like Google, though eRetailers – depending on their capabilities – tend to use less complex algorithms. That said, the likes of Amazon are developing more advanced and sophisticated algorithms all the time.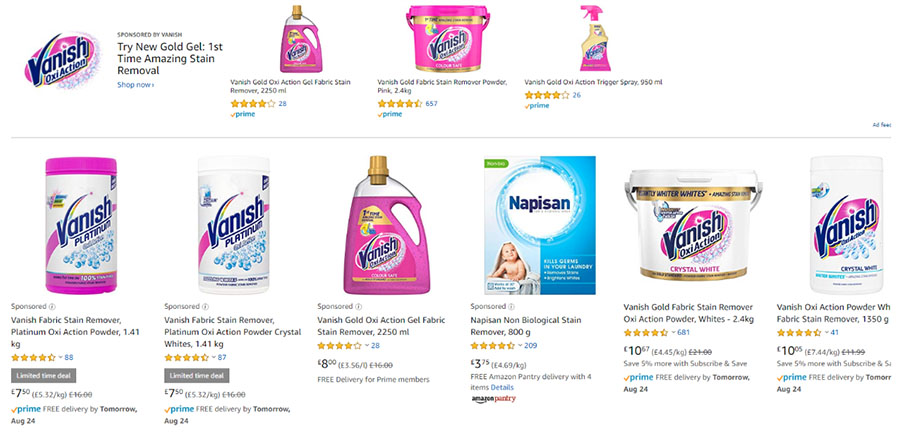 The consumer journey – are they in the mindset to buy a specific product, or are they just browsing? One of the many factors to consider as part of your Retail Search strategy.
From a marketer's or brand owner's point of view, there will need to be differences in approach to keywords, depending on whether a shopper is in a purchasing mindset or at a different stage in the online shopping journey: for instance, if they're simply researching white fabric laundry detergent or actively searching for Vanish's white fabric laundry detergent specifically.
Optimising Retail Search also requires a blend of Organic Retail Search and Paid Retail Search.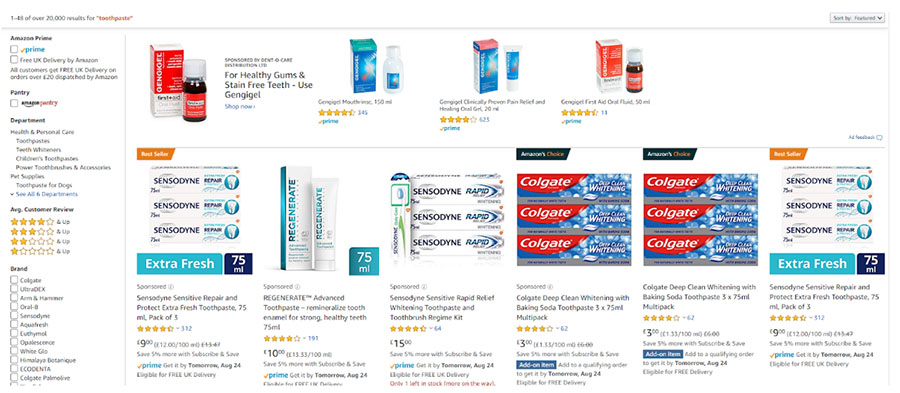 A simple search for toothpaste on Amazon
How does Retail Search work?
Retail Search makes your products visible online so that they're easy to find and purchase, and therefore a vital tool for those – like brand or sales managers – whose role it is to put products in front of customers and potential customers.
Looking at this from the perspective of a toothpaste brand or sales manager, how do you get a customer to see and potentially buy your toothpaste?
Your first task is to improve your Organic Retail Search (non-paid) listing.
You want your product's name and description to be optimised to match shopper-relevant keywords as closely as possible.
The closer your name and product description come to matching the targeted keywords, the higher your product will appear in the search results, thereby making it visible to customers more quickly.
Investing in Paid Retail Search
Improving your organic ranking is vital, but only one part of the challenge.
Another vital activity that you must be willing to invest in eRetailer platforms is Paid Retail Search.

Amplify Organic Retail Search with Paid Retail Search 
Paid Retail Search options offered by eRetailers, such as Amazon's 'Sponsored' facility, can potentially guarantee you visibility by placing your product at or near the top of the list when a shopper searches for your strategic keyword.
So, if you do a search for toothpaste on Amazon right now and see 'Sponsored' or 'Amazon's Choice' next to one of the products at the top of the list (or, more ordinarily, at the top of the list), then you know that the brand that the product belongs to has paid for it to appear there. Just as you would if you wanted to try to secure a guaranteed spot on Google.
Advertising on Amazon is not as straightforward as it might immediately seem and there are a number of options to consider, so it pays to have someone with some expertise and experience of Retail Search to help guide you through any obstacles.
The four types of Retail Search

SEO & SEM vs Organic & Paid Retail Search
Below is a list of the four types of Retail Search.
The first two are conducted on search engines like Bing, Google, or the Chinese equivalent Baidu. 3 and 4 are the types that we've been focusing on in this article, which take place on eCommerce platforms like Amazon.
Organic Search Engine Optimisation (SEO)
Paid Search Engine Marketing (SEM)
Organic Retail Search
Paid Retail Search
SEO is the practice of increasing the quantity and quality of traffic to your website through unpaid organic search engine results. Central to its success is making changes to your website design and content that render your site more attractive to a search engine, in the hope that the search engine will display your website as a top result in relation to your strategic keywords.
Search Engine Marketing, on the other hand, is the practice of marketing a business using paid advertisements that appear on search engine results pages (or SERPs).
Advertisers bid on keywords that Google (or equivalent) users might enter when looking for certain products, giving advertisers the opportunity for their ads to appear alongside results for those search queries.
These ads, often known by the term pay-per-click (PPC) ads, come in a variety of formats. Some are small, text-based ads, whereas others are more visual, product-based advertisements that allow consumers to see important information at-a-glance, such as price and reviews.
SEO and SEM are of course important activities for driving online traffic to brands and their consumers.
But Retail Search is becoming ever more important because Amazon is – in some cases – surpassing even Google as the place people go to look for and research products. So, if you can develop a strong Retail Search game, you can give your brand and products a distinct commercial edge over your competition.
The importance of ranking high in Retail Search
A clear benefit of Retail Search is that it creates conversions. Conversion rate is a measure of how many sales occur for each view of a product listing.
If you optimise your Product eContent, you will achieve a better ranking. And the better your ranking, the more visible your product will be to potential customers, therefore putting it in a better position to make sales.
It will also influence your brand's online and offline sales. Shopping behaviour is constantly changing – and, though Google is still the place shoppers tend to initially go when looking for Product eContent (which we explore in the next section of this article), many consumers are increasingly visiting eRetailers for that detail first.
In fact, consumers in the USA are now more likely to visit Amazon for Product eContent than they are Google.
Retail Search (Organic Retail Search amplified by Paid Retail Search) and Product eContent (which we get on to in the next section) complement one another in improving your product's visibility, sales and rankings.
The importance of Product eContent
OK, so imagine you're ranking first on search results in your category – great!
But now you need to make sure the information the person is looking for is actually there on your product detail page, or you will lose that would-be buyer.
Get this – a whopping 81% of shoppers will do their research on products they're thinking of buying online before making their purchases online or in an actual physical store[1].
That means that Retail Search not only has a huge influence on online sales but also sales offline, with research showing that 56% of all sales across categories are heavily influenced by online search[2].
The consequences of this phenomenon could be huge because it means that products and brands can be searched for and assessed by consumers whether they like it or not, which can – potentially negatively – impact on the reputation of their brand and sales, both online and offline.
So, the best approach for brand managers to take is to have a very clear idea of what information there is about their products online. That is why good and strategically aligned Product eContent is so important.
But what exactly is Product eContent?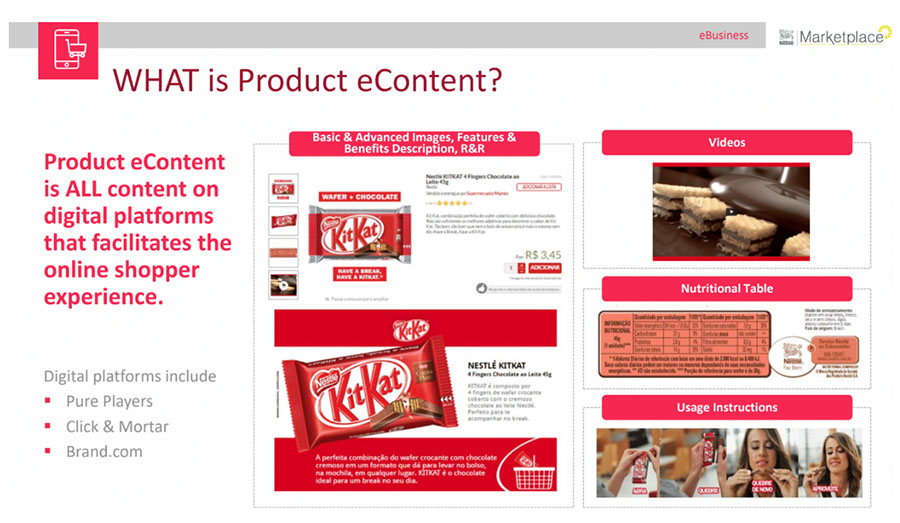 Wow your online consumers with Product eContent that mirrors the experience of physical shopping
In a physical shop, we can see a product before our very eyes, pick it up from the shelf and read the label as part of our decision as to whether to buy it or not.
The same cannot be said of products in the online world, which means that brands operating in the virtual space have to make their products visible and enticing to online shoppers as quickly as they can.
Product eContent refers to all the content that makes a product stand out and zing online.
Consumers can't physically see or touch the products, so they need accurate and detailed information that allows them to find a product quickly and with ease, understand its attributes, and decide if it's what they want or needs.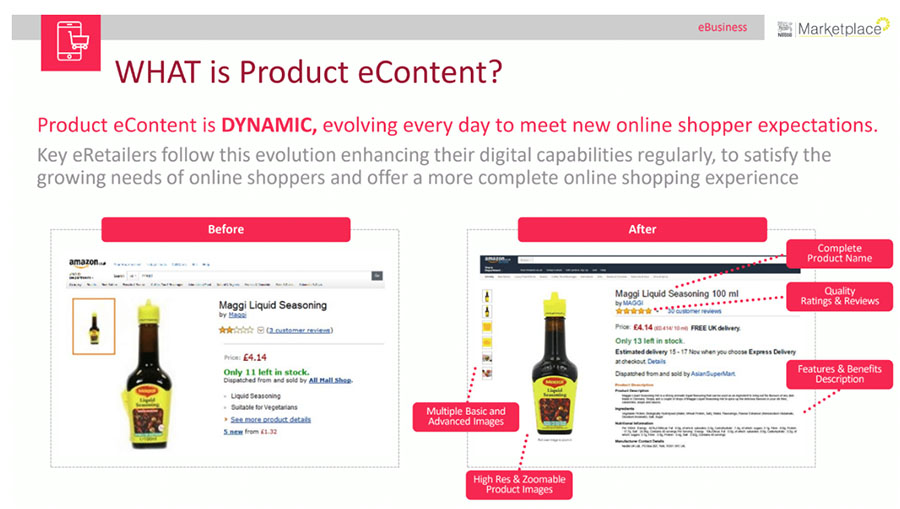 Quality Product eContent should excite and delight potential buyers
How to optimise Organic Retail Search
People need to be engaged and drawn into an alluring and exciting shopping experience. Therefore, brands need to work all the harder when it comes to creating Product eContent.
The power of images
It may seem obvious, but images are incredibly important when it comes to optimising your content.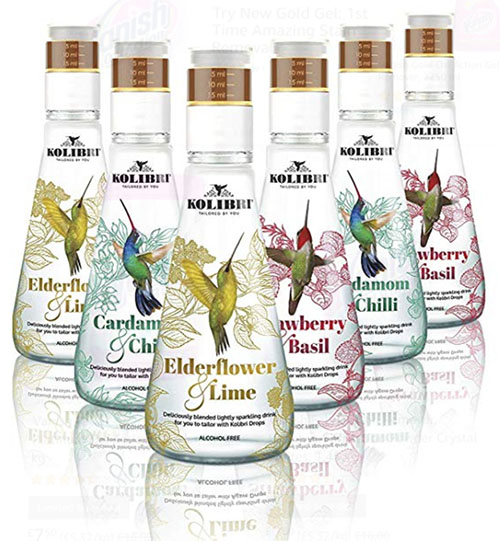 Mobile Hero Images allow customers to easily understand the features and benefits of your product 
Your product images are the first thing a customer sees, so you want to make sure you're making the best possible initial visual impression.
You should look to use a range of images offering a variety of angles, and each image should be of the highest professional-standard quality. Using a minimum of 1000 pixels on at least one side of the image ensures the consumer can zoom in on the image, resulting in a high-quality image that improves the experience for the consumer.
It's also extremely important to think about how images will render for mobile users, given that more than 50 per cent of consumers use mobile phones or tablets to browse or research products online. Mobile Hero Images are product images suitable for mobile devices that amplify and simplify the key information on packaging, making it easier for consumers to make online shopping decisions.

Make it clear to the customer what it is that they are looking at 
What's the title?
The title is the first thing that a customer reads on a search results page, so can make the difference between someone clicking on your product or a competitor's.
Here are some things you should be including:
your brand name
what the product is
the quantity
features or benefits that make it stand out
Make your point
Under the title on a product detail page, you will usually see five bullet points.
With bullet points, you should try and fit in as many keywords as possible, while still making sense.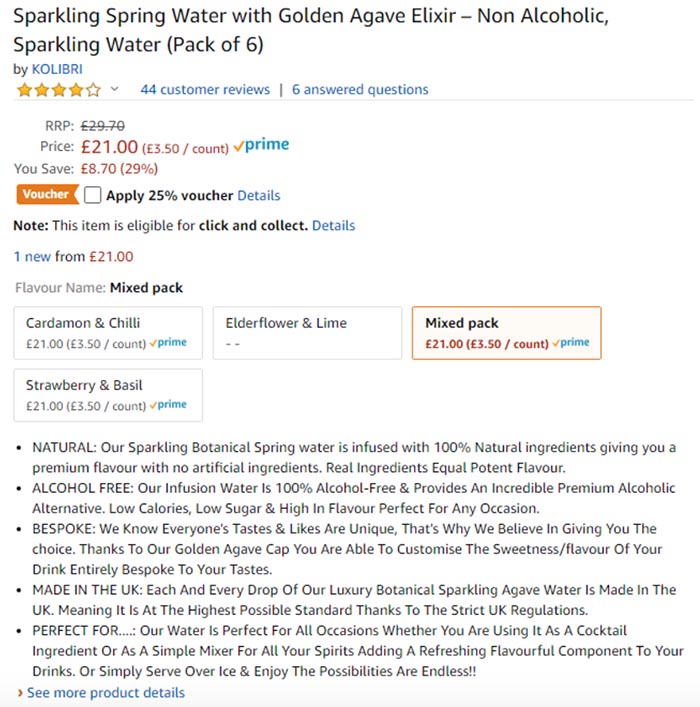 Use bullet-points to get your product's points of difference (PODs) across
The key benefits of this optimisation activity are that it will make your product visible to people searching, and help highlight the most important features and PODs (points of difference) of your product.
Product Description
Your product description is not as visible as the bullet points or images but is still likely to be looked at by all potential customers.
The product description gives you means to really convey why your product is so great and tell your brand story. It's a way of mirroring the physical shopping experience by using great copywriting that describes the essence of the product – what it smells like or how it feels – and evokes emotions or triggers visceral reactions.
What inspired this product? What makes it stand apart from similar products? Why should your prospective customer buy it? It's therefore absolutely vital that you do a  great job with your product description.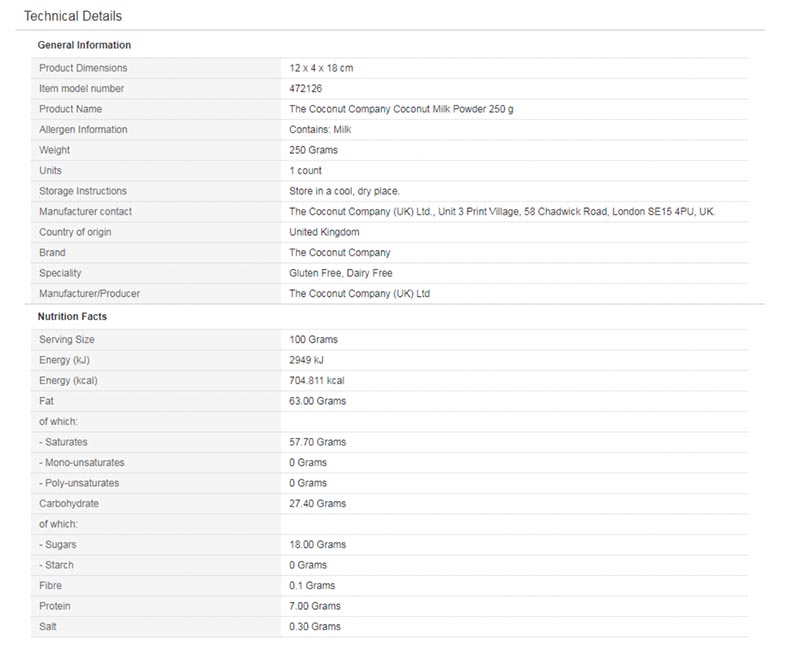 Give your customer all the details they need on your product
Reviews and Q&As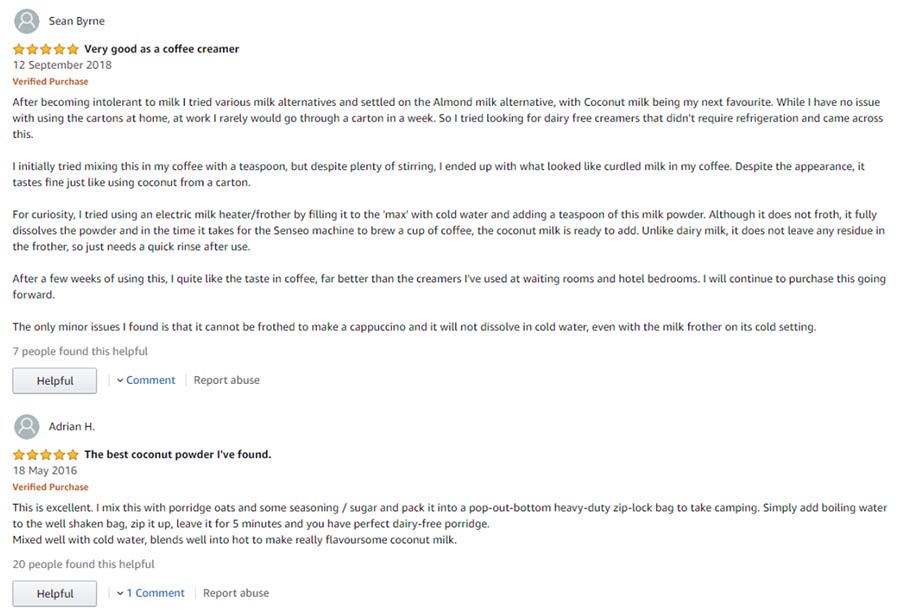 Reviews act as powerful independent 3rd party endorsements of your brand and product
There are other ways to optimise your content by inviting customers to review your products, and investing time in the Questions & Answers section of your product page, so that customers can learn more about your product when assessing if it's right for them.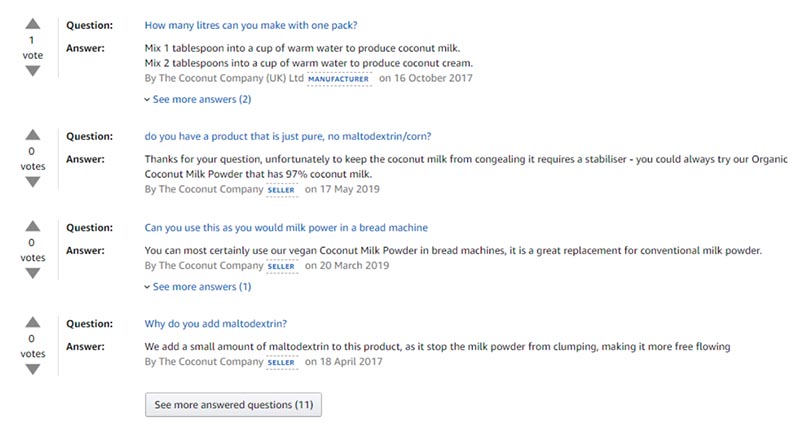 Anticipate consumer queries to help make their purchasing decision easier
Optimising through Paid Retail Search
Paid search is usually sold through a bidding system. The algorithm takes into consideration the highest bidder and most 'relevant' answer to the question (which is, again, why eContent is also crucial for paid search).
To optimise the Return on Investment, there are strategic factors to keep in mind besides bidding high (be aware that not all eRetailer's offer the option of paid search).
Viewability
This factor is similar to buying traditional media: try to ensure that your placements are located above the fold (the portion of a page visible to the user when the page first loads) and preferably in the middle of the page.
The rate of viewability and the time of exposure[3]depend on the placement on the page and is impacted by scrolling.
Selecting the right keywords
Every brand should have an eRetailer-specific keyword strategy because people don't research the same way when they are in a purchasing mindset on eRetailer websites.
Companies like Helium 10 have tools that let you extract keyword reports from Amazon, which can help for both organic and paid search.
If you don't have access to a tool, take the traditional search engine keyword approach by extracting a report on Google Analytics, for example. This will give directional information on the type of keywords that have high volume. Then adapt it to shoppers' mindsets.
Alternatively, you may want to look at bringing in some external expertise like Amazon eBusiness Institute Services to help you develop eCommerce strategies for making your products fly and your brand grow faster globally.
There are two main types of keywords:
Branded – the keyword used to search for a company name
Unbranded – the keyword that defines your product
But it's how you use keywords that dictates whether you succeed or fail with your strategy.
Once the keywords are selected, you need to create the right balance between placements in category-related contexts and placements that are able to reach a larger audience.
At eBusiness Institute, we have developed a keyword strategy framework we call the CONQUER vs DEFEND strategy, which we have detailed in the diagram below. But, first, the basics.
1) 'Defend keywords' are Retail Search terms that users use to find a particular supplier and its products.
Generally, the person searching is already aware of the supplier's products or services. This means that they use the supplier's brand name or product name in their search query.
It should be the goal of any business selling on an eCommerce site to occupy the search engine's top spot for its defend keyword e.g. (going back to the example used at the beginning of this article) Vanish or white fabric conditioner.
Other brands may look to bid on your strategic keywords in order to drive traffic to their own products, which is why it's important to 'defend' them as your own.
2) 'Conquer keywords' are generic search terms that the search engine user enters when they are not looking for any one particular provider.
Conquer keywords are vital for generating new customers. A high ranking in the search engine results conveys to potential customers both a certain authority and a strong relevance to the products or services they are seeking.
You will have a lot of competition on your hands if you want to rank highly with conquer keywords, so will have to be prepared to invest a lot of time in your Retail Search and Product eContent to make sure you succeed.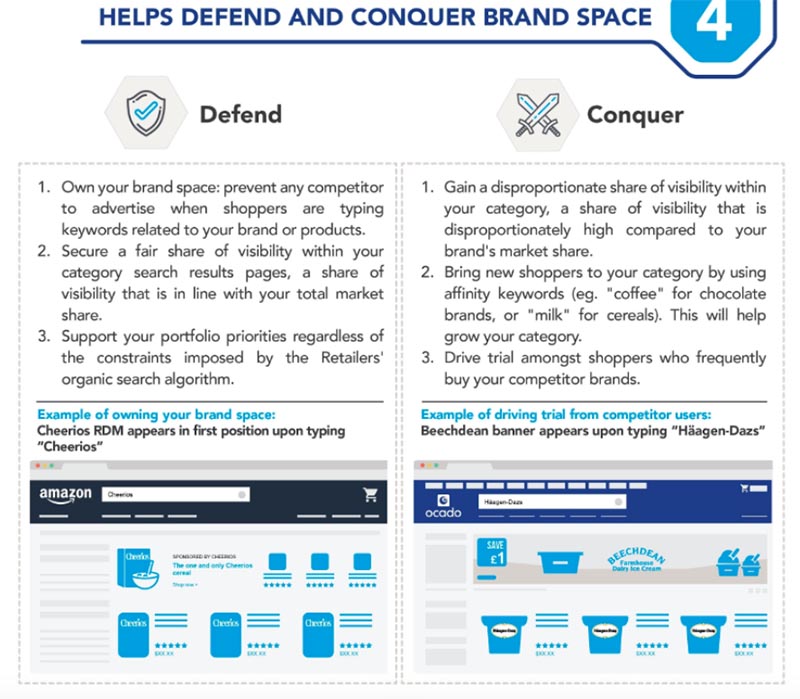 See https://ebusinessinstitute.com/retail-digital-media/retail-search-infographic/ to learn more about Defend & Conquer strategy
In conclusion – Retail Search is key to your brand's success
To summarise, Organic Retail Search enhances your product's discoverability, while Paid Retail Search boosts its visibility during the online shopping process.
Organic and Paid Retail Search therefore go hand-in-hand when it comes to raising your product's overall Retail Search performance, but should also be complemented by quality Product eContent.
Whether you choose to concentrate on organic or paid or look for the best possible blend of the two, one thing is for certain – no brand that wants to gain visibility for its products and succeed on an eRetailer platform can do so without placing a great deal of focus on its Retail Search performance.
Sources
[1] https://www.adweek.com/digital/81-shoppers-conduct-online-research-making-purchase-infographic/
[2] https://www.emarketer.com/content/in-store-sales-still-rule-but-digital-helps
[3] ComScore research on display ads in the US showed that only 43% of display ads are viewable, Q3 2014. Above the fold placement CTR x2 below the fold placement