According to HubSpot, 79% of UK companies implemented inbound marketing strategies in 2014. This accounts for a year-over-year growth of 25%. Amazing!
Want to land your first inbound marketing role? We've compiled 10 simple tips below that we believe will help you convince a company that you're the perfect candidate for them.
1) Be Hungry

One of the essential qualities of any savvy inbound marketer is the hunger to learn. If you're not passionate about the type of role that requires continuous learning, you will struggle to keep up to date in this industry.
No digital marketing course or certification will make you a complete inbound marketer. They're merely the first step on a path to learning the necessary skills required to get a low-level position in this industry. If you want to set yourself apart in an interview, you need to demonstrate your desire to keep improving your knowledge every day. Inbound marketing ninjas, gurus and experts are self-proclaimed titles from people in the industry who have stopped learning. Do not become one of these people!
*Top Tip* Surround yourself with people who similarly are just starting out in their career. Learning together will always make it a more enjoyable experience!
2) Keep On Top Of What's Happening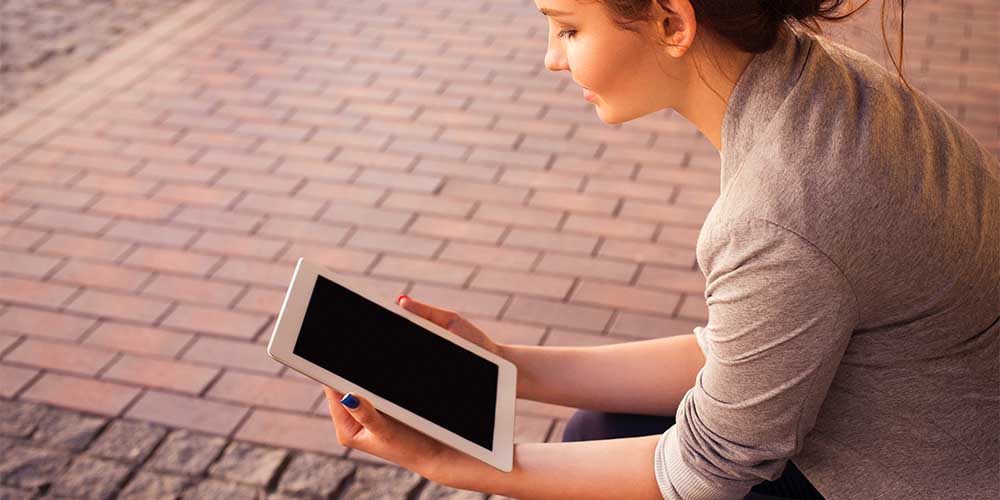 A hunger to learn will mean very little if you're not keeping on top of industry news. Do you know what impact the latest algorithmic changes from Google had on your organic visibility? Perhaps you missed out on tweaks to the paid advertising platforms of Twitter and Facebook? Be sure to keep on top of the latest changes in the industry if you want to set yourself from other inbound marketers.
Here are some recommendations on websites to add to your reading list –
SEO – SEMrush, Moz, Distilled, BuiltVisibile, Search Engine Land
PPC – PPC Hero, Search Engine Land, Wordstream
Social Media – Social Media Examiner,  Social Media Today
Content – HubSpot, Content Marketing Institute
*Top Tip* Make life easy for yourself by using Pocket to curate content from multiple websites. It'll allow you to quickly catch up on articles you've missed while on the go.
3) Get Networking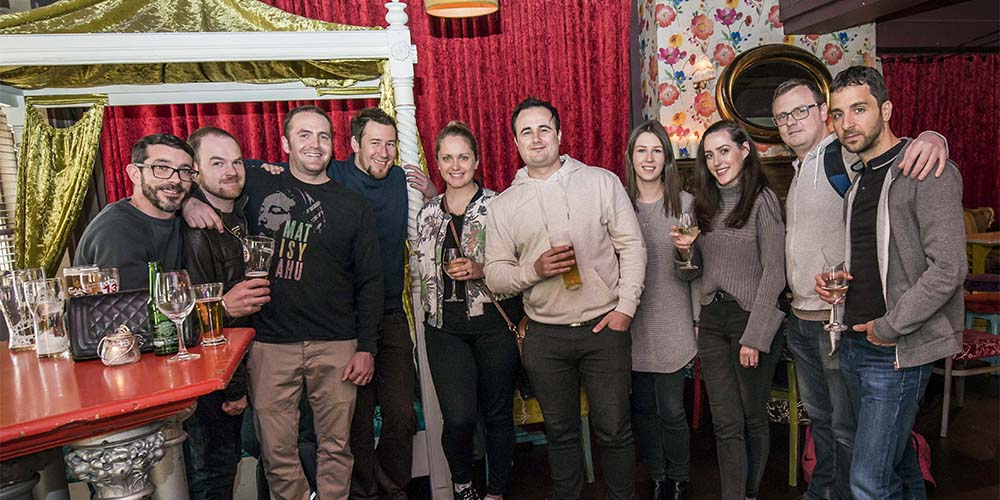 Here at Learn Inbound, we're big fans of the power that networking can bring. Whether you're an introvert (like me!) or an extrovert, you need to surround yourself with people more talented than you if you wish to keep improving. If the thought of attending inbound marketing events to meet people scares the heck out of you, get to know people online by engaging through social media, community websites like Inbound.org, Reddit or Boards.ie.
The people you meet throughout your inbound marketing career will be your support network when you run into problems. Build and nurture relationships with other inbound marketers to help open doors to opportunities you may have otherwise missed out on.
*Top Tip* Afraid of walking up to strangers at inbound marketing events? Reach out to people through Twitter or LinkedIn that you know will be in attendance. Also, take a look at Dharmesh Shah's (HubSpot) Introvert Guide To Getting The Most From A Conference for some useful tips.
4) Have Personal Projects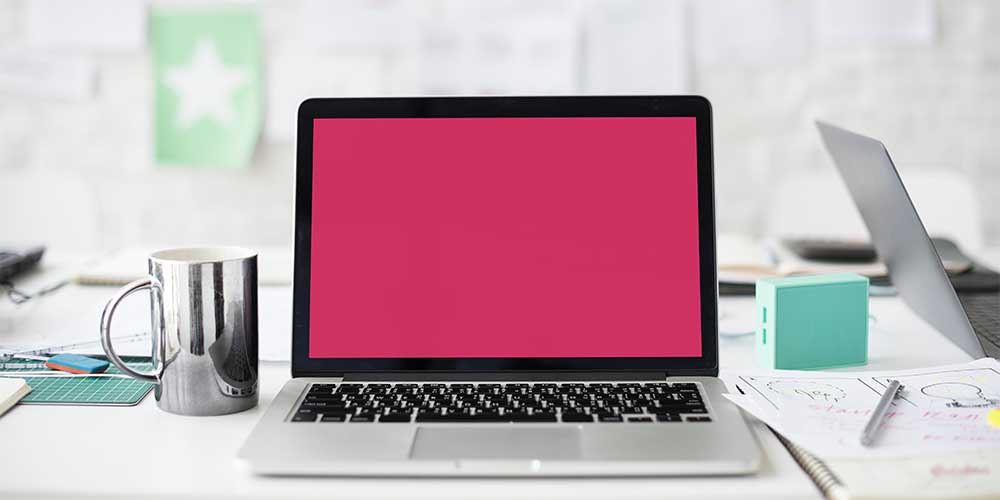 Personal projects are more important than any digital marketing certification on a CV when applying for an inbound marketing job. Keeping on top of the latest industry news and taking courses will only get you so far; you need to try out your ideas to test out theories. Try your hand at multiple disciplines (PPC, SEO, Social Media, Content Marketing etc.) and don't just treat industry leaders' opinions as gospel. If you can't take accountability for the success or failure of your project, you won't be as an attractive of hire as someone who practices what they preach day in, day out.
*Top Tip* Purchase a domain name and some shared hosting through a provider such as Blacknight. Setup a simple WordPress website, install Yoast SEO plugin, link your Google Webmaster Tools account to your site and ensure Google Analytics tracking code is correctly applied to every page.
5) Learn The Terminology
Can you differentiate between TOFU, MOFU and BOFU content for lead nurturing? Perhaps you need to spruce up your knowledge on the basic principles of PPC, SEO and SEM?
If you're not comfortable with terminology commonly used in the industry, you will instantly stand out for the wrong reasons when interviewing for an inbound marketing role. An adept inbound marketer is both comfortable with industry jargon and knows how to incorporate each all of these elements into a successful campaign.
*Top Tip* Take a look at HubSpot's 45 Inbound Marketing Terms You Should Know and The Ultimate Inbound Marketing Glossary for a comprehensive overview of the terms you need to know.
6) Build Your Personal Brand

Want to become a successful inbound marketer? You need to focus your attention on building a strong personal brand.
If you want to show a potential employer that you're the perfect candidate to improve their company's visibility, you need to be able to demonstrate that you first can build your brand. Not only will this help to open up exciting job opportunities; it can help improve your outreach to leading industry practitioners for support when trying to overcome a problem, or just for when you need a quote for an exciting content piece you're working on.
*Top Tip* Check out this great blog post from Dan Slagen on the HubSpot blog about 7 Easy-to-Fix Mistakes You're Making With Your Personal Brand.
7) Broaden Your Knowledge

If you're starting out with your first role inbound marketing role, you should try to get hands-on experience with more than one channel.
Rand Fishkin of Moz has commonly used the term 'T-Shared Web Marketer' to describe someone who has a full breadth of basic knowledge across multiple digital marketing disciplines, but who specialises in one or two particular skills. Not only will taking this approach allow you to identify areas of inbound marketing that you particularly enjoy, but it will also leave you better positioned to advise on the broader inbound marketing strategy of the business.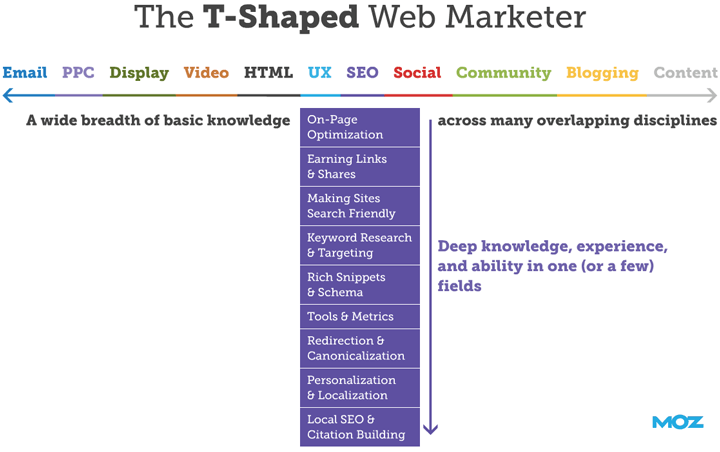 (T-Shaped Marketer, Moz)
*Top Tip* Don't box yourself into a specialised role for your first inbound marketing role in the industry. Many intern roles will give you an opportunity to get hands-on experience with multiple disciplines. While the prospect of learning about SEO, PPC, Email, Social Media etc. at once may seem terrifying, try to absorb as much information as you can. Ultimately this will help to shape your career path in the future and give you a solid base of knowledge going forward.
8) Become Technical

Let's face it; inbound marketing isn't quite as glamorous as it can sometimes appear to be. The industry practitioners that shine brightest are those that are comfortable with getting their hands dirty by creating landing pages, designing graphics and tweaking the source code of pages with schema markup, tracking code etc.
While it's doubtful you will be developing websites from scratch, a basic knowledge of HTML and graphic design will help you stand out from less technically minded candidates.
*Top Tip* Take a simple HTML & CSS course with Codecademy to learn the fundamentals of HTML and the styling of a page.
9) Know Your Metrics

Inbound marketers who set themselves apart from industry peers are those that can quote the ROI of campaigns they've run. Do you know your CPC from your CPA? While it's easy to talk about the creative aspect of campaigns you've put together, it's candidates that know how each channel performed and can explain what actions were taken will be the ones who ultimately impress an interviewer.
*Top Tip* Familiarise yourself with some of the more commonly used marketing acronyms with HubSpot's useful guide: 60 Marketing Acronyms Every Industry Pro Should Know
10) Get Certified

If you want to stand out from fellow industry practitioners, you should take the time to become certified in some of the key skills required by an inbound marketer. Google offers professional accreditation to individuals who demonstrate proficiency in Google Adwords or Google Analytics. The courses and exams are completely free to take with all of the study materials openly available to everyone.
*Top Tip* You should take the Inbound Certification exam with HubSpot. It's a free online marketing training course that covers the fundamentals of Inbound Methodology, with each student receiving a badge to add to their website, email signature or LinkedIn profile upon successful completion.
Come along to the next Learn Inbound event in Dublin to get more tips from leading industry experts about how to land your first inbound marketing job.