Let's face it: sales in the B2B sector are more complex compared to B2C. Buying cycles take longer (quite often – more than a year, according to Demand Gen report), and businesses are targeted at a smaller audience.
There are no emotion-driven sales in B2B, only rational and well-planned deals.
So to make most of their businesses, B2B companies need two things – a brilliant plan and proper tools.
This guide is about B2B CRM strategies – a company's plans to use a CRM system to boost sales and upgrade customer service.
We're going to figure out what exactly is B2B CRM, how it works, and how to create your CRM strategy.
Time to get started. 

What Exactly Is B2B CRM?
First, let's get to the basics.
The main idea of a sales cycle is to guide customers through content that increases their brand awareness and turns visitors into leads.
And end the cycle with a sale.
Sounds easy, but it's not a simple task in the B2B sector. Remember that you're dealing with companies as your clients. Companies that have a few viewpoints and quite a few requirements at each stage.
No wonder it's a bit complicated to figure out what they need at once.
That's why companies use CRM (customer relationship management) tools and strategies.
What are they?
In B2B business, CRM may be any of these things:
strategy
process
software
But at its core, CRM is a way to understand and fulfil your customers' needs at each stage of the sales cycle.
B2B CRM software is a big asset here. These tools collect data from client's communication channels – websites, chats, calls, emails – and analyze it.
Information B2B CRM collect includes:
quotes
inquiries
sales reports
notices of issues clients faced
All these details are kept in a database (a cloud one, usually), and the company's staff can access them anytime. CRM system allows Sales and Marketing depts to track leads and see all needed details about them. This way, companies figure out how and when to motivate clients to move to the next sales stage.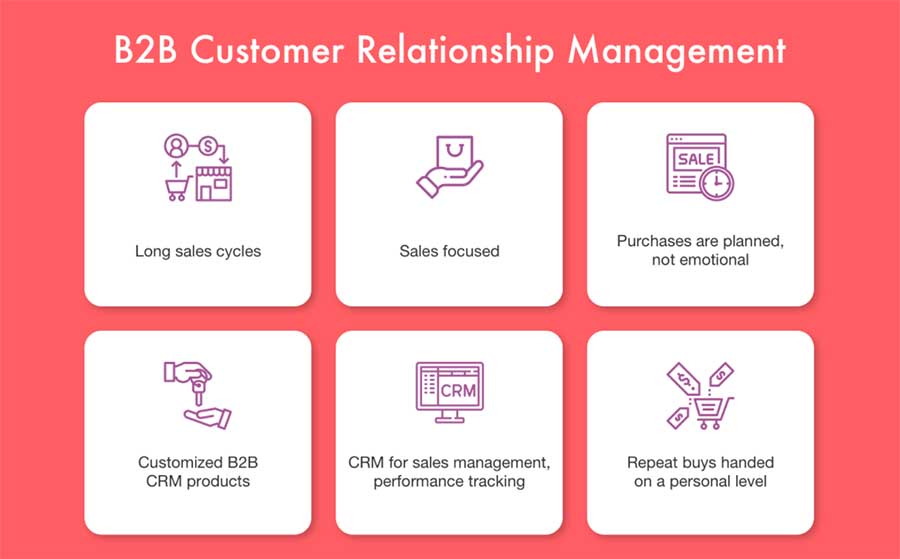 What Advantages B2B CRM Brings
No doubt, it's the sales team that makes most of the CRM software. But marketing and CS departments also benefit from it.
Let's take a look at all the advantages CRM brings to the B2B environment.
Improved contact management
Excel or Google Spreadsheets do fine when you've just launched the business. But with its growth, the requirements grow too.
And no company can keep the lights on without managing its client base.
Using CRM software, staff can easily upload customers' data to the database, set priorities, and reminders about calls or meetings with clients.
The software stores every piece of information, and the company can draw and use it at any time.
Better customer experience
Let's be honest: it's not just the product that sells.
No matter how great your products or services are, customer relationship plays a large role in making the sale, and it needs nurturing from the outset.
As the team has anytime access to client details in the CRM system, they can apply a personalised approach at all points.
B2B sales take up to a few months or the whole year (or a bunch of years, if you're lucky), and a personalized approach does make the difference. 

Real-time quotes made easy.
Having all the details at hand, the sales team sends accurate quotes to customers and does it timely.
While the CRM updates information about transaction, inventory, prices as soon as they're changed. That lowers the chance of sending an incorrect quote to clients, frustration, and consequences.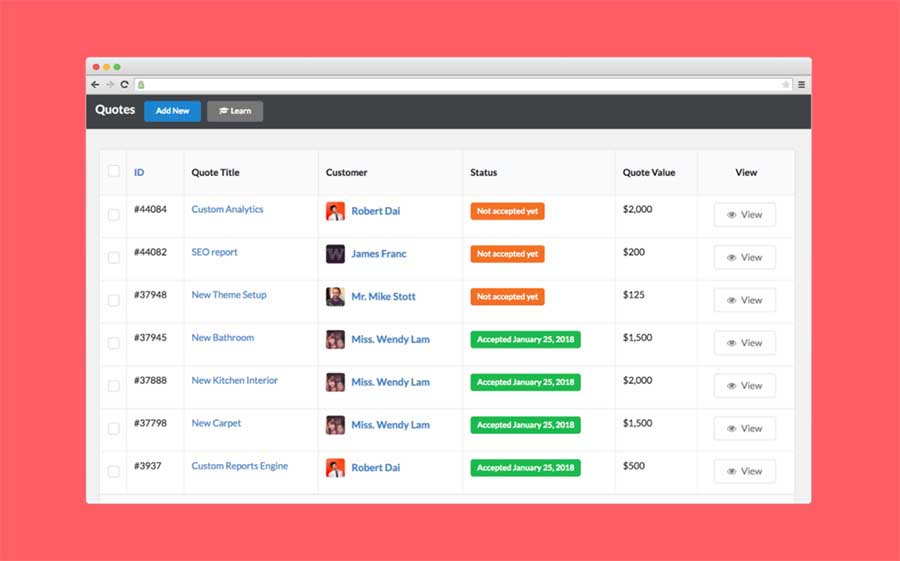 Targeted marketing campaigns
It's hard enough to launch one advertising campaign, let alone a few. And what if you have a dozen products to promote?
Using CRM software, companies make highly personalised and automated marketing campaigns. The staff swiftly identifies potential clients and focuses on communicating with them.
No wonder these ads reach their audience.
Deep analytics & detailed reporting
So, you've launched a promotional campaign. Now, how do you check its results? Even more, if there are a dozen ad campaigns, how do you find out which gives ROI and which doesn't?
CRM system gives a hand here – with analytics and reporting feature, the company finds out which actions gave ROI, and prepares the sales forecast.
Usually, a CRM system comes with a dashboard that shows all the needed metrics, and staff can generate reports with ad campaigns results in no time.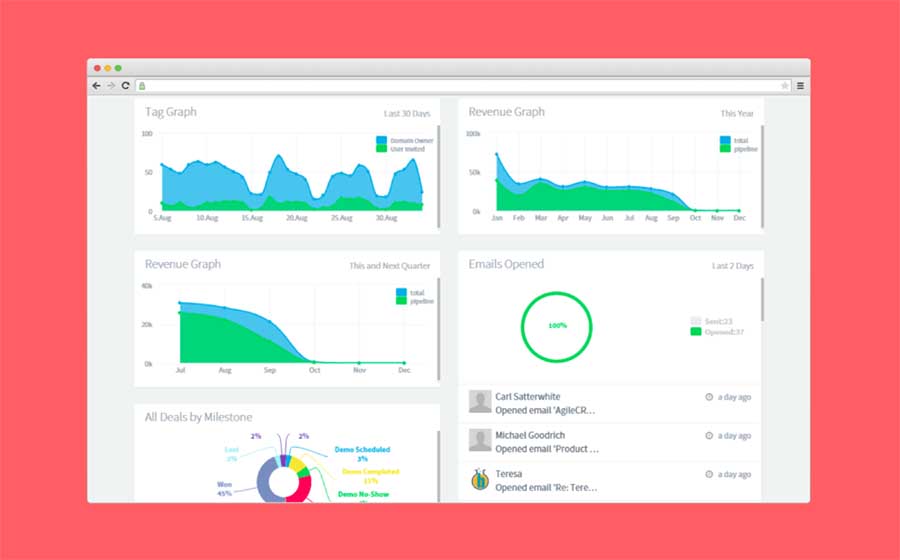 Let's sum everything up. CRM software helps B2B companies better understand their audience, prioritize business requirements, and organise data storing.
No wonder well-known B2B companies are interested in CRM software development – Wells Fargo, Volvo, Cisco, and many others. (We're reviewing them in the last part of the guide).
B2B CRM Strategies
Cutting to the chase: sometimes, customer relationship management gets tough.
That's why I'm listing these five time-tested tips on client relationship management – and how the CRM software helps with it.
1) Keep track of your customers' needs.
All companies, no matter B2B or B2C, should know everything about their customers' pains, struggles, and needs.
How do you find out? Dig into the data of your CRM stores!
Here's an example. The sales team uses the software to store details about customers and their interactions with the company. So a sales rep can ask clients what they've been looking for, and why they picked this company. And add the information to the CRM.
By keeping this information all in one place, it won't be hard to figure out what your customers need.
2) Make a full focus on companies
Once again: working in the B2B sector means working with companies, not individuals. So you may be quite interested in getting more corporate customers involved.
Just an idea: run in-office training explaining your product's features and showing how to use them to get max results.
The more the company tells how great and much-needed products are, the more long-term clients it will get.
3) Gather feedback
Clients should know the value of your product, or no one will buy it. The best way to make your product even more valuable is to ask for the client's feedback and improve it according to their preferences.
You may start by asking a simple open-ended question: 'What services could be improved? How?' or 'What additional services you'd like to see?'.
Take all the time you need to check their replies, looking for the most common issues or suggestions.
By giving the clients a way to share their opinions, companies gather valuable insights that help to improve overall business processes.
4) Create the right content
B2B customers often rely on content when making informed buying decisions. Clients want vendors to reach out to them with sales emails, prepared detailed case studies, and informative articles.
That's why you should consider creating a content library, at least answering the FAQ.
5) Monitor your success level
One last thing – don't forget to track your success.
Check how many customers finish the onboarding process, and find out how engaged they are on an ongoing basis.
Finally, look at how often they use your product – the more times they do, the more valuable it becomes for them. Most B2B CRM suites allow monitoring these indicators for individual users, so there should be no issues with it.
B2B CRM Software: Best Use Cases
Finally, let's check a few real-life B2B CRM use cases – from Unilever, British Airways, and Cisco.
Cisco
Cisco is a US networking hardware & software company with annual revenue of 51.9 billion U.S. dollars and 75,900 employees.
All they wanted was to increase the productivity of the staff, allow real-time collaboration, and respond within the company.
The WebEx software turned out to be the best-fitting solution for that.
After its adoption, the sales team found 20% more time to work on strategic tasks. The number of external interactions increased by 50%, and the average working time – decreased by 10%.
What's important, the clients were fully satisfied with the given service, rating it at 4.88 out of 5.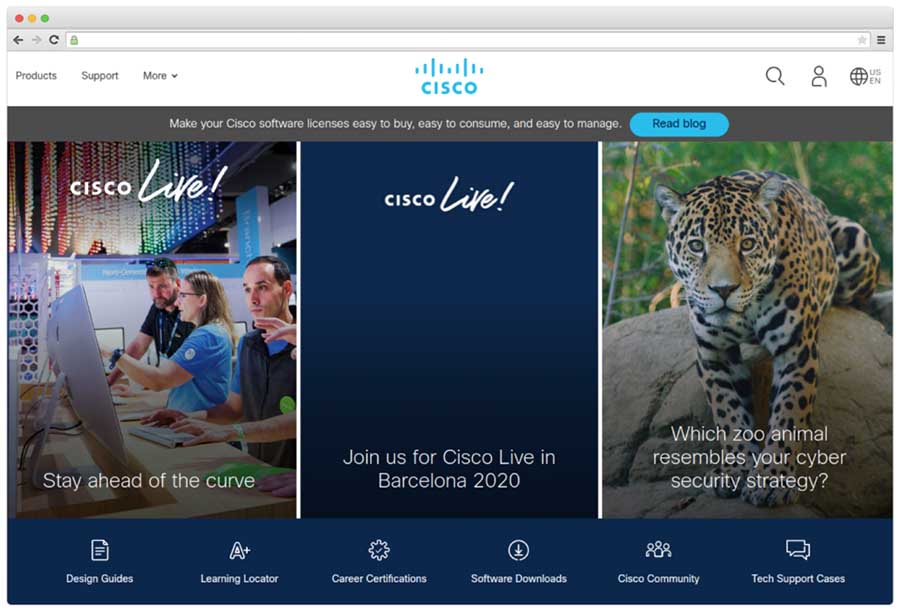 Unilever
Unilever owns more than 400 and surely knows the importance of keeping their client's details at hand. That's why they decided to apply CRM software to launch data collecting campaigns.
Unilever set their sights on a Traction Digital platform. This software helps to launch and conduct multichannel campaigns, collect feedback, and analyze it.
This partnership helps to maintain Unilever's living plan – drive more growth, less waste, and less risk.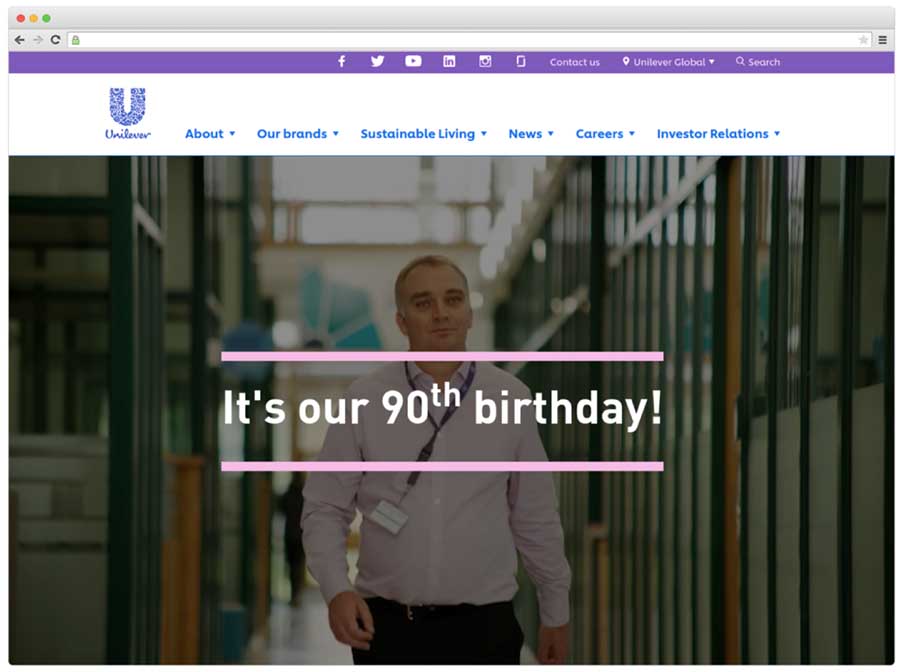 British Airways
Service does matter if you have 45+ million customers per year. Plus, providing top-notch services are a great differentiator when it comes to stiff competition.
That's why British Airways applied Teradata CRM to automate ongoing campaigns, figure out what customers need and how to make it live.
With the CRM software, BA staff manages emails, calls, web channels – all within one system.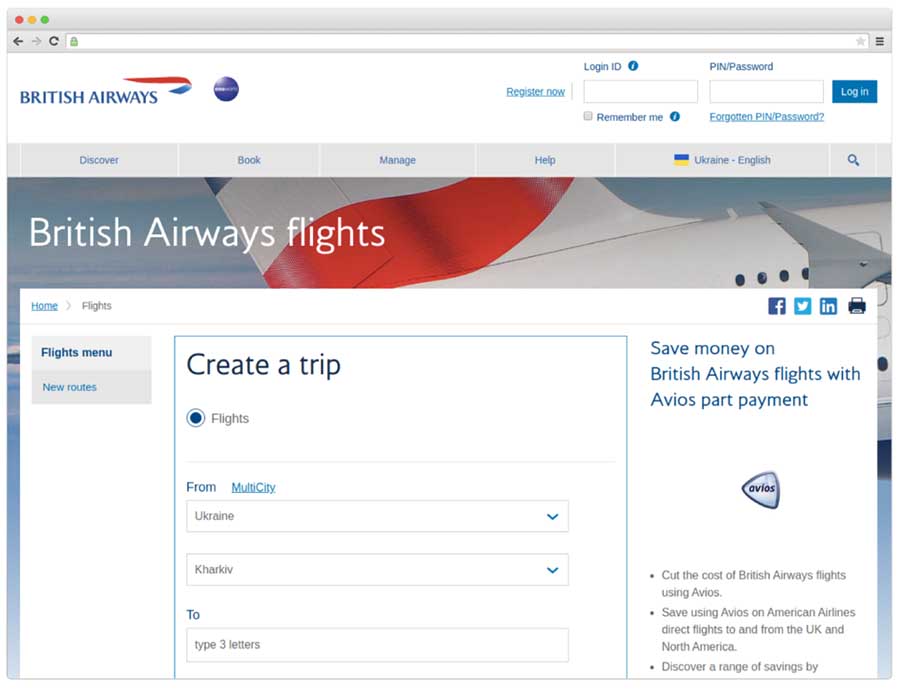 As you see, B2B CRM software brings tons of benefits to businesses, making them learn their audience better and serve it best.
The staff works more productively; sales and marketing campaigns have clearly defined stages no longer based on the 'best-guesses' system.
All this leads to building a better relationship with clients and gaining their trust. And that's the key to success for B2B companies.