Having your location on Google My Business (GMB) is not much of a choice these days. Whether you control your listing or not, chances are that your business is already on the platform but the listing has no owner and is maintained by the community and Google itself.
People often get confused by the different Google products, so before I go into details, let me explain it: the information fed by Google My Business is shown on Google Maps and the normal Google Search.
The community is composed of Google users who decided to give some time to help other users. Anyone can contribute to Google Maps, and these updates are sometimes checked by internal teams at Google, and sometimes automatically approved based on the level of the contributor within Google's Local Guide program. The program also giveaways perks depending on how much a person has contributed.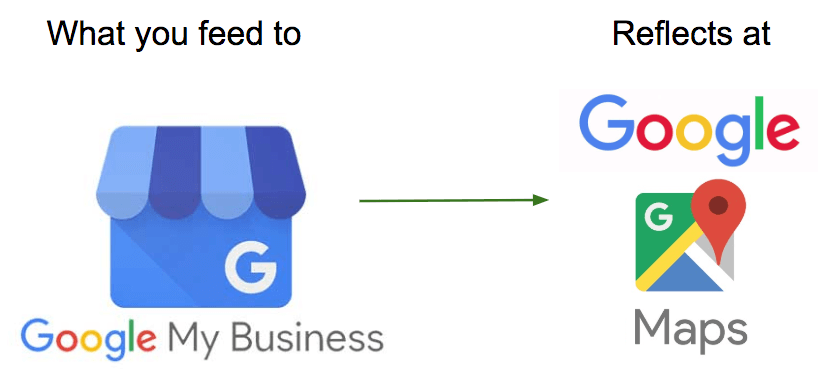 Mostly the community provides good information, but let's put this into perspective: there are millions of tourist attractions, supermarkets, pubs, offices and all sorts of brick and mortar businesses around the world and it would be impossible for volunteers to manage them all.
The most popular locations receive great attention. They have their opening times listed, questions answered and pictures updated frequently, but my guess is that most of the locations don't receive this kind of care. Nevertheless, no independent contributor knows more about a business than someone from the organisation itself, right?
The following walkthrough is based on my experience claiming locations in Ireland. The process is probably the same no matter where your business is located, but some details may vary, such as older Google Street view records that might require more input from you.
Said that, are you ready to take ownership of your locations on Google? Follow the guide below and start claiming!
Basic Steps
Google has a straightforward guide to help you claiming your location. First of all, create a Google account. Do you use any Google service? If yes, you already have one.
If you have less than 10 locations, find the place on Google Maps, click on "Own this business?" or "Claim this location" and choose one of the following:
Receive a call on the phone number listed
Request a letter with a code to be sent to your address.
A Spar shop in Dublin that doesn't own the GMB location
Then, simply follow the steps on the screen. Make sure to be logged in the Google Account you'd like to use to manage this information. Otherwise, you might end up with a personal account having business rights. This might be a problem in the future in case an employee leaves the company but remains with rights to make changes and someone new responsible for this won't know where to find the email and password.
If you have more than 10 locations, you can automate the process: gladly, you won't have to receive one call or letter per location. You'll only have to upload an excel list on Google My Business with all the information necessary.
This list can be uploaded directly to your Google My Business Account. The easy way: choose the Classic GMB and click on the "+" sign and "import locations from a file". Download the template and fill at least the basic mandatory information, which includes:
Store code
Business Name
Address Line 1
Locality
Country
Postal Code
Primary Phone
Primary Category
Opening Hours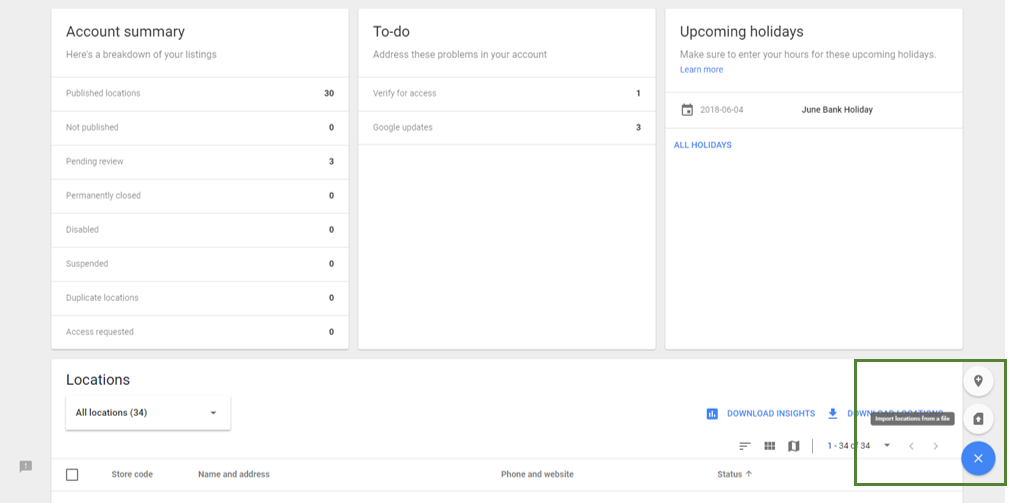 Upload the list by clicking on the second link on the list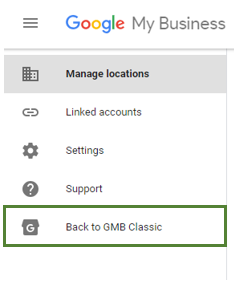 If you don't see the blue button, go to the hamburger menu and select "Back to GMB Classic"
Almost there!
Common problems with bulk verification
Now you just wait for a Google representative to give you a call within a few days (when you're creating an account they'll ask for your name, email and phone). However, if you want to be a step in front, keep reading and be ready for the requests that will probably be fired towards you:
Use an email that isn't connected to any other GMB business accounts. Working in a media agency, I manage several clients Google My Business accounts. The first request I had over the phone was to upload the whole list again on a new account. I don't know the reason behind it, but Google is working on a GMB solution for agencies which should solve this issue. If you're adding new locations from the same company, then technically you only have one business account with several locations, so this is fine.
A Google representative will call you at any time during business hours. Once you upload the list of locations on GMB, expect a call in up to a week. Your only option is to wait, and this probably depends on the volume of work the GMB team has. I mostly get calls between 11 AM-1 PM in Irish Time.
Have front door images saved for as many locations as you can. Make sure the image shows the business from outside, including your branding. This is a way to prove the location is real. In my experience, images for some specific locations were requested over the phone and sent by email.
This image from the car dealership Windsor shows clearly
the business logo and the building from the outside.
Check if the locations are on Google Maps and keep a list of URLs for as many locations as you can. This is another way to prove these locations are real. If the business is new, but Google Street View records are old, you'll have to explain this over the phone. Outside Dublin, a lot of regions in Ireland will have older Street View records – I found some areas where the images are from 2010!
If that's the case, they'll try to check other locations and get a good sample rather than checking all locations. Some locations are inside a business park, and your company branding might only be visible from a certain angle, so try to have as many URLs as you can arrange in advance.
You might have a few calls before ownership is granted. In case you can't prove that your locations do exist or some information is incomplete, you'll be explained how to fix it and will be given a few days until the next call. This can be frustrating and lead to some extra hours of work, but I imagine this is necessary to avoid fake locations or fake owners.
Conclusions
Got ownership granted for all locations? Congratulations! However, I must inform you now that your work has just started. Update the images, make sure to update your working hours, especially when it comes to holidays or special hours. You can do this in bulk for several (or all) locations at once. Sometimes it's just a matter of a few minutes of work to avoid angry customers.
If you want to step up your game, you can also respond to reviews, Q&A, use Google Posts to highlight new promotions and use the stats to know from which areas people come from to visit your shop, what day of the week and time they search for you and much more data.
Depending on the nature of your business, you might find out that Google My Business is already important and uncover another channel to improve your company results. Even if it seems menial, like clients trying to find your phone number or using Google Maps navigation, spending a few minutes of your time a month can ensure some extra business and happier customers!