I'm sure many of us have gotten curious at some point and Googled our own name. If the last time you did this was years ago, things are probably very different now. Search engines now know much more about us, can display information using several SERP features and are much better at connecting the dots regarding search intent. Search engines know us better than ever.
I spend a lot of my time figuring out how to make my clients look better in search engines. But today, I decided to be a bit egocentric — today I'll show you what I did to make myself look better in a search, or at least learn how Google perceives me so I can use the knowledge to my advantage in the future. I did this by conducting an E-A-T analysis.
It's not all about me, though. You can follow the same steps I did, discover what Google thinks of you or your brand and change that perception.
To start, this is the definition of E-A-T, taken from Marie Haynes' website:
E-A-T in SEO stands for Expertise, Authoritativeness and Trustworthiness. This concept is discussed in great detail in Google's Quality Raters' Guidelines. Demonstrating good E-A-T both on and off your website can potentially help improve Google rankings.
If you want more details about each step, take a look at Marie's aforementioned (and always up-to-date) post or check out this guide written by Ian Booth on Moz. When the definition above is clear enough to you, let's move on!
Page one analysis: Search, images and news
I started by searching "gustavo pelogia" in Google Ireland, and all results on page one were about me. While this may seem obvious, many people have similar names on Google, and sometimes, Google may not recognise your name and offer a "Did you mean" in an attempt to correct the search.
What I found on page one were mostly all active profiles: a Twitter card, my LinkedIn, personal website, Slideshare, details of events I've spoken at, and one blog post (from Learn Inbound, actually). I was glad to see that all ten results were related to my "current life", covering my career in SEO.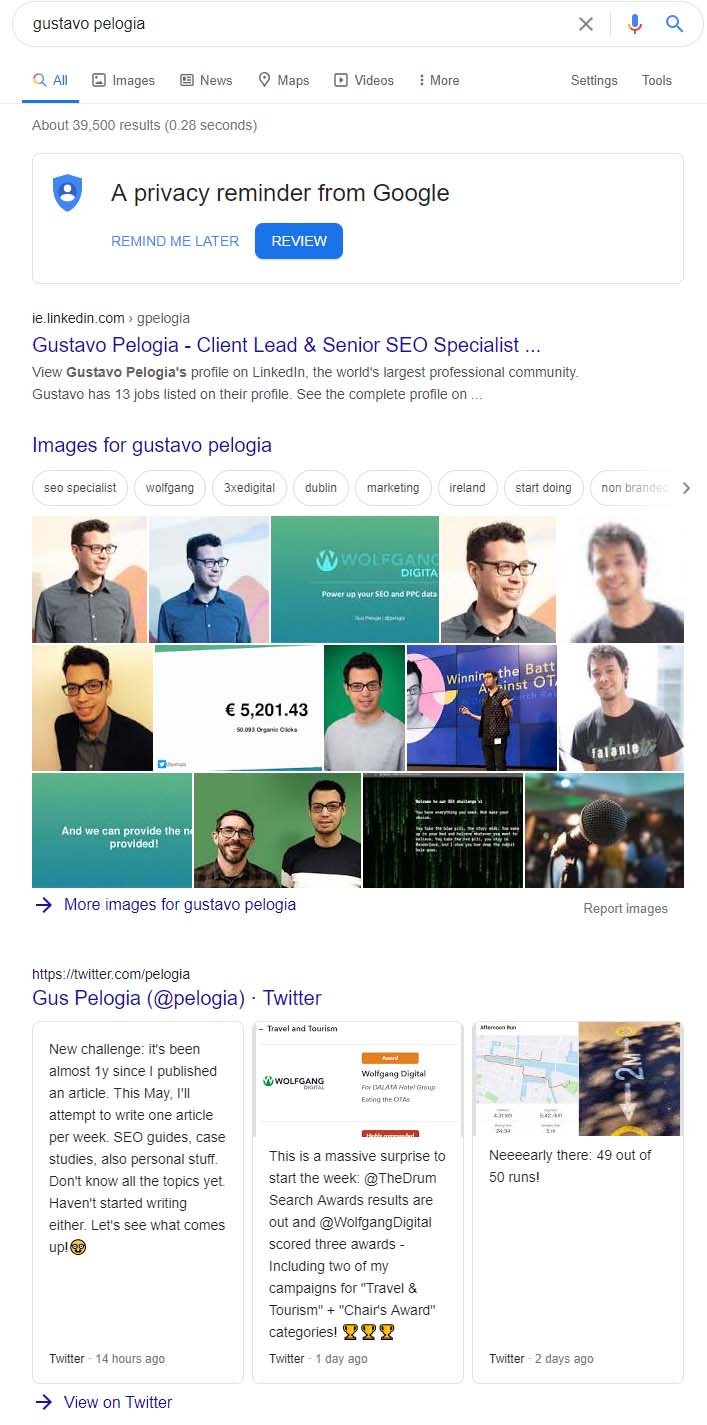 On mobile, something else caught my attention. On top of all the expected profiles (similar to desktop), there was also a map result. These are all companies I am currently associated with, or have been in the recent past, so it was interesting to see how Google got this right (although, it's been two years since I worked for Spark Foundry).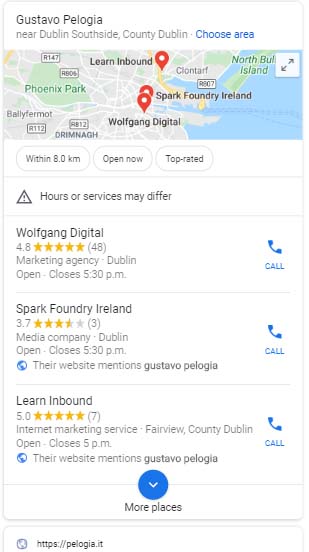 After conducting these searches in Google daily, Dublin Airport eventually showed up on the map, too, but I have no explanation for this. While I worked with Dublin Airport on a few projects as part of my agency work, this was never published online. Besides this, all the search results were logical.
On Google images, everything looked fine as well. Since 2015, Google has held a patent on basing search results on entities, so the little ellipses boxes above the results are a good clue as to the entities associated with your name.
There were no surprises here when I searched my name: SEO specialist, Wolfgang, Learn Inbound, Dublin, Ireland, several events I spoke at and other digital marketers I'm somehow associated with.
On Google News, things didn't look so great for me. Everything you'll find under my name is still related to my old professional persona as a music journalist in Brazil. While there's nothing fundamentally wrong with that, given that I've been in SEO for many years now, I'd like this to be reflected in my E-A-T analysis. This means I've still got some work to do.
Mapping your social profiles
Of course, everyone's online presence changes over time. Ten years ago, I'd have liked my online persona to reflect a journalist writing career about entertainment and rock music. This career is what I put all my effort into at the time and is still reflected in my Google News results. Back in the day, I wouldn't have cared much about an author bio and had no idea about the importance of links, even though I had access to some really powerful domains.
Can you remember how many accounts you've created on different platforms over the years? How many services did you try for a day and abandon? To see where I stood in that regard (and spot opportunities to enhance my profile), I mapped out all the websites I've used in the past. Here's how:
I scraped the top 100 results with my name*
I identified all of my 'profile' pages on different websites
I enhanced them with updated details from the profiles I actually use (Twitter, LinkedIn, Personal Website, etc.)
I updated any old or misleading information
*To save time, add "&num=100" at the end of your search and use a Chrome extension such as SEO Ruler.
This exercise takes time. Some results you'll be able to fix yourself. Others will require outreach, and others will probably be related to some old email addresses you don't have access to anymore.
After two weeks, here's what I achieved:
14 new links to pelogia.it or wolfgangdigital.com
12 updates to results that had old or wrong information
Three new pages containing structured data (see more on this below)
Eight updated 'about' pages
Four new 'about' pages (profiles existed but had no content)
53 links to essential profiles (Twitter, Slideshare, LinkedIn, etc.) added to 17 pages
Below, you'll see that I mapped all these changes out on a spreadsheet:

The reason behind the list here was not the typical goal of improving rankings (although it does impact that) but simply to tie all these profiles together so that Google knows they all belong to the same person. If I ever get a knowledge graph one day, I'll have given Google a lot of signals about my social media profiles. These steps may also help should someone ever try to pass themselves off as you or your brand — it would make it much harder for them to be visible via search.
Start building your structured data
Structured data is another way to tie all your personal and professional profiles together with your knowledge and social channels.
There are many ways to build your structured data. While other SEO professionals may take a different approach, I used the following properties and types: name, additionalName, sameAs, image, familyName, birthDate, jobTitle, awards, alumniOf, workLocation, knowsAbout, knowsLanguage, birthPlace, nationality and worksFor.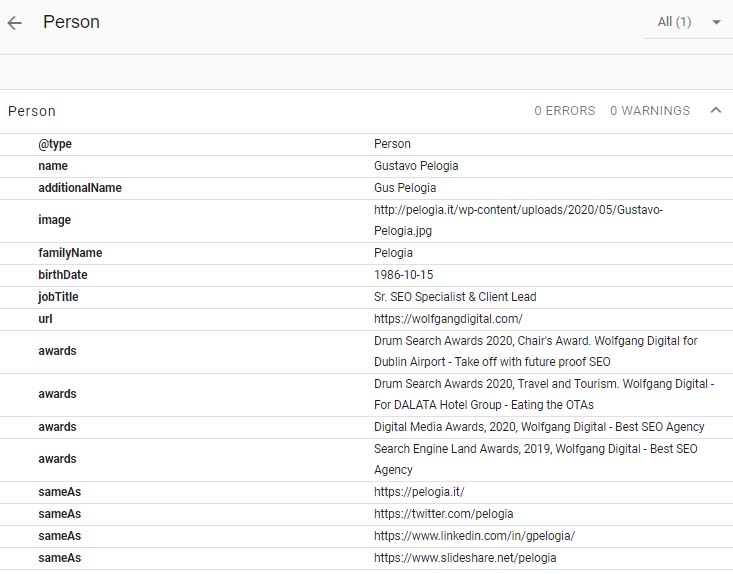 This is a relatively simple structured data code, and I replicated it in three different pages/websites I had access to. SEMRush's webinar "4 hours of E-A-T" contains a lot of useful information about structured data. See below for links to some of the highlights (these links will take you directly to the moment in the video where each point was discussed).
Andrew Optimisey: Schema isn't a way to give yourself authority you don't have, so when you add a property like knowsAbout, this will still have to be validated by external sources.
Jono Alderson: Represent everything. Use knowsAbout, alumniOf, age, and any other properties you can, regardless of whether or not they're supported by Google right now.
Jennifer Slegg: Structured data is about the entities. If you search for someone's name and there's a Twitter or knowledge graph, that's an entity.
I'd love to show up in a search for "Alumni Casper Libero" (where I graduated in journalism in Brazil back in 2009), but I don't expect that to happen any time soon for several reasons. Firstly, this is a well-known college in Brazil, but my current persona was not "built" in Brazil, nor in Portuguese or journalism. However, given that standing out as an SEO professional is what matters to me (not being a notable alumnus), this is okay.
All the names of alumni listed are very well-known in Brazil, so I'm far away from that list. If I knew SEO back at that time, I'd certainly have left a bigger footprint on their website. Adding structured data would be a small step to achieving this recognition, but a lot of external validation would be necessary as well.
I also face a persistent internal debate about whether I should use the name "Gustavo" or "Gus". My real name is the former, but since moving abroad, people call me "Gus", and I sort of embraced it. Google understands both "Gustavo Pelogia" and "Gus Pelogia" as myself, and therefore offers similar, but not equal, results. My profiles use a combination of both, and while I decided to keep it that way, I also added "Gus Pelogia" as an additionalName type on my structured data.
Winning featured snippets
I'm lucky enough that there are no other popular Gustavo Pelogias out there, which makes my life much easier when it comes to being recognised by Google. A while back, I started using pelogia.it as my website. Although it used to be just a repository featuring my articles appearing on other websites, it showed up in the top-three results when I searched my name, so I decided this represented an excellent opportunity to build the site some more.
What follows are just potential searches people could run when looking for my SEO persona. While there's no search volume behind my name (well, not yet), the purpose of this exercise is to think about how I'd like to be perceived more than anything. For instance, it is unlikely anyone would search for the awards I have won, but this year, I scored the first few in my career. So my current focus is on future-proofing the search results.
who is gustavo pelogia
gustavo pelogia age
gustavo pelogia languages
gustavo pelogia videos
where gustavo pelogia works
gustavo pelogia profession
In a search from Ireland, all of these searches return a featured snippet. A couple of these are from LinkedIn and Wolfgang Digital's website, but most are from my own website.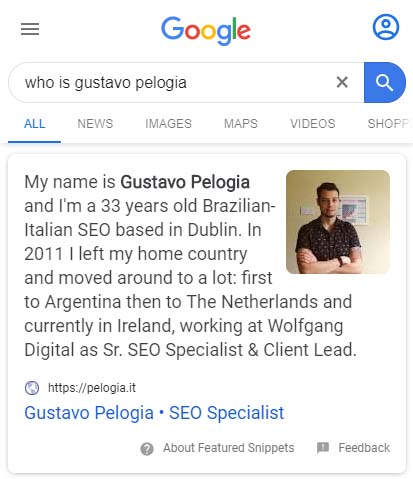 These snippets didn't show up at first, but once I decided to go after these keywords, I wrote new content on pelogia.it to match these searches. It didn't even take a day for Google to start showing these snippets. Of course, this is a space with nearly no competition, and my website is linked from several of my professional profiles (such as Twitter and LinkedIn), which made triggering these snippets very easy. Unless you're a popular person in the media, it shouldn't be too hard for you to trigger these snippets either.
Keywords are in the past. Think about entities
If you still think about SEO in terms of keywords, here are some examples to help you shift from the old-school mindset. If you're in the industry, none of this will be news to you, but if not, the examples I'm about to show you could come as a surprise.
Query: "where gustavo pelogia works"
Results: A featured snippet from my website and Wolfgang's Google My Business (GMB) profile. There's enough evidence on Wolfgang's website, as well as from many of my profiles (25 mentions in total across Twitter, LinkedIn and Facebook), where I consistently explain where I work and what I do, all mapped out and updated as described previously. However, Google would not have returned this snippet had I not done all the profile mapping described previously.
Device: On desktop, the featured snippet comes from pelogia.it and Wolfgang's GMB profile. On mobile, the featured snippet is from State of Digital.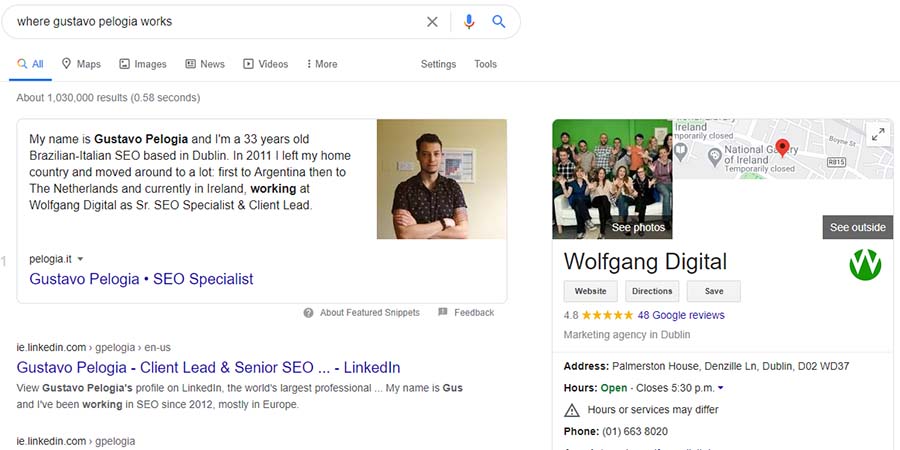 Query: "gustavo pelogia languages"
Results: LinkedIn was the primary source of information here, and I spotted an orthographic mistake ("I have fluent…" instead of "I speak fluent…"). I quickly fixed this on LinkedIn. However, it's been weeks, and Google hasn't yet crawled the page (and it has a noarchive tag, so I can't even look at the cache). Given that I don't use my LinkedIn too often, it's possible Google is therefore less interested in crawling the page — hence the delay.
I'll have to wait until Google goes to my LinkedIn and grabs the updated information. But at a minimum, Google knows that Portuguese, English and Spanish are languages, so it still returned a snippet even though the word "language" was not part of that snippet.
Device: On desktop, the featured snippet comes from LinkedIn. On mobile, the featured snippet contains bullet points from pelogia.it.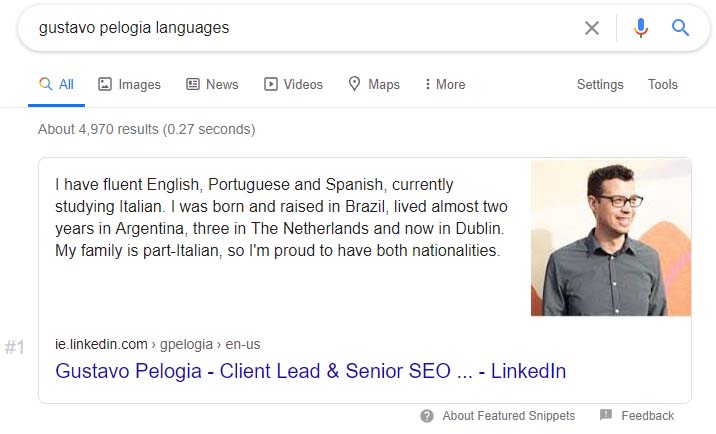 Even if you don't remember your old pages, Google does
If you work for an agency, chances are that you have created some pages for your past clients and therefore have several CMSs set up under your name. Consequently, when certain pages have been crawled (such as profile or categories pages), people might be able to deduce who your clients are. While this may not be a problem per se, be aware that your past mightn't be hard to uncover.
Try searching for "your name" + "author at" (with quotation marks) to find out if you fall in this camp. This search phrase is standard for identifying author pages on WordPress, but try other variations as well. You may end up finding results you don't want to be public or pages you don't even remember creating.
When I ran this search, I found a result on page two that I don't even remember creating. Thankfully, the website has since been migrated, and the page doesn't exist anymore, so the search listing should disappear soon.
How does Google images see me?
First, take a look at the entities Google associates you with. Your specific search terms play a significant role in determining which of these little boxes show up, and they can be used as a starting point for new searches too.
I found that Google was able to connect me to several events I have spoken at, my place of employment, and several other SEO professionals, such as Mark Scully and Francesco Baldini (probably because I appear on the About Us page for Learn Inbound and because I interviewed Francesco once).

The agency I work for, Wolfgang Digital, also showed up a lot. However, all the results were from one page where we introduce the team who won the Search Engine Land Awards in 2019.
I assume the algorithm is reading the context of the article and understands these people mentioned are somehow related to me, which is correct. This tells me that Google has a pretty good understanding, not just about individuals, but about the universe in which they belong.
While results do change frequently, the sources the information is being drawn from remain the same. To figure this out, I scraped the URLs these images came from and counted the most popular ones using a vlookup formula on a spreadsheet. These are the results on the top eight rows on Google Desktop: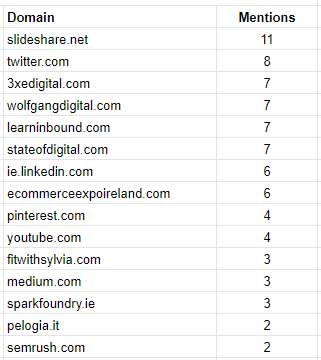 Twitter and SlideShare are consistently the main sources of images related to me. This is great to know as it can help me shape the results following a search of my name if I want to. This is important for anyone who may have said or done something not so great in the past. Such people may be unaware that their past can be found in just a single click.
My educated guess is that Google learns which pages are updated more frequently (and which ones have been updated more recently) and factors this into its rankings of images. Twitter images, for instance, change daily. I also noticed several other recent images ranking at the top as well.
Here are a few things I noticed:
Pages with fewer updates might get crawled less: I updated my Medium profile image, but before that, I hadn't published an article in years. It's been four weeks, and Google hasn't got to that URL yet (based on cache info, which is not always accurate), so the old image still appears in the search results.
Pinned tweets get extra visibility, too. As soon as I removed the one I had pinned for a year, it disappeared from top images, together with the video thumbnail on that tweet.
New articles can change the entity boxes pretty quickly. A day after I wrote the first half of this post, "eat" became my first entity.

Shaping the SERPs: Changing your page one
In the first half of this E-A-T audit, I mapped out all the profile pages I found in the top 100 results on Google and updated as many as I could.
This could all be a coincidence as this study runs over a short period of four weeks, so take what's coming next with a pinch of salt. However, I noticed that the pages that I updated most recently jumped quickly to page one — four updated profiles jumped to the top results, leaving just one profile without new information ranking on page one.
Also, my mobile site was running via an AMP plugin, which left the website very basic in terms of design (I just added the plugin a few years back without putting any extra effort into mimicking the desktop UX). I decided to remove that AMP to deliver the same experience on mobile as a visitor would get on desktop and successfully got my picture on the SERPs as well.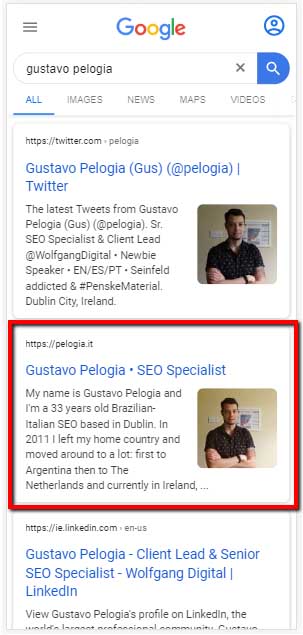 This made me wonder how far I could shape the search results. Below are a few things I tried. Some worked; some haven't yet.
Twitter panel on Google Search
If you read the first half of this analysis, you'll know that a Twitter panel shows up when I Google my name. I didn't tweet for a couple of days, and guess what? The panel disappeared.
Results: I freaked out for a minute after losing the panel (on the same week that I published an article where I mentioned that I have one). Then I realised that if I don't tweet for a few days, the panel disappears, but when I do, it comes back in a matter of hours. However, retweets don't count. So, it seems that if you leave your Twitter quiet for too long, you're likely to lose your Twitter panel.
Showcasing my public speaking gigs on Google Search and Video
I wanted my video where I spoke at Wolfgang Essentials on page one. This is the biggest event I have spoken at (350 people), and this video is a nice showcase of my work, so I decided to update the YouTube page with timestamps and a new description.
Results: I first tried what Kane Jamison did and pinned the video to my profile, but it didn't work for me. After updating the video description (which initially had no information about the video itself, just the event) and adding timestamps, Google did move it to page two of the search results. I probably need to take more action here, such as by optimising the video and getting more views.
Another unplanned move was that this video appeared in the top two results on Google Videos. If you use the Google Videos feature, you'll know that Google draws from pages containing videos to display its results, so when I added a public speaking page on my website, I brought the video to the top of the Google Videos results as well.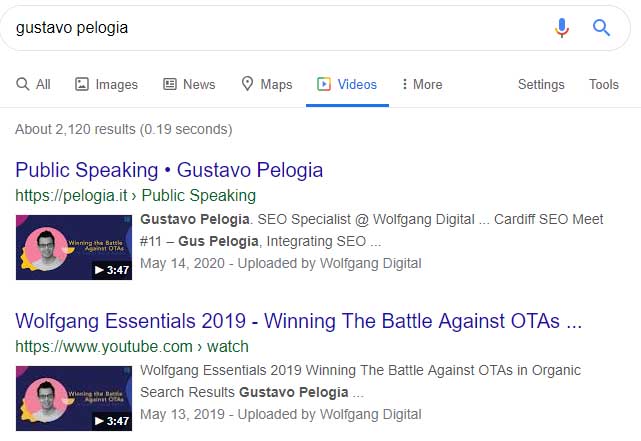 Shape image results
As mentioned previously, SlideShare is one of the primary sources of images related to my name. However, despite my having six sets of slides on the platform, all the images in the search results came from one older presentation. I wondered whether I could get more of my recent presentations to show up.
Results: After spending some time investigating possible reasons for the one dominant presentation, I realised that this presentation was the only one in which my name appeared on the presentation and page title.
Earlier, I mentioned my concern about using "gustavo pelogia" (full name) as opposed to "gus pelogia" (which I'm known by in the SEO world). Guess what? When I searched for "gus pelogia" on Google images, all my other presentations showed up! Google can read "gus pelogia" on the opening slides and profile page on SlideShare and probably finds it to be a more appropriate match.
On May 25th 2020, I updated all my presentation titles on SlideShare to include "Gustavo Pelogia" on the title and also improved some of the presentation descriptions. A week has passed, and Google hasn't reindexed any of the pages yet. I also tried uploading a new presentation, but no joy yet.
This may be for a couple of reasons. First, I don't update the profile very often. I've only updated it once in 2020, and before that, I hadn't touched it in 12 months. So, Google has probably learned that it is not worth crawling over and over, seeing as the results don't change. Second, the sitemap of SlideShare isn't even working, so this probably hasn't helped Google to find the new slides either.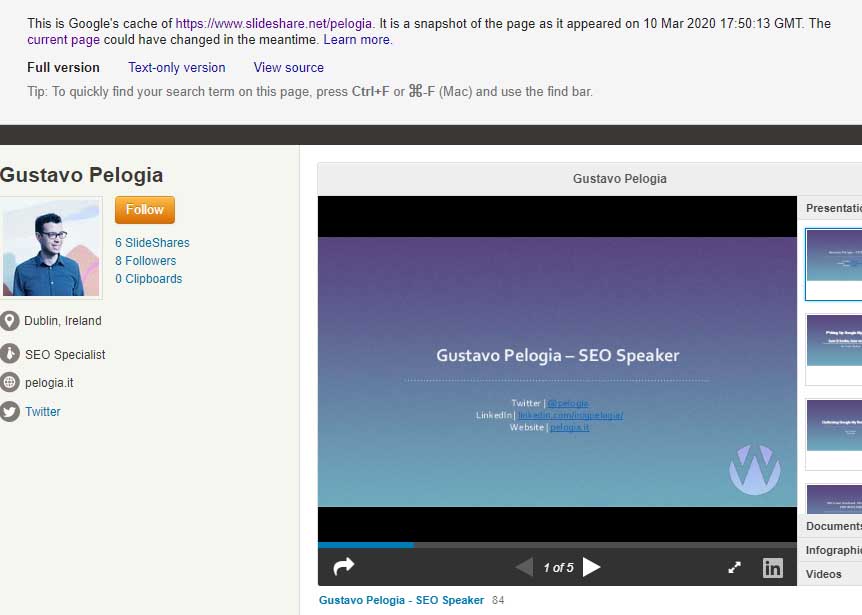 I know the cache function is not always accurate, but in this case, I found no evidence that Google has seen this page since the 10th of March. If I want to see a change, my only option is to wait.
Conclusions
Not everything has changed as quickly as I would have hoped for, but that's how SEO works, isn't it? This analysis was relevant not just to learn how Google sees me but also how Google works — especially Google Images, which a lot of SEOs (including me) tend to ignore. In other cases, I got the chance to put into practice some of the theories I had read about from other SEOs, so this served as a great validation.
I'm also considering whether I should pick one name to go by (Gus vs Gustavo) and make the signals stronger rather than mixed (as you saw above). Something else that came up was that maybe I should tie my name to some specific areas of SEO rather than the practice of SEO in its entirety. While this might not be easy (seeing as I work for an agency and am across a broad spectrum of SEO-related work), the advantage is that I could make my name stronger in the community (and potentially get some more related searches).
Either way, I hope this exercise has been useful for you and triggered some ideas for how you might strengthen Google's perception of you or your brand (and I hope you don't think I'm an egocentric person!) Different searches and niches are certainly ranked differently by Google, so I encourage you to run your own tests!