Google recently confirmed that responding to reviews impacts local SEO, and for good reason!
Online feedback has become an integral part of the modern buying process. Think about it, when you buy something online, how important are customer reviews in making your decision?  Further, what kind of reviews are most influential in how you buy products or services?
Stellar, 5-star reviews?
Scathing, 1-star reviews?
A mix of both?
According to data from Invesp, 31% of customers are likely to spend more on a business with "excellent" reviews. On the other hand, 94% of consumers claimed that a bad review has convinced them to avoid a business altogether! As per a ReviewTrackers study.
As intimidating as this information sounds, the nature and effectiveness of online feedback has changed for the better. These days, a business's ability to properly respond to reviews has, in many ways, overshadowed the reviews themselves.
To reference the Review Trackers study again, more than half of customers these days expect businesses to respond to their reviews promptly – a trend that is on the rise.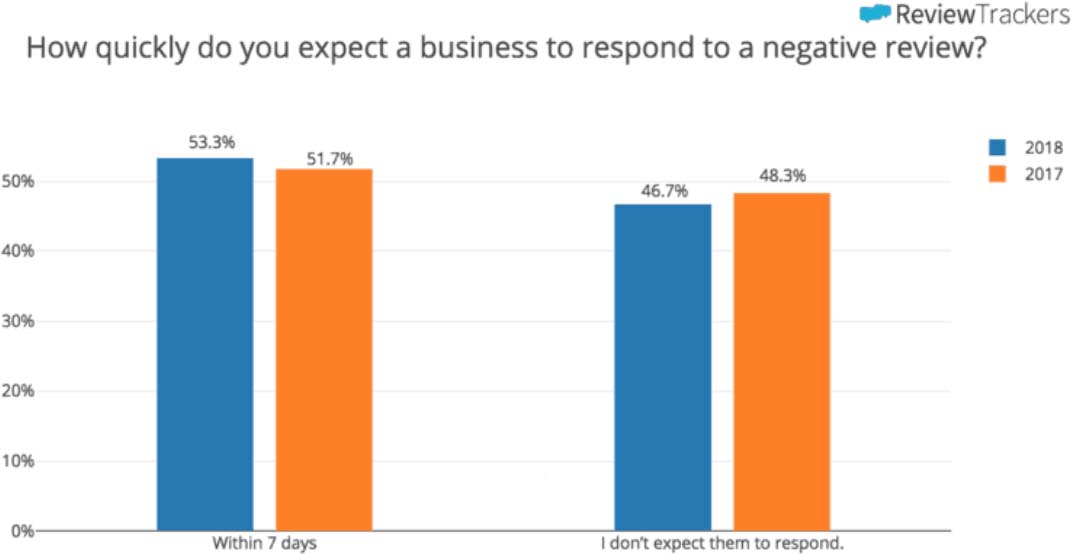 Believe it or not, this is VERY good news for the business world.
With the growing importance on responses to reviews, a scathing review is not the grim reaper to a business. Companies are now rewarded for stating their case and working to resolve issues in a public arena. If done carefully, the response can turn a negative into a positive.
However, this is all best case scenario.
If you want this phenomenon to work in your favor, you need to develop a protocol for issuing responses to customer reviews – both good and bad.
Let's go over the basics of how to do this.
Develop Your Process Early
Ideally, you want to have some sort of response process in place before reviews start coming in. This is NOT a task you want to improvise.
Regardless of whether it's just you crafting the responses or someone you've appointed to take control of your online reputation, there needs to be a foolproof system in place with a step-by-step procedure.
This process should ideally involve factors like:
Timeframe to respond.
How to approach good sentiment.
How to approach bad sentiment.
Offering solutions.
Now, the details of the process will probably look a little different to each company. However, there are several common threads that everyone should take into account.
Step One: Let it marinate!
This is perhaps the most crucial (and often overlooked) step in responding to reviews. Let's be honest for a minute. The age old saying "the customer is always right" isn't always accurate. There are plenty of instances in which the customer is 110% in the wrong.
Unfortunately, these customers tend to be the ones who leave the long, scathing reviews.
No matter how wrong they are or how irrational their review comes across, the last thing you want to do is respond when emotions are high. This will almost always end poorly.
The example below is clearly a response made in the heat of the moment.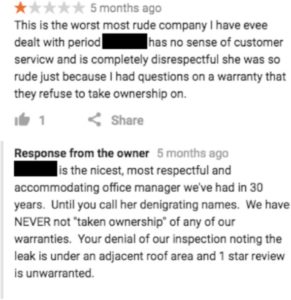 Not only does this come off as unprofessional, it doesn't contribute anything constructive (to both parties). Always remember, the response to a review says WAY more about a company than the review itself.
Regardless of how you feel about a particular review, DO NOT RESPOND IMMEDIATELY.
Before doing anything publicly, examine the words internally. Was there a pitfall within your operation that led to the bad review?
You're allowed to state your case (and even push back) on a bad review response. You just need to have all your facts in order to do so strategically and in a collected manner. This is tough to achieve in the heat of the moment.
As a general rule, give it at least a couple hours before you start crafting a response – but no more than a couple days.
Step Two: Express gratitude/empathy
Regardless of whether the review is good or bad, it's common courtesy to thank people for taking the time to leave a review.
Keep in mind, the quantity of customer reviews plays a role in how you rank on the search engine results pages. More candid reviews = better.
Start by addressing the reviewer by name, then thank them for their input.
Now, you don't want to sound too cookie cutter here.
There are all kinds of templates out there to use for review responses. If you use the same format (while only switching around a few words for all your reviews), this is going to come off as inauthentic and lazy.
Step Three: Take Responsibility and offer individualised solutions
When you offer solutions, it needs to be apparent that you know the context of the review – regardless of whether it is good or bad. If you are in the wrong in any way, you need to address this and provide an actionable solution.
Try your best to personalise it as much as you can to the customer's experience. Here are two fantastic examples of how to respond to both positive and negative reviews.
Positive: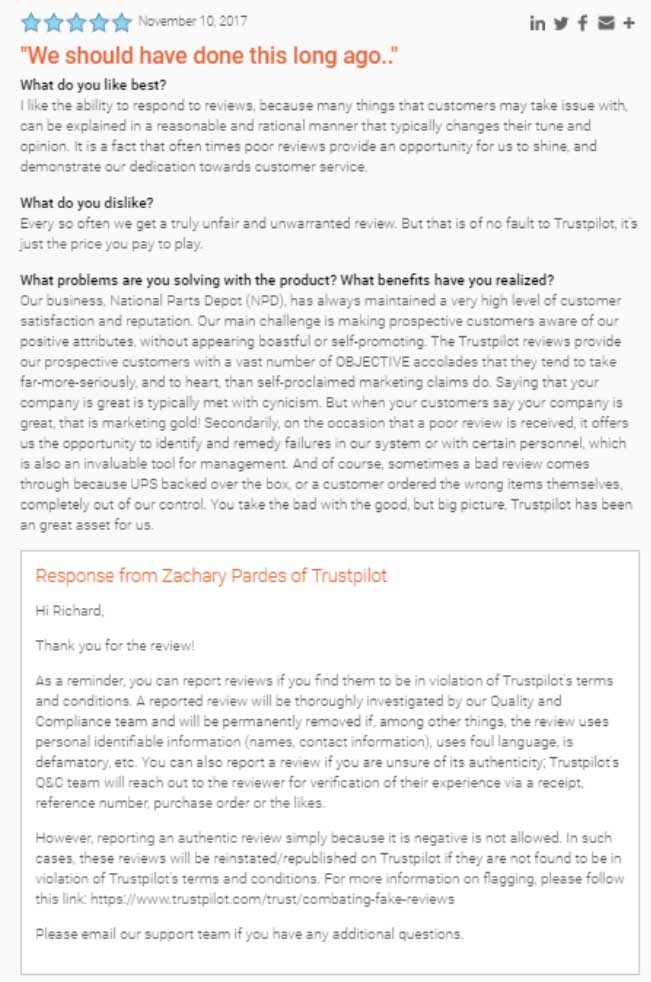 This one works for several key reasons.
For one, it addresses the reviewer by name, then thanks them. Second, the response offers a great amount of detail on the personal situation related to the reviewer. Third, it offers actionable insights and leaves the door open for further communication.
Negative: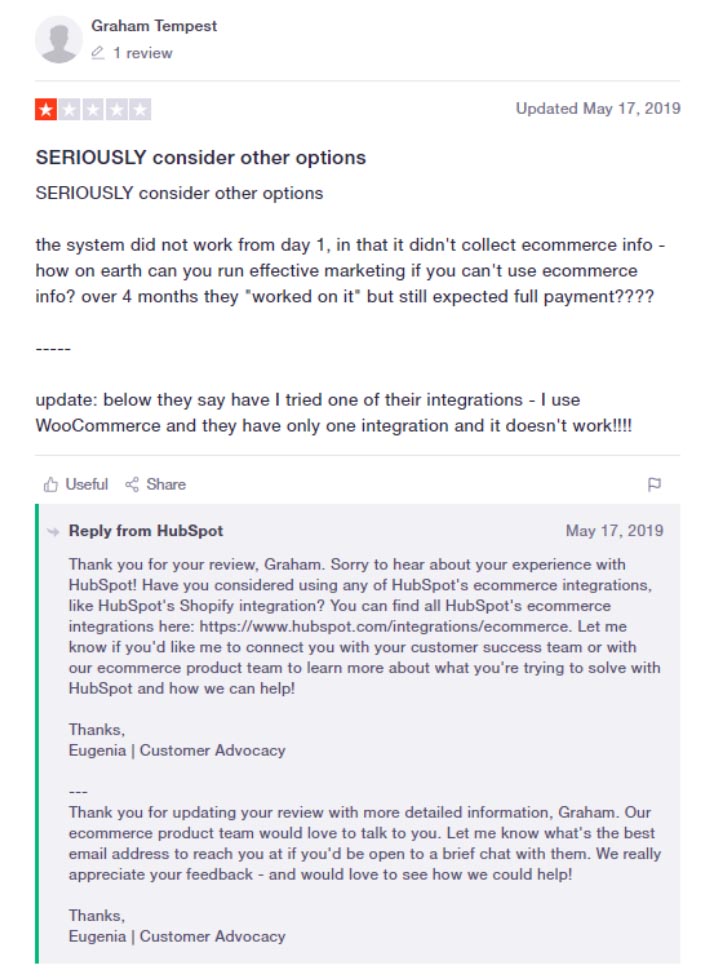 This one is awesome because it does a great job in offering resources for conflict resolution. Additionally, it provides several options to escalate the issue and direct the customer to the proper party to better assist.
Step Four: Take it offline
Depending on the nature of the customer feedback, one of the best things you can do is to take the issue offline – especially if it's negative.
Once you make the initial public response, you need to provide an avenue to get more specific with the details of this particular situation. In other words, you don't want to make any private details (either about your company or the customer) public.
To wrap up the review, give them your contact information and encourage them to take the conversation offline.
At the end of the day, responding to reviews is about leaving no stone unturned. The most important thing here is to develop a system that puts you in a position to do this, while minimising the need for improvisation.
The earlier you define a response system and get comfortable with it, the better off you will be in the long run.
Create a Brand Guide and Stick to it
To reiterate, your responses to reviews should not be cookie cutter.
Hopefully, you have spent a decent amount of time and effort developing a brand personality. This (ideally) involves details related to your brand voice, logo, color scheme, etc.
In regards to responding to reviews, the characteristics you defined in your brand personality need to be apparent. Whether you are a multi-million-dollar corporation or a tiny startup, you are wise to develop a brand voice guide to help you (or the people crafting the responses) maintain the uniqueness of your brand image.
Start with your core brand identity.
Why exactly does your company exist?
What is your primary mission?
What are the most important things to you?
What is something you would never do?
Where do your values lie?
Now, in terms of the actual personality you aim to convey, what are the overarching adjectives that sum up your brand?
Consider the 12 common brand archetypes here.
The Hero – Humble, honest, genuine.
The Sage – Wise, understanding, collected.
The Innocent – Optimistic, moral, trustworthy.
The Ruler – Direct, confident, classy.
The Magician – Flattering, reassuring, informed.
The Lover – Empathetic, soothing.
The Jester – Playful, optimistic, light-hearted.
The Outlaw – Unconventional, direct, no BS.
The Explorer – Energetic, confident.
The Everyday Guy/Girl – Casual, down-to-earth, relatable.
The Creator – Motivational, expressive, solution-oriented.
The Caregiver – Nurturing, empathetic, compassionate.
Zappos does a fantastic job of conveying their unique brand personality in their responses. In this one, it's very clear in the voice that the brand archetype reflects the everyday guy/girl.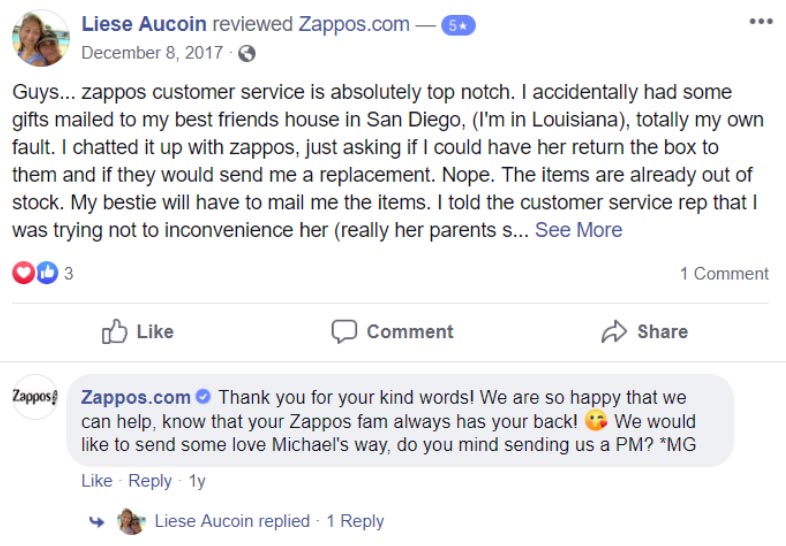 Not only does this do a good job of relating to customers, it breaks the cookie cutter mold of how most companies respond to reviews!
In addition to nailing down your brand voice to use in these responses, you should also aim to weave in certain aspects of your marketing plan. Most importantly, online reviews can be a gold mine for long tail keywords. In your responses, try to highlight these as much as you can.
For instance, let's say you run a custom t shirt printing business. You'll want to keep a close eye on the keywords that come into play.
If you play your cards right in crafting your responses, incorporating these types of relevant keywords can potentially do a lot to improve your overall search rankings!
So, to sum it up, creating a brand guide for the purpose of responding to reviews should include a clear definition of your brand voice, as well as the terms/phrases that relate to your business offerings.
These two factors can do wonders to help you stand out in your industry!
Avoid Throwing Yourself Under the Bus
To go back to a previous point, the customer is not always right when they leave a review.
Assuming you have objectively looked at the review from all angles and are 1000% sure that the rationale for the bad review is unreasonable, you need to stand your ground – respectfully, of course.
While you should always empathise with a less-than-stellar review, you shouldn't throw yourself under the bus when it's not warranted.
Here is an excellent example of how a restaurant owner handled a poor, unreasonable review.
This is the review taken from Yelp: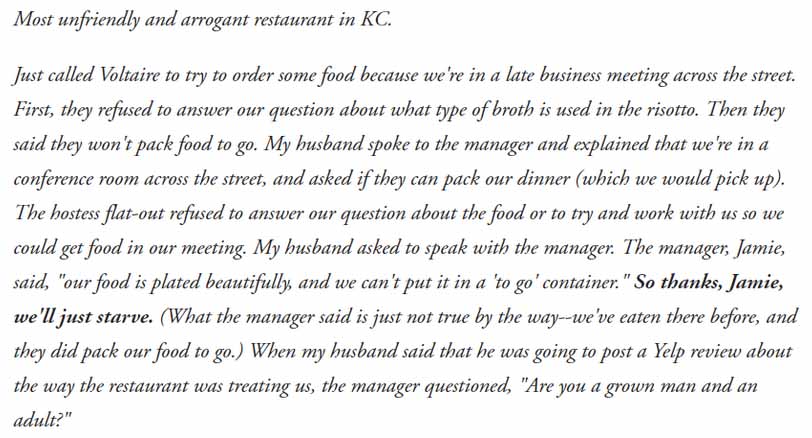 Here is the response: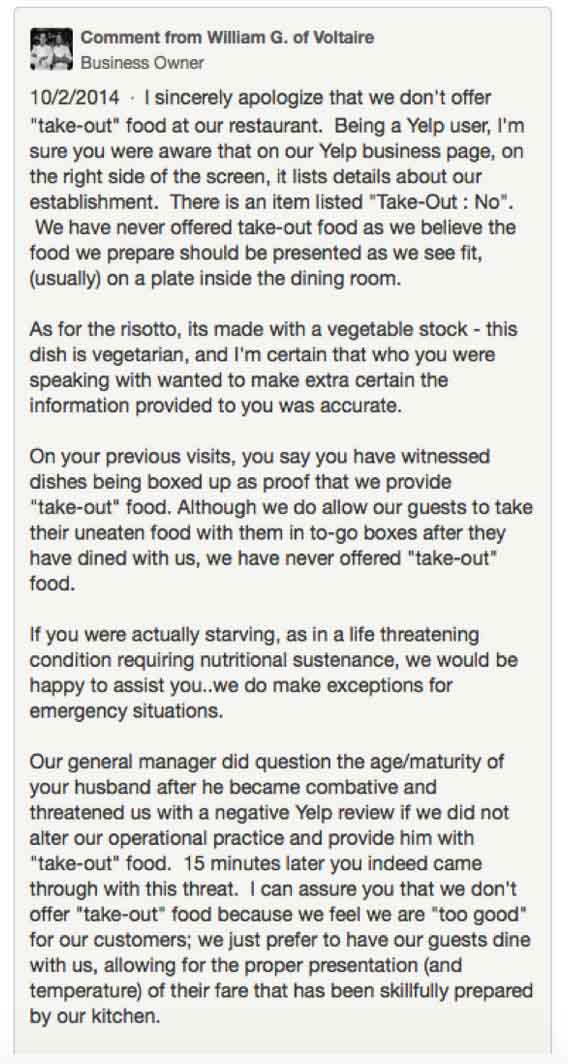 This response works on many different levels. For one, the business owner clarifies the operational practice of the restaurant and references details in which this is spelled out. Additionally, he provides some context to rationalise his response.
The owner's reply to this scathing review gets the point across that the customer was essentially angry because the restaurant refused to bend the rules for them.
Always remember, you shouldn't have to apologise and plead for forgiveness for delivering your business goals. If you delivered them poorly, that's one thing. But if a customer was simply not happy about the rules you put in place, it might not warrant an apology on your end.
Respectfulness is always the name of the game when responding to customer reviews. However, dealing with unreasonable feedback shouldn't end in you throwing your business to the wolves.
Now, this is a VERY fine line. To say it again, you need to look at the context of the review as objectively as possible before you make a public response standing your ground.
Over to You
Interacting with online feedback has become an absolute necessity in managing an online reputation.
Being as how the margin for error here is razor thin, each and every response needs to be calculated, planned, and executed with the upmost perfection.
Both search engines and prospective buyers want to see how you handle reviews and provide solutions. If you can nail this aspect of customer relations, you will be rewarded for it!