So you've found a digital marketing event you want to attend, bought your ticket and finalised your travel arrangements for the trip – but now what? If you're taking time out of the office to attend an event, it's important to get the most out of it.
Of course like any event, it's important to show the ROI for the time and money you've set aside to attend, but in the same way, you should also consider every event as an opportunity to build some useful connections with your industry peers. Over the past couple of years, I've been pretty fortunate to have made some really strong connections through the events I've attended in Dublin, London, Brighton, Valencia and Seattle. Sure – the digital marketing conferences offered amazing talks from leading industry speakers, but it was the conversations I had with fellow marketers which have been invaluable in Learn Inbound's growth. Heck, it was in Valencia I briefly met Gus as we enjoyed lunch with the SEMrush team and 15 other attendees of The Inbounder conference. Fast-forward six months later, Gus is now living in Dublin and assisting with the planning of our 2017 events.
To help you to become a networking pro, we've compiled our top tips which we feel will make you more appealing to both attendees and speakers.

1) Pre-Conference Outreach
You've looked at the event schedule, noted down the names of speakers you're particularly excited about, and you're now wondering how you'll be able to chat to them at the event. Well, it's not as hard as you may think.
If you want to chat to your favourite speaker, it's best if you reach out to them before the event to see if they'd be willing to set 5 minutes aside at a break to chat with you. Remember, they're going to be pretty busy on the day, so it's best to suggest a meeting time that's after their speaking slot as they will be less stressed and more able to chat.

*Top Tip* Be selective about what speakers you want to chat to, and ensure you have determined the topic of the conversation beforehand.
While all speakers will appreciate a positive comment or two about their talk, it's not worth scheduling a conversation to simply offer your feedback on their session. Do you need advice on a how to implement hreflang for a new client? What social media tool should you be using for creating client reports?
2) Be A Peacock Among Plaid
If you have ever attended a digital marketing event, you'll already be aware of the love marketers have for plaid shirts. Back in 2012, I read this post by Emma Still of SEER about the common traits of a male SEO in the industry. Hardly surprising to see plaid shirts make an appearance on this list, and while four years have passed since Emma published the piece, not a lot has changed in the digital scene. You need to make yourself stand out and be memorable (for all the right reasons) by doing something a little different to most attendees.
Spot the Irish guy among 600 marketers in this photo…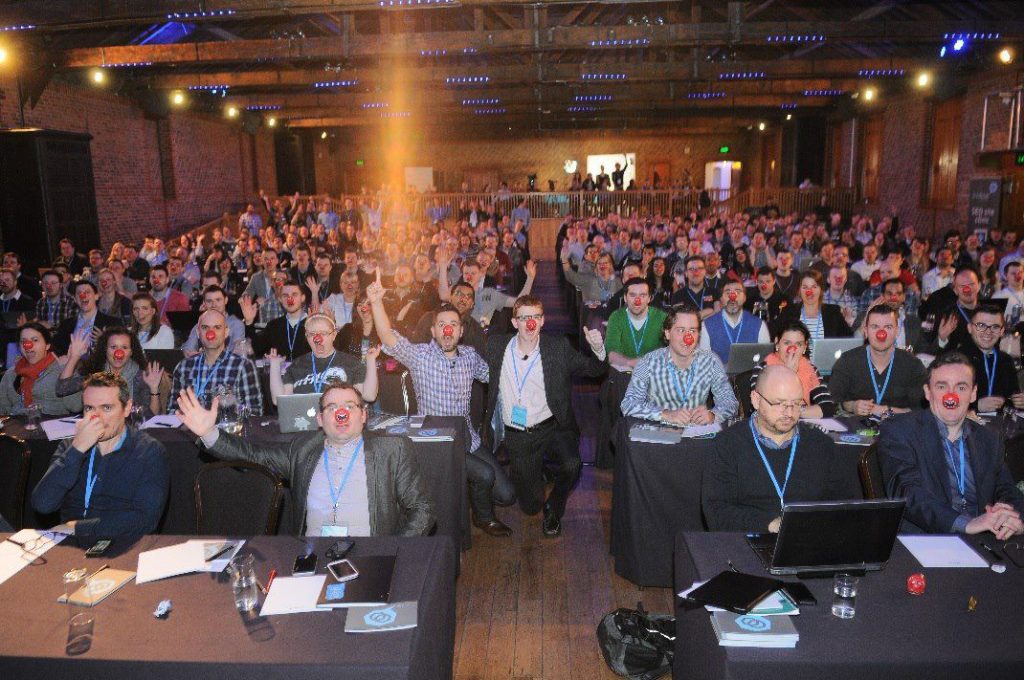 (Distilled's LinkLove Conference)
In the earlier days of Rand Fishkin's speaking career, he wore yellow Puma shoes in order to stand out in a crowd as he felt most techy people were terrible with faces. Another example of a well-known marketing person who adopted a similar approach is John Doherty of Credo. He wore the same shirt at marketing conferences as the one in his Twitter profile photo in order to make himself more recognisable to attendees.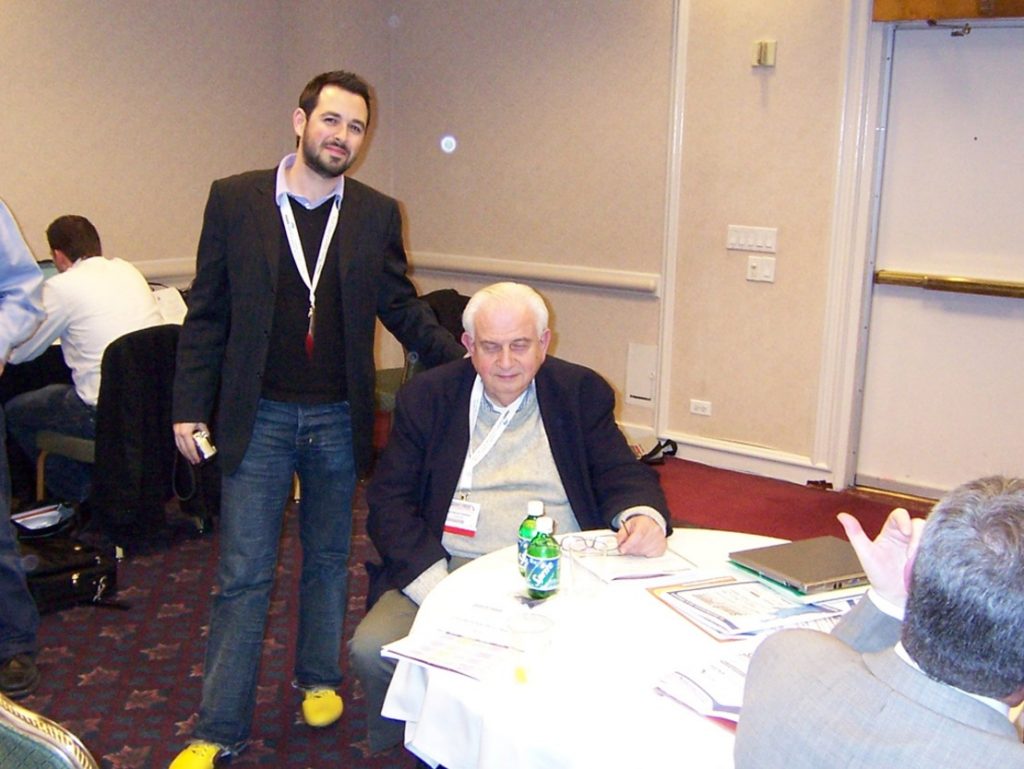 (Source: Flickr)
*Top Tip* Don't turn up dressed as a hot dog. You need to be subtle about how you make yourself stand out and be remembered for all the right reasons. Be mindful of the audience, type of event and the impression you want to make on others in attendance.
3) Engage with Attendees Before The Event
Attending an event alone can be quite daunting if you're an introvert like me. The awkwardness of sitting next to total strangers, patiently waiting in line to grab a coffee at the break, and attending the after-party where people tend to stand in circles with people they already know….yeah, awkward.
If you're attending an event by yourself, you should try to engage with other attendees on the event's hashtag. Take a look at tweets to-date from people who have confirmed their attendance at the event and check to see if they're working in a similar industry to yourself. If you'd like to improve your knowledge on a particular topic, or simply share ideas and experiences, reach out to them to say you'd like to chat at the event.
*Top Tip* Don't be a dick about it. Everyone hates people who automatically add them to a Twitter list anytime they use the event's hashtag. Authentic outreach is the only way you'll ever make industry friends through events.
4) Be A Dork: Sit in the Front Row
Back in my secondary school days, the "cool" kids, "tough" kids, and "mean" kids always grabbed the seats at the back of the classroom or the bus on the morning commute. Thankfully those days of social awkwardness are nothing but a distant memory now, but there's a lesson to be had here about where you should sit at your next marketing event.
One thing I notice at a lot of events is that a lot of people are hesitant to grab one of the seats at the front of the room. Maybe it's the experiences from school which are still ingrained into people's minds; but for those who are brave enough to sit in the front row, there are a few benefits to enjoy.
The first one is the ability to attract a speaker's attention for a conversation as soon as a break starts. If you've already struck up a relationship through pre-conference outreach, it will be easier for you to initiate a chat by not having to search the venue for them. Secondly, you will also be able to take the best shots of each session for any social sharing or blogging you're doing from the event. Plus, if you're sat in the front row, it's likely you'll show up in a lot of the photos and videos taken by the event's in-house team.
*Top Tip* Take advantage of your closeness to the stage by sharing some of the best shots of the speakers on the stage and their presentation decks. Strong imagery will more than likely attract the highest number of social shares from attendees.
5) Share Content in a Creative Way
It can sometimes be difficult to make your updates stand out from others when tweeting about an event. Most events will attract 100s, if not 1000s of social shares throughout the course of the day as attendees actively share updates from each of the sessions. If you're the creative type, you can design a roundup of a speaker's session with something as beautiful as this:

Key outtakes from @TaliaGw #LearnInbound @learninbound pic.twitter.com/wmykvL0V7B

— Marija Cepulyte (@Marija_Cepulyte) October 19, 2016
However, if you're as lacking in creative talent as me, you can use Pablo by Buffer to design some beautiful templates to share the key takeaways from each session. It was an approach I first tried at the Turing Festival in Edinburgh back in August as I live tweeted throughout the day.
As mentioned earlier, one of the benefits of being sat in the front row was the ability to take photos of the speakers on the stage. When coupled with Pablo, you can customise your tweet template to each speaker by having a shot of them on the stage as the background image.

"Seller ratings make your ads stand out in the crowded search results and boost CTR." – @SamJaneNoble #TuringFest pic.twitter.com/VATh49hPZU

— Learn Inbound (@learninbound) August 19, 2016
*Top Tip* Pre-build templates in Pablo or Photoshop the day before the event. It's unlikely you will have time to produce something polished on the day.
6) Update Your Profile Photos
Are you holding onto the golden years of your life where you were younger and more beautiful? Stop it. You're still amazing – but you're probably long overdue an overhaul when it comes to the profile photos of your social accounts. If you're actively attending digital marketing events without an up-to-date photo on your Twitter and LinkedIn accounts, you're going to make it much harder for people to find you.
Take 5 minutes out of your day to review the profile photo and bio you have on each of your social accounts.
Don't be like this guy:

Having met Luke on multiple occasions, I can confirm that he doesn't look like a slinky.

That's a lot better. The above photo was taken by our in-house photographer at Learn Inbound back in July. At least people will recognise Luke the next time he attends an event 🙂
*Top Tip* Use a recent, high-quality photo that represents how you will appear in person at events. That professional head-shot photo with an excessive amount of touching up and perfect lighting may not be doing you any favours if it looks nothing like the real you!
7) Live Note-Taking
One area which has really taken off at digital marketing conferences is live note-taking. The ability to take notes in Google Docs and make them available to view in real-time is something that's incredibly useful to attendees. Many events (including our own) have yet to jump on live note-taking as a perk for attendees. If you want to make yourself stand out to other marketers in attendance, create a shared Google Doc to promote on the event's hashtag with the key takeaways from each talk.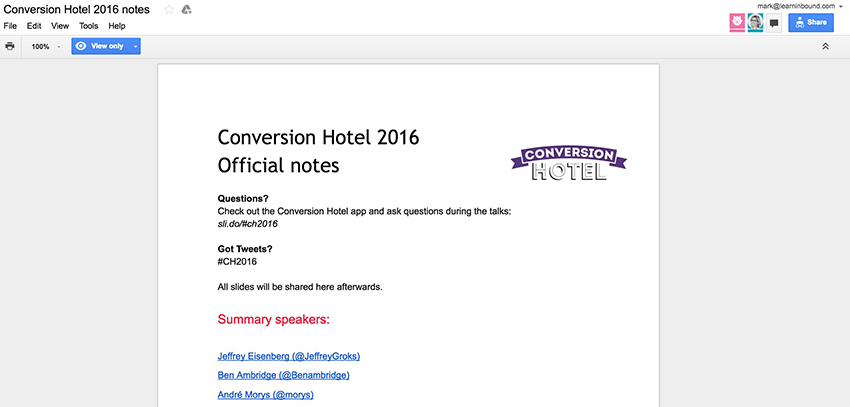 Take a look at Conversion Hotel as a great example of how to structure this.
*Top Tip* Add links to your social profiles at the top of the shared document so people know who you are, and more importantly, how to get in touch with you.
8) Early Bird Catches The Worm
Unlike college parties, it's perfectly acceptable to be among the first to turn up to a digital marketing conference.
By being among the first to arrive for morning registration, it's likely you will get the chance to chat to the speakers, sponsors, and the organisers before anyone else distracts them. Once a crowd begins to arrive, the odds of you have a proper conversation become less and less likely as they'll be pulled in multiple directions by other people competing for their attention.
And if that's not a good enough reason to crawl out of bed early, you will have the opportunity to select the best seat in the venue and avoid any queues for coffee/breakfast.
*Top Tip* The early start is a great opportunity for you to start networking and connecting with other marketers. Try to have breakfast with someone or initiate a conversation with a person also standing at the check-in desk. Those who arrive just before the start of the first session are missing out the ability to kick-start their day on a positive note.
9) Network Over Drinks & Food
While I would consider myself an introvert, I will always try to attend the lunches, dinners and after-parties following marketing conferences as they're often where the real connections are built, and the best conversations happen. Conference tickets can often be quite expensive, so if you want to get the most out of the experience, you should push yourself outside your natural comfort zone and get to know people over a drink or dinner.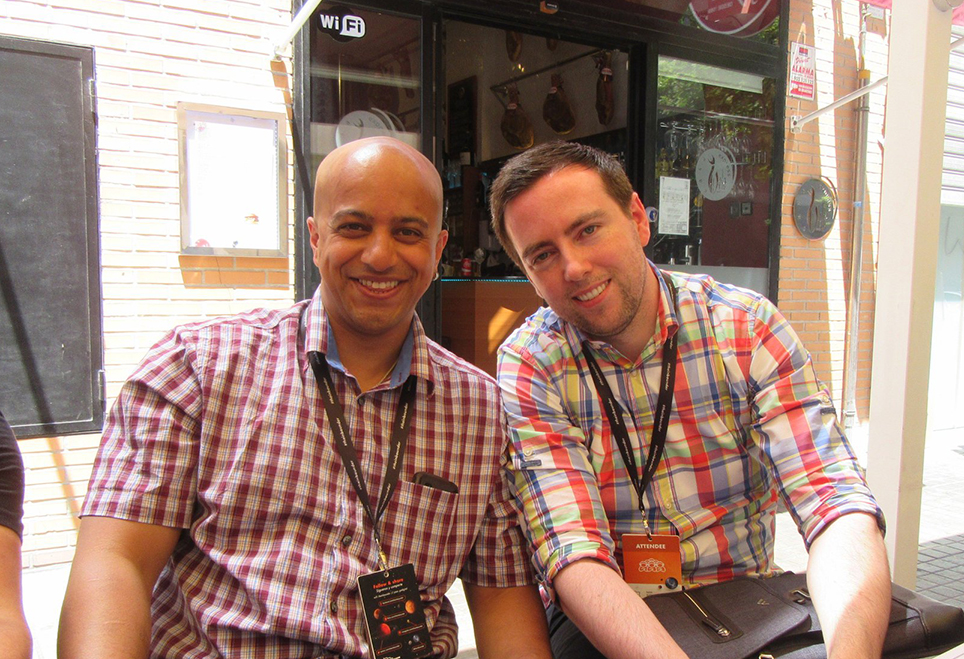 (Mark Scully & Omi Sido at The Inbounder conference)
Back in May when I attended The Inbounder conference in Valencia, I had the opportunity to network with really talented marketers like Arnout Hellemans, Aleyda Solis, Omi Sido, Olga Andrienko, and of course, Gus Pelogia who is now a member of the Learn Inbound team. If you want to make some new industry friends, make the effort to attend as many social meetups around the event as possible.
*Top Tip* It's OK if you need to escape back to your hotel room for downtime between the conference and the after-party. Ask the people you've met throughout the day to keep you updated about where they'll be later that evening by sending a message via Twitter, or by text message if you're comfortable with giving out your number. You can always reconnect later that evening with other attendees once you've had time some time to yourself.
10) Accessorise: Be That "Go-To Person"
If you have ever attended a digital event, you'll know how much of a pain it can be to arrive without an iPhone cable, MacBook charger or any of the other cables needed to get through a full day of tweeting. Usually, you will find that other attendees are experiencing similar problems, and will often tweet on the event's hashtag to see if someone can lend them a cable for a while.
If all else fails at helping you to make a new connection or two at an event, you could be that ray of hope for someone by offering to lend the accessories you've brought with you. One a couple of occasions I've been saved by other attendees at an event which helped to lead to other conversations afterwards.
*Top Tip* Don't give away your prized possessions to just anyone in attendance. The last thing you need is someone "accidentally" forgetting to give back your MacBook charger (they're pretty expensive). Be smart about who you lend your accessories to, and also ensure you don't leave yourself stuck by not having a spare.
Do you have any of your tips about how to get the most out of digital marketing conferences? Leave your comment below as we'd love to hear any ideas you may have! 🙂