Digital marketing events are a blast: you get to network, listen to amazing speakers and – why not — have a drink in a good company. But let's not forget, that attending conferences and meetups is not just a pleasant time killer — it's work and you go there to help your business. Establishing new relationships, making yourself a name in the industry or building a personal brand — it all requires some groundwork.
In this post, you'll find tips on how to get the most out of attending a digital marketing event with the steps to take before, during and after it.
Here we go.
Before the event: check other attendees, make connections, create roundups
Events like LearnInbound are a great way to meet the industry's most prominent figures: every year it's attended by the top SEOs and digital marketers from all over the world. But approaching a stranger is a doubtful networking tactic. Things might not always go as you've expected. So, to reinforce your efforts, it makes sense to connect with the speakers and other attendees before the event.
1) Get the list of speakers and connect with them on social media
Every event has a page with speakers on its website, often with links to their social media profiles. Check them up on Twitter and LinkedIn, see what they are writing about and how you could approach them. To ease it up, create a Twitter list and follow up on their feed more closely.
What you could do next is connect with those people on social media to become recognizable to them and set up the ground for future collaboration. To find the speaker's publications, you can use BuzzSumo — it allows to search for content by the name of the author. For instance, this is how we found the posts that were published under Talia Wolf's name during the last 6 months.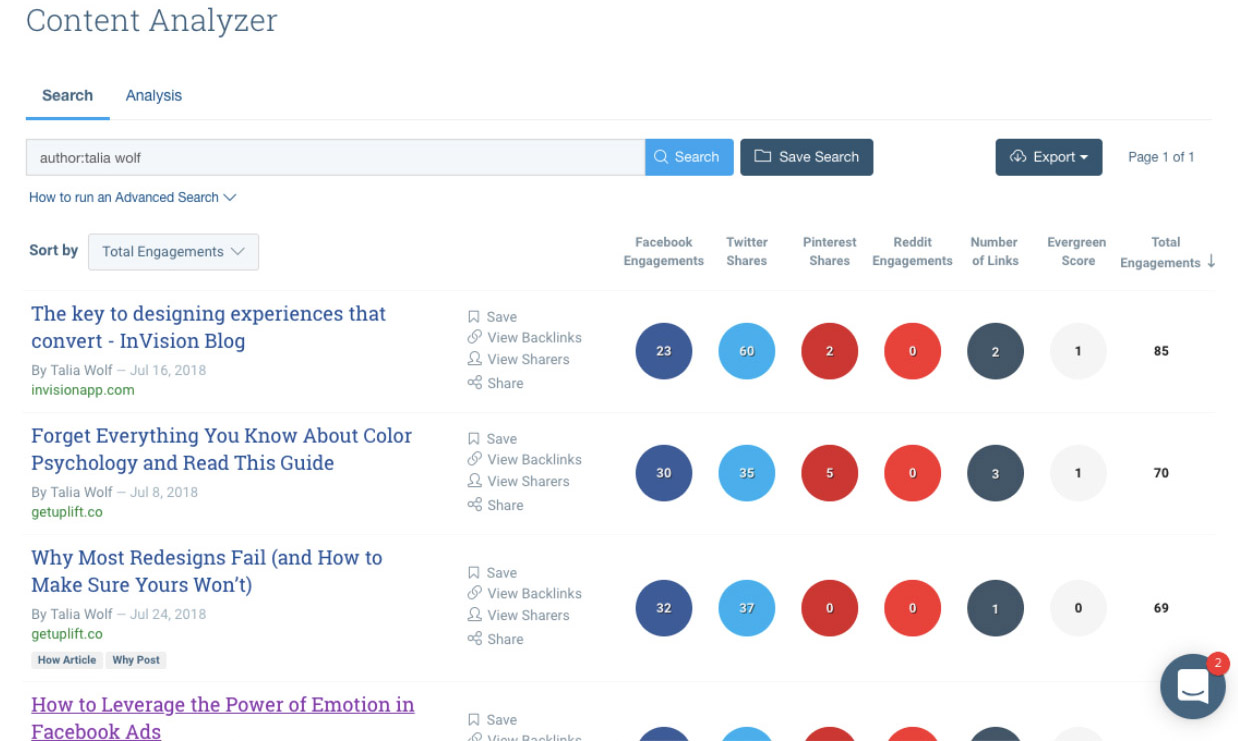 2) Make a roundup with the speakers
To promote the event, you can make a roundup post about the most interesting speakers (and the ones you want to build relationships with) and the topics of their talks. For example, a roundup that we made for BrightonSEO this year really helped us to connect with the speakers.
3) Get to know the attendees if that's possible
Some events are organized at the Meetup platform, that means, you can see not only who's about to speak there, but also who's going to attend it. Do some due research and find out who are the people you are going to be in the same room with. What do they do? Would your business benefit from working with them? Would it be mutually beneficial to collaborate?
People are people, and they react well to genuine interest. If you reach out to them being prepared, that is, knowing what they do and how your business relationships could be mutually beneficial, they are likely to respond.
4) Follow the event's hashtag and see who else is interested in it
Another way to find people who are interested in the event that you're attending is to follow its hashtag. Check out who's writing about it and whether you have something in common.
You can also add paid ads to the scene. For example, we promoted our post with a roundup of the must-see speakers on Twitter the week before the event targeting everyone using the #BrightonSEO hashtag. This increased our impressions and engagement rate and gave extra boost to our branding right before the event.
During the event: be active across social media channels, follow the event's hashtag, do recaps
A chance to network is one of the main things why people attend digital marketing events. Also, to make a selfie with Rand Fishkin and cool swag, but mainly to network. Here are other things that you could do to make sure the relationships that you establish at the event sustain.
1) Make recaps of the most interesting speeches
Digital marketing events are a never-ending source of inspiration — marketers do know how to charm the audience. But instead of just sitting there getting inspired, take notes — after the event, you'll be able to create a recap of the speaker's talk. Such content has many pros:
It's original because, after all, it's your interpretation of what you've heard;
It has a great topic, otherwise, it wouldn't get featured on the agenda;
It's easier to create since you don't have to reinvent the content or the structure; just highlight the key points and add your personal vision.
If you manage to post this content during the event, it has the highest chances to go viral and get a decent number of high quality links as an originally sourced material
2) Make pictures with the speakers and post it before or after their speech
People post a lot of pictures from digital marketing events, after all, we marketers are very much into social media. So, let's channel it in a productive direction! A picture with a speaker posted right before their talk is a great way to kick it off and show the world you're there.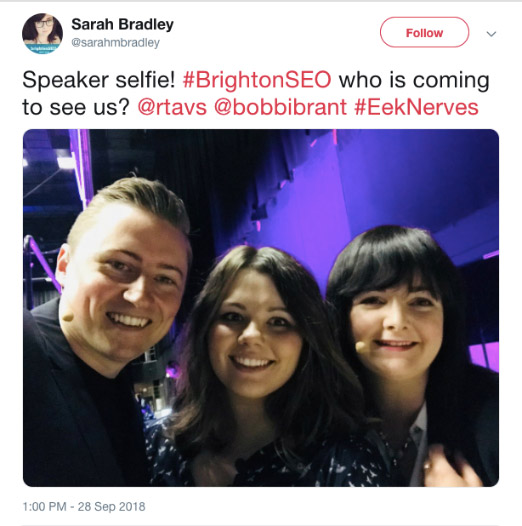 3) Follow the event hashtag and start MEANINGFUL conversations
If you don't feel comfortable networking offline, which is perfectly okay — many people are like that and still get to enjoy live events — you can participate in online conversations. By following the event's hashtag you can see what people are talking about and join the discussions. After that, meeting offline will be way easier.
4) If it's technically possible and not prohibited by the event's rules, run short live videos on Twitter or Facebook from the presentations
Some events, for example, those that charge for joining the livestream, don't allow live videos from the venue, but if it's not officially prohibited, it's a great opportunity to get attention on social media. But if you can't make a video, just tweeting a photo from the auditorium will also help.
After the event: act as quickly as possible
After the event, the timing is everything. Once the memories are still fresh and the interest is vivid, you need to give people some food for thought (and their eyes) and work on those relationships that you have established.
Recaps and roundups are a very popular kind of the "after-event" content and a great way to prolong the event's buzz on social media. It also helps people who couldn't attend the event to familiarize themselves with what's been up — what a noble cause!
Moreover, such posts have high chances of ranking just as well as the event's main page.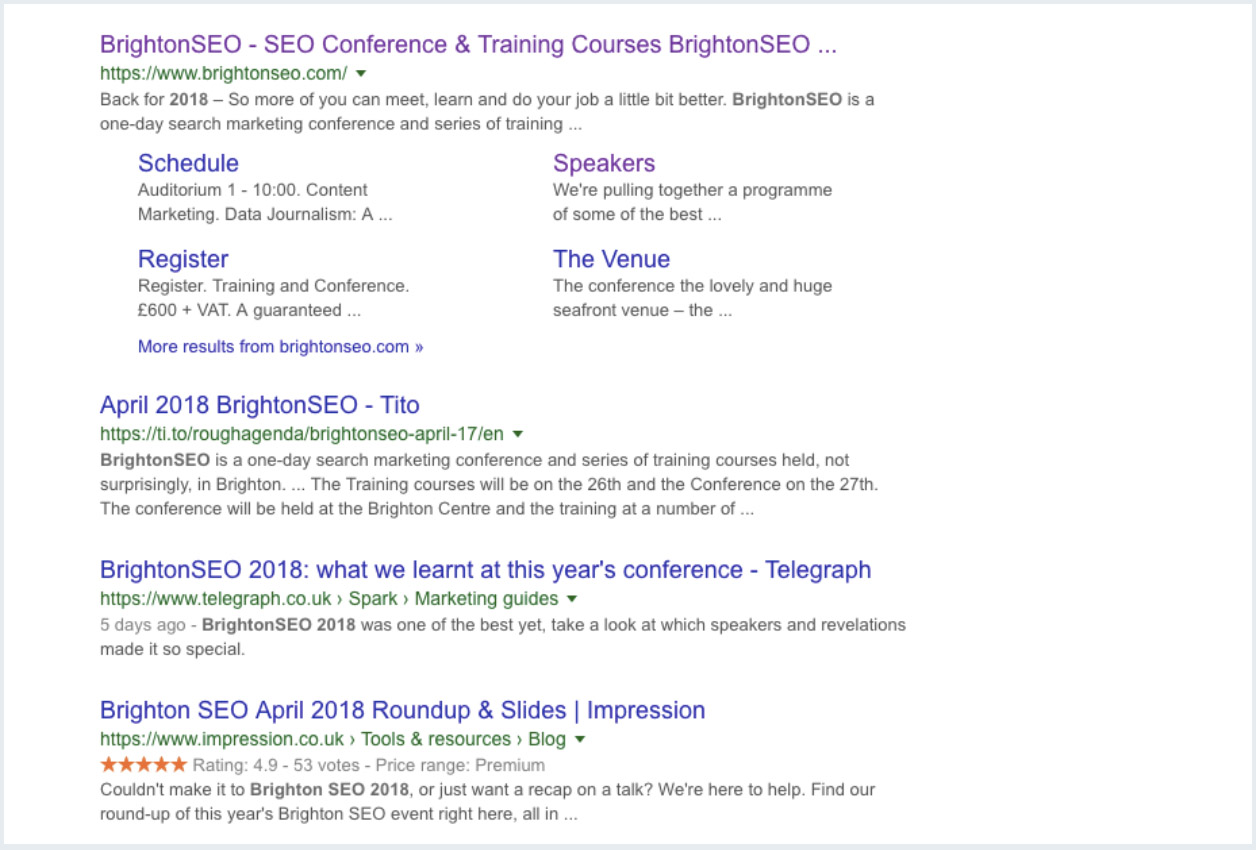 You can go from something as simple as an infographics with a single talk recap to a full-cut video as the A-Type-Media agency did — your imagination is the only limit here.
Wrapping up
We've listed the things to do before, during and after the event to get the most out of attending it. To sum up, it's all about establishing and developing mutually beneficial business relationships with the speakers and attendees, and we've listed the tactics that we find the most productive.
But the last component not to be forgotten is having fun. Getting to know people, networking, establishing informal connections — that's what digital marketing events are really good for.