I'm sure you know this scenario: you need to come up with the next set of topics for your own business blog or for your client, but you feel uninspired.
You can't think of an idea that will move the needle for the blog in question. You can't come up with a creative angle and, most of all, you want to stay miles away from the same old regurgitated topics.
Well, today, this scenario ends for you – I'm laying out four fantastic tools that will help you plan and write blog posts that will make your ideal audience devour every word of it, share it far and wide and impatiently wait for more.
You can use these tools individually or in whichever combination you like.
For this post, I'm approaching this topic planning as if I were an agency with a UK-based health insurance provider. You can come with me on this journey and take an approach that suits you best, following my steps below with your own examples.
The order of the tools laid out below isn't mandatory – feel free to do this in whichever order suits you best. I've listed the topic ideas I came up with for each of them, so you can take similar steps right away and feed your content strategy long term, too.
Let's get started!
Google Trends
I'm starting off with Google Trends as I believe it provides the most data-driven foundation for a broad approach to your topics. It displays search and interest analysis over time, sorted by region, topics, related queries and more.
Firstly, open the left-hand side menu and select 'Explore'. Then, let's start out by typing in 'Health insurance' and selecting 'United Kingdom' and 'Past 12 months' as the geo and time frame settings.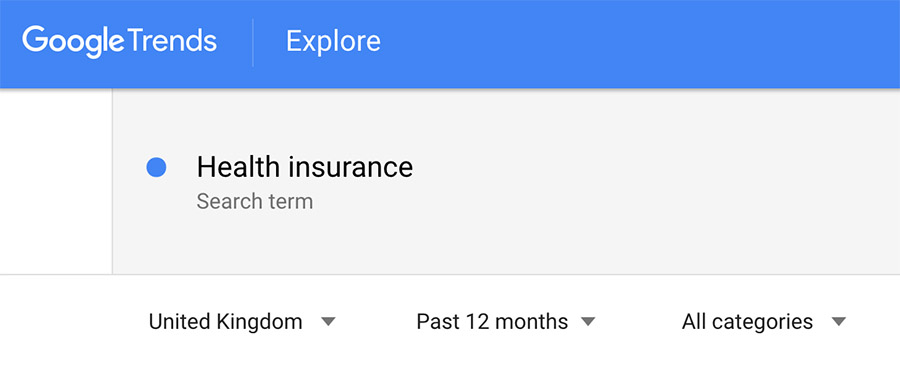 Now, I want to break down the data sets I got based on interest over time, interest by subregion, related topics and related queries.
Interest over time

As you can see from the screenshot, general interest for health insurance has remained the same compared to this time last year. However, it looks like the interest plummets throughout December and peaks right after January 1st, all the way until mid-February.
Clearly, many people are educating themselves on their health insurer options at the beginning of the year. What content can you create to get in front of them at the right time?
Interest by subregion

In the case of UK, you will have two viewing options here – by subregion and by city. Both of these can inform any geo-specific blog posts you can plan, especially if some cities or subregions significantly stand out.
Another great benefit from this data is informing your geo-targeting for any paid campaigns, such as paid search or social, that you may want to do to amplify your content.
Related topics
My favourite data sections on this page are related topics and related queries. Just one of the reasons for that is the option to view both 'Top' and 'Rising' list of topics and queries. This allows you to build both evergreen and topical content and leverage a combination of strong and growing interest for a niche topic.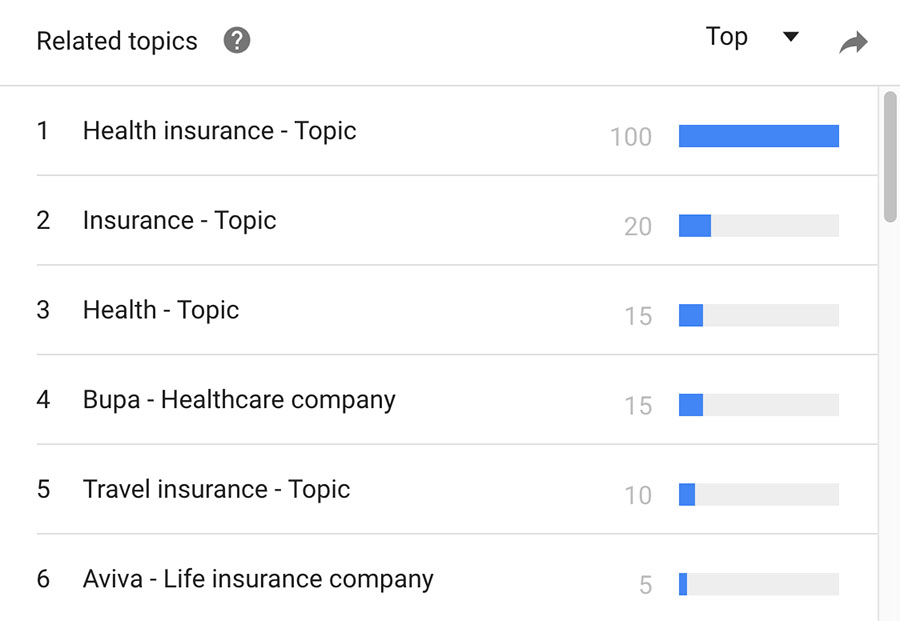 Let's look at 'Top' first. In this case, it's worth noting that topics with the highest interest are health insurance, and then separately 'insurance' and 'health', and that the first branded topic is at the fourth place. Looking further, you'll find topics such as travel insurance, life insurance and private healthcare.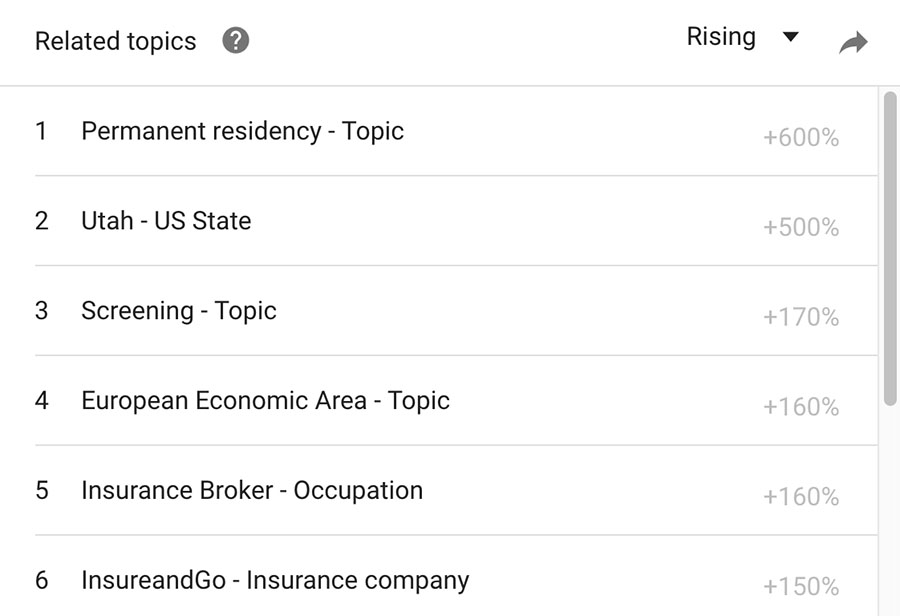 On the flip side, rising topics related to health insurance are permanent residency, screening and spouse. This tells me that there are some narrow interests within the health insurance topics, and they align with my audience's needs!
Related queries
Related queries are what users who are searching for your term are also searching for.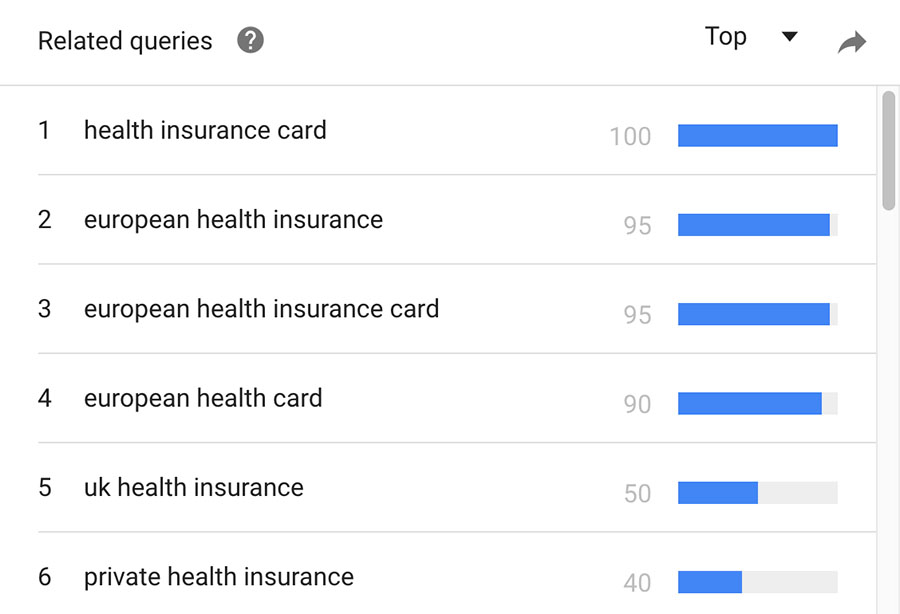 Here, we can see the top related queries such as health insurance card, European health card, travel health insurance, card renewal, and more. These seem like terms that make up some common, but specific questions about health insurance. Can you think of questions here that your content will be able to answer?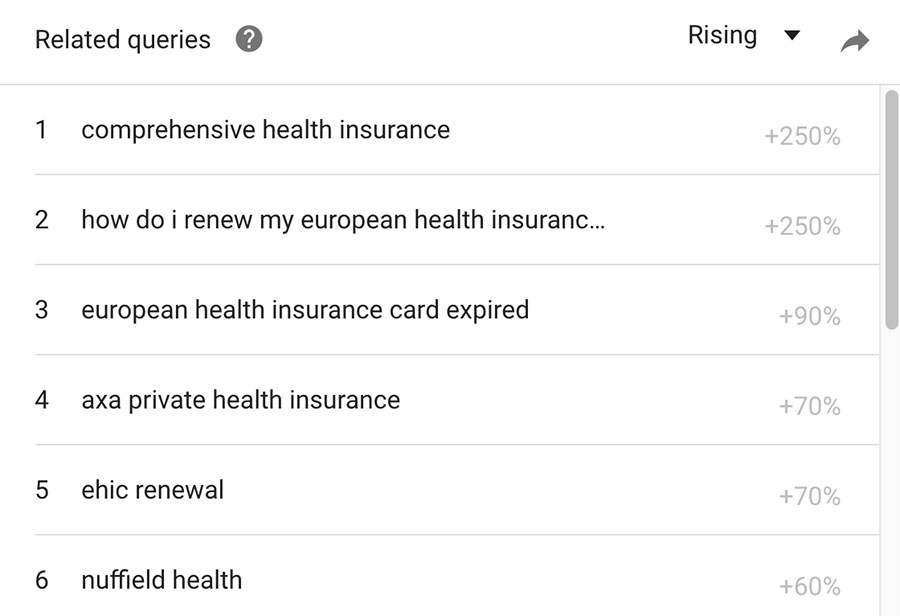 And finally, let's look at the rising related queries. While some of the queries are similar to the top ones, now we also see comprehensive health insurance, as well as some more branded search queries. Does this give you more insight about your competitors that you didn't have before? And what further questions should you now answer?
New blog post topics as a result of this research:
Comprehensive health insurance: what it is, how it works and who needs it
How to choose your ideal health insurance policy this year
Everything you need to know to renew your European health card
Travel insurance: why you need it and how to choose the best one for you
How to know it's time for a health screening
Bloomberry
Bloomberry is an awesome new tool by Buzzsumo (currently free in beta, with a Pro version in the pipeline) that analyzes millions of real-world, actual questions, and groups them into various 'buckets' based on a common secondary topic. These questions are often found on Quora, Reddit, Yahoo and many industry-related forums.
For my example, I searched for 'health insurance UK' without a time range restriction. Bloomberry has retrieved 333 questions, sorted by popularity into 11 topics. Let's look at the results.

Bloomberry usually displays the top six questions per topic on this page – to view more, you can simply click the magnifying glass on the right-hand side. In this case, I can already see some questions that my blog posts could answer, some of which are already validated from the Google Trends research.
Browsing through the rest of the results and groupings, I see that there are many questions regarding travel insurance, UK citizenship in relation to health insurance, taxes, and health care system.
You can also take topics from questions that resonate with you the most, and repeat the Bloomberry search with that specific topic. This way, you can unlock dozens and potentially hundreds of new questions to answer and topics to cover!
New blog post topics as a result of this research:
How to know the impact of your pre-existing medical conditions to your health insurance policy
How to choose your health insurance policy as a senior citizen
How to set up your health insurance when moving to UK for education
How to make sure you are ensured when travelling to UK
How to transfer your medical insurance to UK
Answer The Public
Answer The Public is a brilliant tool to gather literally hundreds of ideas for you to, well, answer the public!
Because it is based on a theory that appending a search term with words like "for" or "with" gives a much richer starting point for content ideas, Answer The Public populates a visual one-pager for you to switch your creative mode on.
In my scenario, I've typed in 'health insurance' and selected UK as the country. After I had clicked 'Get questions', I selected the 'Data' option for each dataset, as the list is more useful when I don't need to turn my head sideways constantly!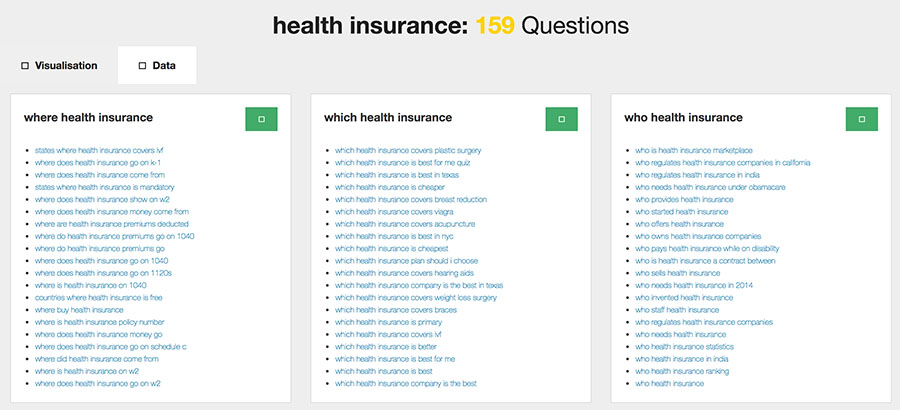 Simply from these three columns in the 'Questions' sections, I can see some new, untapped ideas already! As you'll discover during your own research, there is a distinction between very broad and very specific questions in this list, which can inspire content ideas for various stages in the customer journey.
For example, under 'which', I can see that there are questions related to some specific medical procedures and pre-existing conditions, which may be closer to the purchase decision. At the same time, questions such as 'who needs health insurance' could indicate some top of the funnel searches.
Further down the page, you can see the 'Prepositions' section.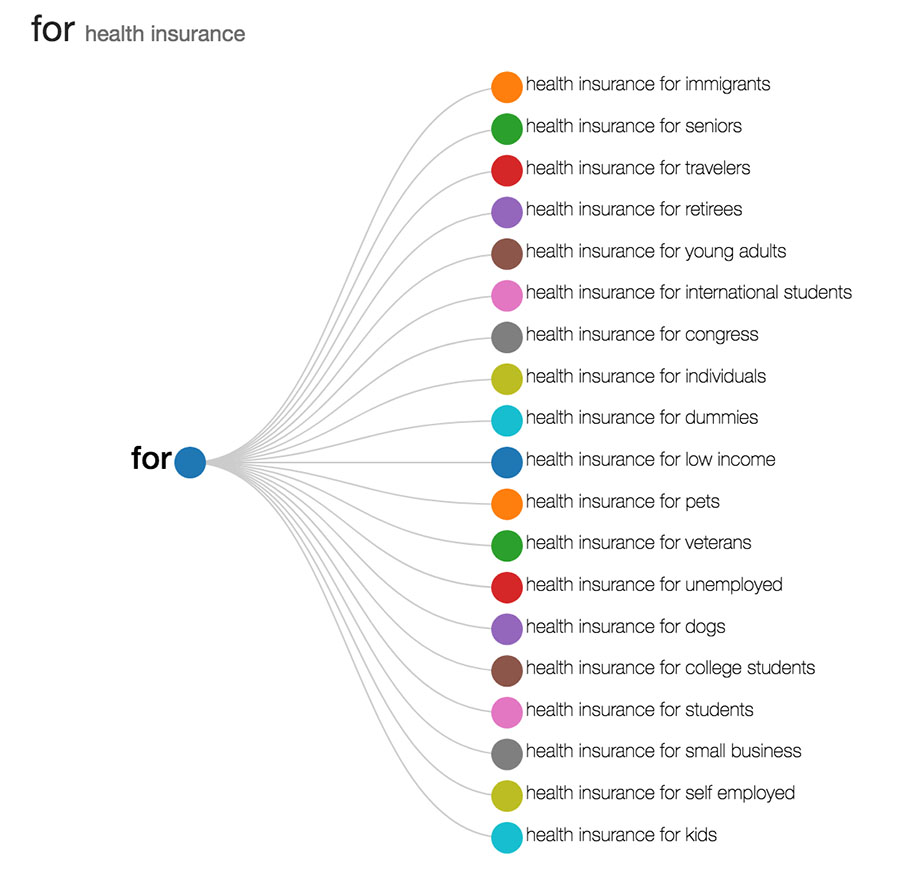 In this case, you can find some very specific terms that may trigger rich content ideas for you! What stood out to me here was the 'health insurance for' section, as this targets specific groups, such as small businesses, self-employed, travellers, seniors, and more.
Each of these groups undoubtedly has even more narrow questions that well-written, in-depth blog content can answer.
What stands out to you in your search? What topics did you come up with as a result of it?
New blog post topics as a result of this research:
How to compare health insurance policy fees
How to choose your health insurance policy based on specific medical procedures
How to set up health insurance for your small business employees
How to get your health insurance as a frequent traveller
How to get your health insurance based on your income
The Content Strategy Discovery Tool by Builtvisible
This tool will take a couple of your minutes to get set up, but once you've done that, you're ready to research your heart out!
Follow the steps on the link above. Then, once you're in the spreadsheet, search away! If your search has multiple words, separate them with the + sign. In my case, I searched for 'health+insurance'.

Now, this tool includes data from sources such as Reddit, YouTube trends, Hacker News, Digg, Google News, and more. As you can see, there are even more untapped resources compared to the tools listed above.
Now, I found that this tool will yield more results for some industries than the others. For example, you are definitely more lucky if you're looking for fresh ideas on SEO than on health insurance.
However, this still provides an awesome chance to see what has been done in the past, expand on certain topics and take a fresh angle. Also, this may be a good starting point for outreach in case you are looking to get your content in front of people you know have covered the topic before!
Topics that stood out to me in my health insurance scenario here are 'freelancers and health insurance' and 'health insurance in 3 minutes' (both from Hacker News), and 'how do you shop for health insurance' and 'top 5 questions to ask when shopping for health insurance' (both from How Stuff Works).
I can now see the ways I can expand and enrich these topics through a different voice and with more expertise.
New blog post topics as a result of this research:
How to get your health insurance as a freelancer
How to pick your health insurance in a day
Biggest challenges when choosing your health insurer
How to know your health insurance contract inside out
Everything you need to know about how health insurance works
And there you have it – 20 new blog post topics from research that took less than 60 minutes!
Over to you – how many new topics have you come up with in this research? How many weeks of content would this mean for you? Tweet us to let us know!