As 2019 draws to a close, digital marketers face another challenge: top-notch and SEO-friendly content is not enough to have for higher rankings, traffic, and conversion. The time has come to nail the strategy we've all known for a few years already but have hardly used. Ta da… topic clusters enjoy a new lease on life now.
What is a topic cluster?
The "topic cluster" is a term given to a group of interlinked pages at your website. All these pages are built around one content piece targeting a broad topic, and each of them is more narrowly-focused.
In the SEO language, a topic cluster is a content unit consisting of:
pillar content with a high search volume keyword;
a multitude of related content pieces, each with a more specific, smaller search volume keyword;
links going from pillar content to related content pages and vice versa.
A great example of topic clusters is Moz's Guide to Content Marketing: a pillar content page links to narrowly-defined subtopics, each of sub-content pieces links to a pillar page and interlinks to one another.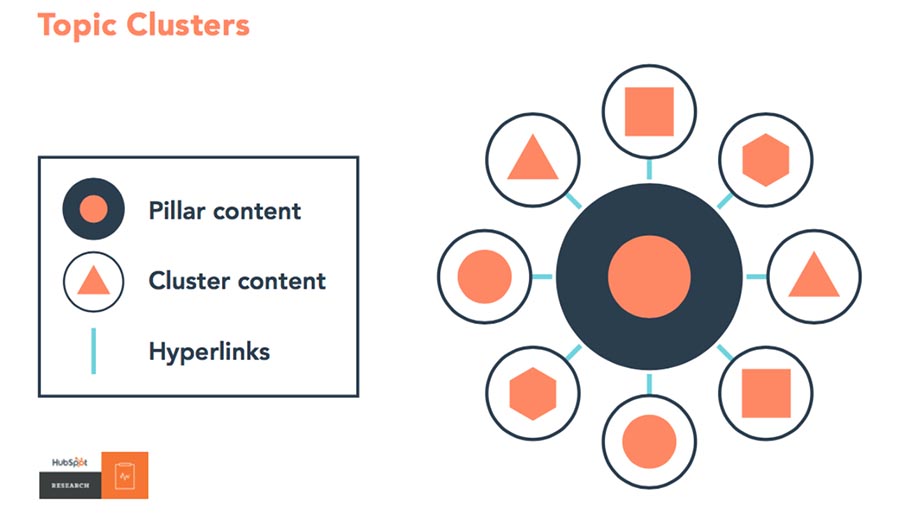 Source: HubSpot
Why bother with a pillar page strategy?
When done right, topic clusters can skyrocket your website search rankings, organic traffic, and conversion. Each cluster improves your content marketing campaign results, helping you reach a greater authority with the audience.
And given that it's close to impossible today to win by targeting a single keyword, clusters allow targeting entire topics and therefore boost interlinked pages all in one. For Google, it's about a semantic relationship between those pages, so it pushes the entire topic of a cluster further up in rankings.
Topic clusters allow readers to navigate to your content easier. As for Google's bots, they find all the articles faster, determining how to rank them. The ideal result? Your pillar content ranks higher for a competitive short-tail keyword, and sub-content ranks higher for its long-tail keywords.
In other words, you gain traffic for highly focused keywords as well as those with smaller search volumes. The better rankings you get with topic clusters, the more credibility you win in the eyes of both users and search engines.
That's exactly what we've done to the persuasive essay article at Bid4Papers' blog. Results? Higher domain ranking and stronger backlink profile; organic traffic growth by 30% after the topic cluster's publishing, and it keeps growing. Content conversion (natural backlinks growth, higher dwell time, social media comments and shares) takes place, too.
So, to execute a topic cluster strategy, you'll need to take the following steps:
Define content topics.
Come up with subtopics.
Evaluate and organize your existing content.
Focus on content quality, avoiding publishing similar content segments that confuse both readers and search engines.
Choosing the right topic and keywords for your cluster
It's not that difficult to create content clusters at your website. The focus should be on the topic and the right keywords for each content piece in it.
Identify those relevant to your brand and the audience: a product you sell or benefits your customers get from it, problems they face and you help them to solve, or values you want the online community to associate you with. Ranking for this topic should have an impact on your business development, and it needs to be broad enough to write several sub-content pieces on it.
Spreadsheets or mind maps will help to brainstorm ideas and organize all topics and subtopics for further approvement. Understanding the user intent, you'll know what core topic to choose for your next cluster.
Topic clusters are about creating several content pieces with different yet revolving around one theme keywords. For that, you need one core keyword for a pillar article and several related terms for supporting content.
Keyword difficulty and its search volume matter here. While you take a broad keyword of hard/medium difficulty but high search volume for a pillar article, subtopics should be sorted by low search volume keywords, including those from questions and long-tail ones.
We used Ahrefs to do research for the topic cluster, but feel free to use your preferable SEO tool: Moz, HubSpot, LSIgraph, SEMrush are only a few to consider. Enter your topic, sort results, and choose targeted sub-topics to link together around a pillar content piece.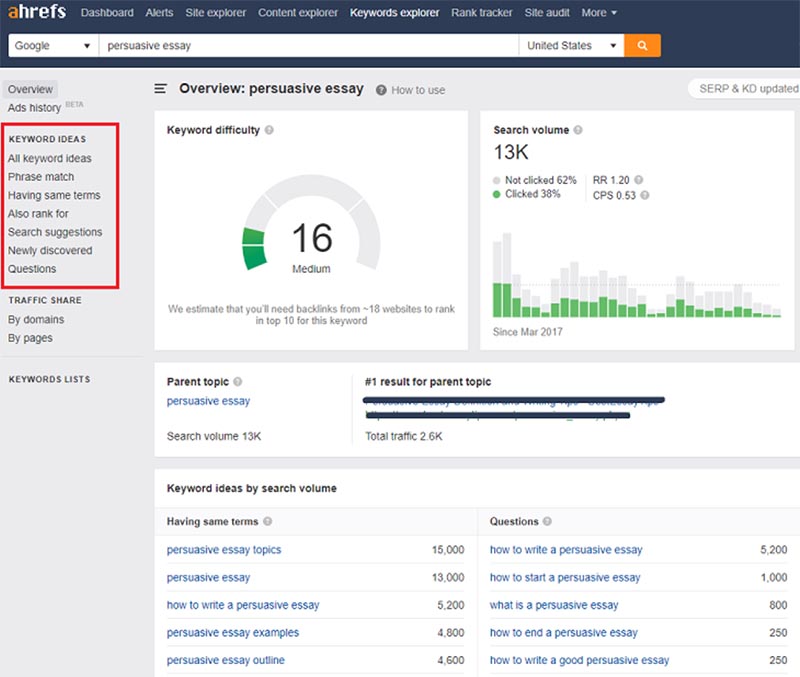 It stands to reason, you'll get tons of related keywords to consider. There's no need to write an article for each. Just sort them by search volume and potential traffic and prioritise which topic or subtopic to work on, according to its relevance to your business and marketing goals.
When searching for the right keywords to use in a topic cluster, you can also "spy" on competitors. Therefore you'll find what keywords you might miss for rankings. Or, you'll see keywords both you and competitors missed, so then it won't take long to overtake them.
Structuring the topic cluster
Once you've identified a core keyword for a pillar article and grouped related keywords around subtopics, your topic cluster will look like this:

Now, write all cluster pages. Things to consider:
Avoid a generalised approach. Dive deep into the topic and make sure that every page of your topic cluster brings something unique.
Don't mention anything (in detail) covered on other cluster pages.
Follow all best practices of epic content creation: consider long-reads, use storytelling, add relevant and respectful data, design images, etc.
Tip: create subtopic pages first to make sure your pillar content piece won't be their copy.
The pillar page needs to be your overview of the broad topic. As a rule, it's extremely long (3,000+ words), and it doesn't go into much detail about each aspect of the topic. Here's where you'll incorporate the internal links to all subtopic pages of your cluster.
You can structure a pillar page as a long blog post, a kind of "ultimate guide" that covers your topic comprehensively. Or, follow the example of the aforementioned Moz: make it a kind of table of contents, summarising each subtopic page and linking to it.
The way you'll publish a topic cluster depends on the capabilities of your CMS and whether you have a blog. Ideally, publish a pillar page on your root domain and make subpages its subdomain (like Moz does):
Another approach is to place a pillar content on your root domain but supporting articles — to your blog.
As for interlinking the pages of your topic cluster, everything is simple here: link a pillar page to all supporting articles, link every supporting article to a pillar page, and link all relevant supporting articles to one another. Now it's easier for Google spiders to find and index the topic cluster, bringing more SEO power to your pillar page.
You may have many published articles on your core topic already. If that's the case, there's no need to rewrite them again: just make sure to organise them correctly, and interlink according to your topic cluster.
Measuring the results
The value of analysing the performance of your topic clusters lies in justifying further investment into the approach and improving the effectiveness of your marketing efforts.
The problem is, it's a bit tricky to measure the influence of the whole cluster on your traffic and organic search rankings. The reason: most tools are focused on measuring the performance of a separate page rather than a broad cluster of content. More than that, you can't isolate the effect of a topic cluster from other factors moving your website metrics forward. For example, increasing its speed or updating some of its existing content can give a traffic boost too.
And yet, with advanced web analytics available today, it seems we can measure everything. But first, answer two questions:
What is your goal for a pillar content piece? If, for example, you don't focus on a super-high volume keyword but choose to go after a potentially-high volume one, then you shouldn't expect its meteoric growth. Concentrate on improving a topic cluster rather than promoting it, if that's the case.
Do you want to measure the whole cluster or its pillar content alone? Make sure to measure the success of both: for a topic cluster strategy to work, you need to spark growth for all interlinked content at the website.
To measure the performance of your topic cluster, use Google Analytics or specifically designed Content Strategy Tool from HubSpot.
First, create a new Content Grouping for your topic cluster, including all corresponding URLs there and providing a rule for each URL included. Once done, now you can go to Site Content > All Pages and filter them by groups to see the performance of the whole cluster.
Add the Organic Traffic segment as well as any other desirable metrics to analytics so you could see all corresponding changes there. To understand how the audience interacts with the topic cluster at your website, create a custom segment in Sequences: select your desired cluster there and change the Sequence Start option to "Any user interaction."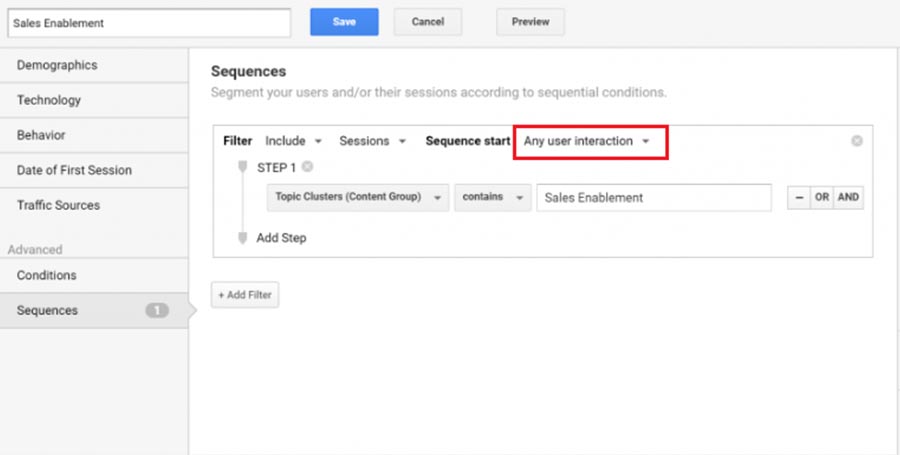 Also, remember to check the performance of a pillar page separately. If you've published it on a root domain, it'll likely be in your separate Google Analytics account.
HubSpot's Content Strategy Tool
Integrated with the HubSpot's overall platform, this tool was designed specifically for marketers to research, plan, and measure their topic clusters. It allows you to see the impact they have on traffic, leads, and new customers.
Just wait for a few weeks after your topic cluster went live, go to Reports > Traffic Analytics > Topic Clusters in your account, and see a standard report for how all the content performs together.
Final thoughts
For marketers willing to skyrocket their organic traffic and rankings, topic clusters may become that magic button to press and win. It's a great way to organise content for both users and search engines to easily navigate, focus on content quality with a well-organised keyword strategy, and boost SEO endeavours for better results.
Think of topic clusters as an opportunity to solidify your expertise with every piece of content you create.
Sure enough, dozens of other factors influence a website's overall performance. But this calculated approach is worth trying for those thinking of providing value and establishing a lasting online presence.