I know the title of this blog post is very catchy, but let me warn you now right now: there is no magic formula. The recipe is hard work, networking and, of course, some luck.
It's no secret that searching for a job takes a lot of time and energy. Since I moved to Dublin in 2016, for around 5 months, I went through many interviews and had a few offers, even though none of them was the dream job I was trying to score.
In July 2016, I attended my first Learn Inbound. At that point, I was living in Amsterdam and came over to Ireland just for the event. I spent a big part of my afternoon and evening on Twitter, following what was going on and who was interacting with the event online. I already had in mind the idea of moving to Dublin and working for an agency, so I used the event to make some research and ask other attendees about the SEO market in Ireland.
Give before asking
Trying to build more connections in Dublin, I wrote a post for the Learn Inbound's blog: 15 takeaways from #LearnInbound with Brian Dean, Joanna Lord and Larry Kim. This was my "good reason" to follow up with every attendee I interacted in person or online that day. Rather than asking for a job or contacts, I first gave them something valuable. Considering they all attended the event, a list of takeaways from all speakers is something very relevant.
One of these people was Rob Shine, now Director of Performance Marketing at Core Media. We interacted on Twitter during the event and later on, I sent him the blog post. He replied thanking me and then I mentioned my plans of possibly moving to Dublin. We agreed on having a chat again if that plan became concrete.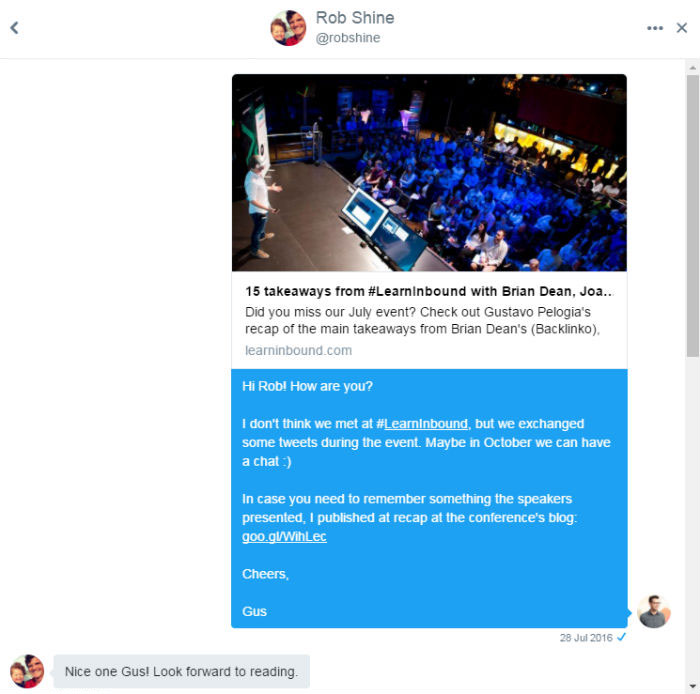 During the following months, I kept talking to other marketers in Dublin, especially when the moving was getting closer. I was not aiming for a contact that would gift me a job, but honestly trying to getting to know more who's is behind the marketing scene in the city. In fact, I met and still meet marketers in conversations that started or grew via Twitter. Heads up to Dan Smullen, James Foley and Alexandra Guimarães here!
How did it happen
I had some conversations and interviews lined up even before I came to Dublin. so I actually only remembered to contact Rob a month after I moved. It was early October. We had coffee and talked for about an hour. The luck knocked my door again: Rob had just joined Core Media and was starting the processes of building a team. We had an interesting chat about digital marketing, SEO, life in Dublin and travelling. Not just business talk.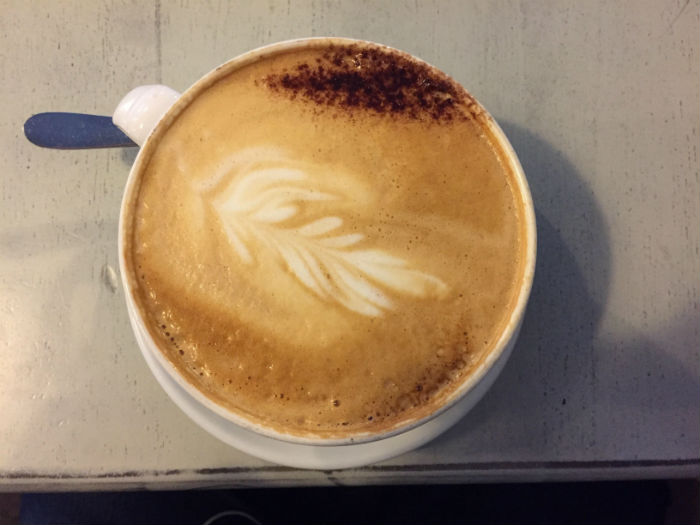 Again, I was focused on getting to know the Irish market and people behind it. He didn't even have a job opening for me (even though he was building a team) and I was not expecting a solution to pop in front of me quickly. Meanwhile, I joined another company and completely forgot I could have a chance at Core Media. Unlike me, Rob had not forgotten about that. It was late January, almost four months after we met when he got back. One of the Core Media agencies, Mediavest, was looking for someone with my skills.

Once more, the timing was right: I wasn't comfortable with the job I had chosen months before and was considering to leave anyway. Even though I got a referral, I still had to pass through the usual interview process during a couple of weeks. A few meetings and presentations after, I finally landed my dream job!
So, not just a tweet…
Sure not. The platform is just a way to connect people and help you put yourself out there. Working hard, being in the right place and helping people a little bit is actually how things turned out well. Twitter was fundamental, yes. But no social channel will substitute your real qualities.
Good luck!