When one speaks about user-generated content, one of the first few campaigns that comes to mind is Coca-Cola's 'Share a Coke'. Launched in 2011, this campaign had thousands taking to social media to post pictures with personalised Coke bottles using #ShareaCoke.
That year the brand sold more than 250 million named bottles and cans in Australia, a nation of just under 23 million people.
What started as a small social media campaign in the Oceania has now extended to over 70 countries. Till today, the brand continues to evolve this campaign, by introducing something new every year.

Coke's successful campaign is just a testament of how powerful user-generated content is.
What is user-generated content? Any form of content that has been voluntarily created by a consumer or end-user is referred to as user-generated content. It can be in the form of social media posts, videos, blogs, reviews, testimonials and more.
What are the Benefits of User-Generated Content?
At a time when it's getting increasingly difficult for brands to overcome ad fatigue, cut through the noise, and be noticed, user-generated content is a breath of fresh air.
90% of consumers say that authenticity is important when deciding which brands they like and support, proving why user-generated content has so much impact.
"How does it benefit business?", you might wonder.
Here are four key reasons why user-generated content should be part of your marketing strategy.
1) Increases Brand Awareness
Increasing awareness is every brand's motive – and a successful user-generated campaign lets you achieve that.
When consumers willingly post about your brand on their pages, it gives your brand exposure and increases awareness. People get to know about your brand or new product. This doesn't just expand your social media reach but it also attracts new customers and contributes to your business' growth in the process.
An example of a brand that used user-generated content to increase brand awareness is Google during the launch of Pixel 3. Instead of running traditional ads, they encouraged user-generated content using #TeamPixel.
This resulted in more than 10,000 social posts and delivered a 5.4x higher ROI.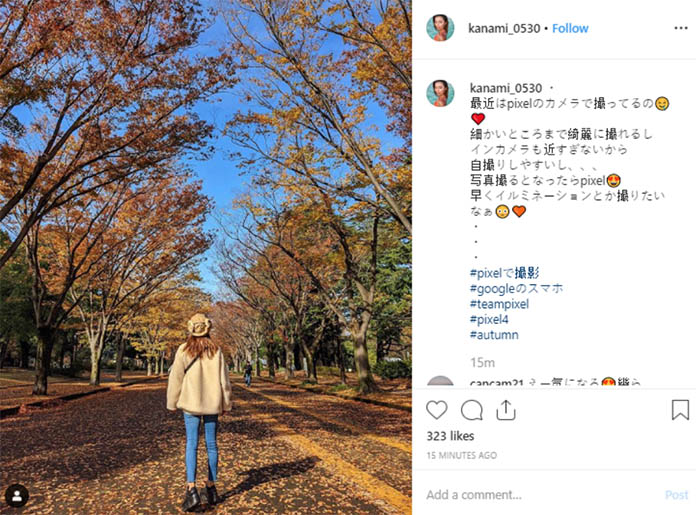 2) Builds Credibility
It's a well-known fact that when your customers trust you, they are likely to buy from you.
However, no amount of ads and other branded content can match up to the credibility user-generated content lends. As per Nielsen's Global Trust in Advertising Report, 83% say they trust the recommendations of friends and family – making it the most trusted format.
The fact that user-generated content is posted by another real person makes it more genuine, believable and trustworthy, making it easier for customers to instil trust in you.
3) Improves SEO
Not many marketers know that user-generated content has SEO benefits as well.
As consumers' search journeys begin with the hunt for authentic and unique content, user-generated content gets prioritised because search engines derive context and freshness from them.
So, the more you link user-generated content to your website in the form of posts, testimonials, reviews and more, the more are your chances of getting ranked higher.
Apart from that, user-generated content also drives direct traffic to your website from social media platforms, thereby improving SEO.
4) Drives Sales
Due to all the above reasons, user-generated content has the ability to influence purchase decisions, increase conversions and consequently drive sales.
As per a study by TurnTo Networks, 90% report user-generated content influences their decisions to make a purchase because it's honest and unbiased.
The best part about using user-generated content is that it doesn't require any investment from your side and can be achieved in minimal or no cost, making it an incredibly cost-effective tool.
How to Use User-Generated Content to Attract Customers?
Encouraging user-generated content is only half the battle, the other half is collating and leveraging that content to attract customers.
Here are six ways to use user-generated content and make it work for your business.
1) Repost on your Social Media Pages
The quickest and easiest way to share user-generated content is sharing or reposting it on your business' social media pages. By doing this you acknowledge the customer who originally posted it, you share it with your larger community of followers while encouraging them to do the same.
You can retweet posts on Twitter, use the share button on Facebook and use an app like Repost to repost Instagram posts. When you do so, remember to tag the customer because hey, who doesn't love a mention.
While some brands take to reposting user-generated content on their page at regular intervals, there are others like Airbnb whose entire Instagram feed is a curation of user-generated posts.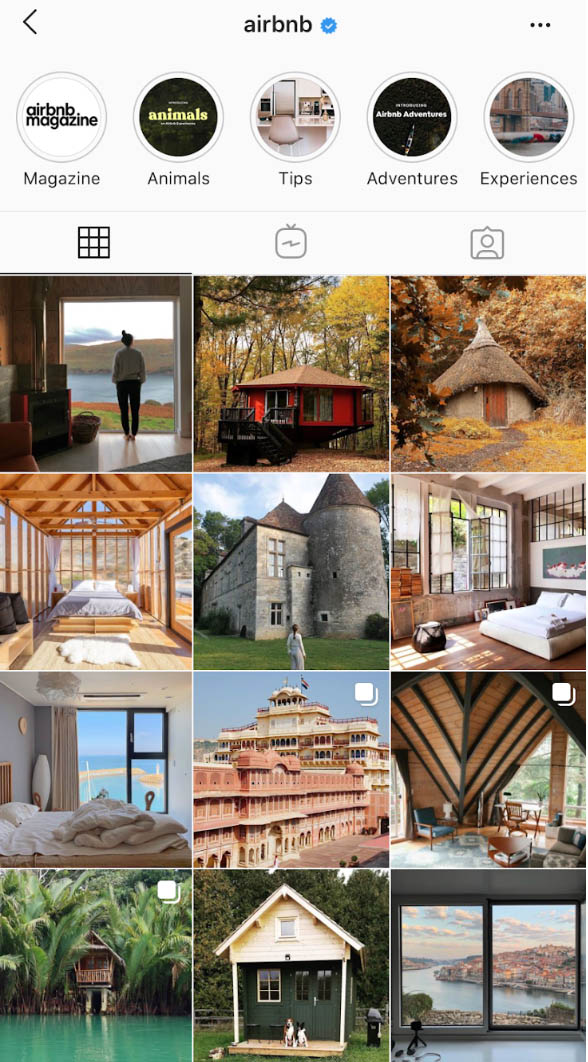 2) Use Hashtags
If you plan to run a user-generated content campaign, you must coin a custom hashtag to complement it.
Hashtags make your content easily discoverable and let you track the campaign with ease. While posting about it on social media and other channels, do emphasize the importance of using the hashtag.
Irrespective of whether you use your brand's name in the hashtag, it needs to be unique and synonymous with your campaign or brand.
Some examples of branded hashtags for user-generated campaigns include #MyCalvins (Calvin Klein), #AerieReal (Aerie) and #WayfairAtHome (Wayfair). Other non-branded examples include #RedCupContest (Starbucks), #TravelForReal (Loews Hotel) and #ShareYourEars (Disney Parks).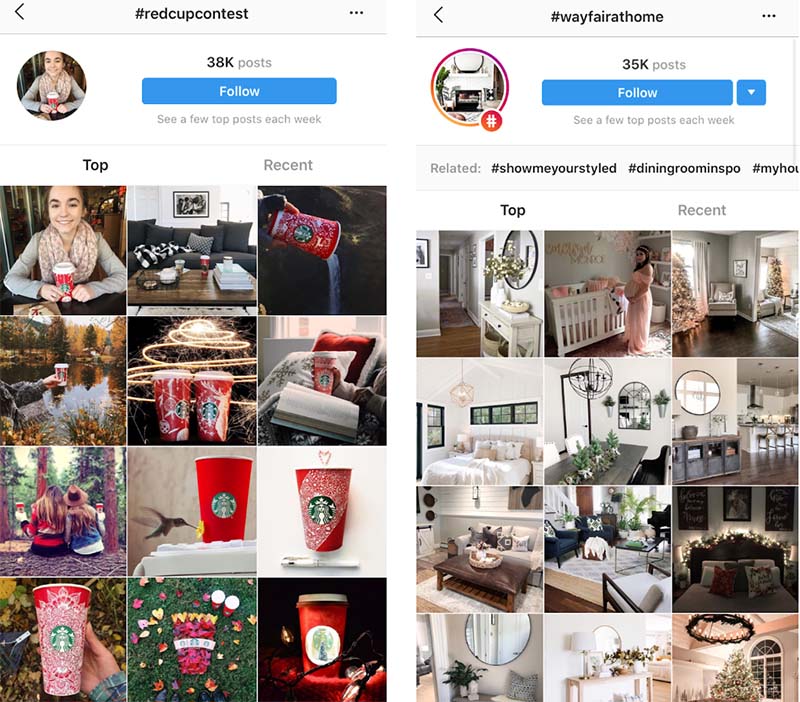 3) Add Customer Reviews and Testimonials to your Website
Customer reviews and testimonials are another kind of user-generated content that have the power to influence purchase decisions. They act as social proof and instil confidence in your potential customers about your brand.
So, make it a point to ask your customers to leave you reviews and showcase them in a prominent spot on your website such as the homepage or 'About Us' page. Look at reviews as a way to give that extra push to website visitors to push them through the sales funnel.
Here's an example of Writers Per Hour showcasing positive customer reviews on their homepage.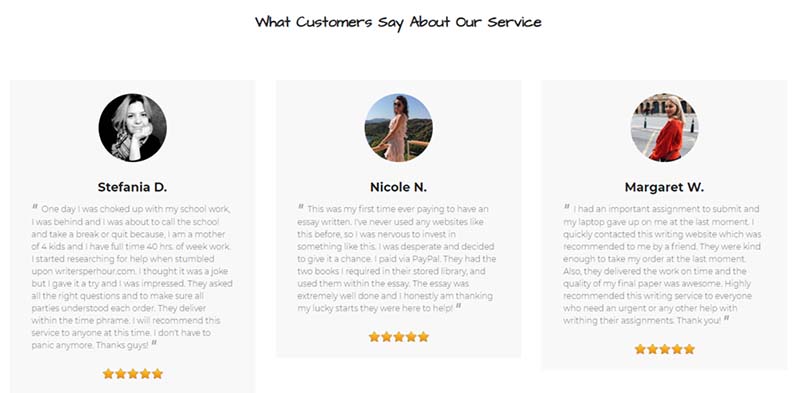 4) Optimise Product Pages
Speaking about prominent locations on your website for user-generated content, another crucial spot is/are your product page(s).
When customers are on a product page, they're on the brink of purchase and what can help influence their purchase is an image or video of a customer using that very product. By showing the product in use, potential customers are able to visualise it better and that works as a natural selling tool.
So, the best product pages are those that display high-quality images of the product followed by user-generated content showcasing customers using/wearing that product.
Here's an example of a brand, Quay Australia that goes a good job of showcasing user-generated content in their product page.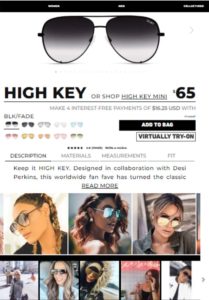 5) Have a Dedicated Landing Page
If you have a consistent stream of user-generated content flowing in, it's a good idea to create a landing page solely dedicated to it.
This serves as a one-stop centre for (potential) customers to understand the extent of your popularity. There are various kinds of user-generated content you can include in this landing page such as social media posts, customer testimonials and reviews.
The idea is to have it all in one place for website visitors to derive value from and perceive your brand to be trustworthy.
One of the brands that does this is River Island. Here's a screenshot of their landing page dedicated to showcasing and encouraging customers to share their style using #ImWearingRI.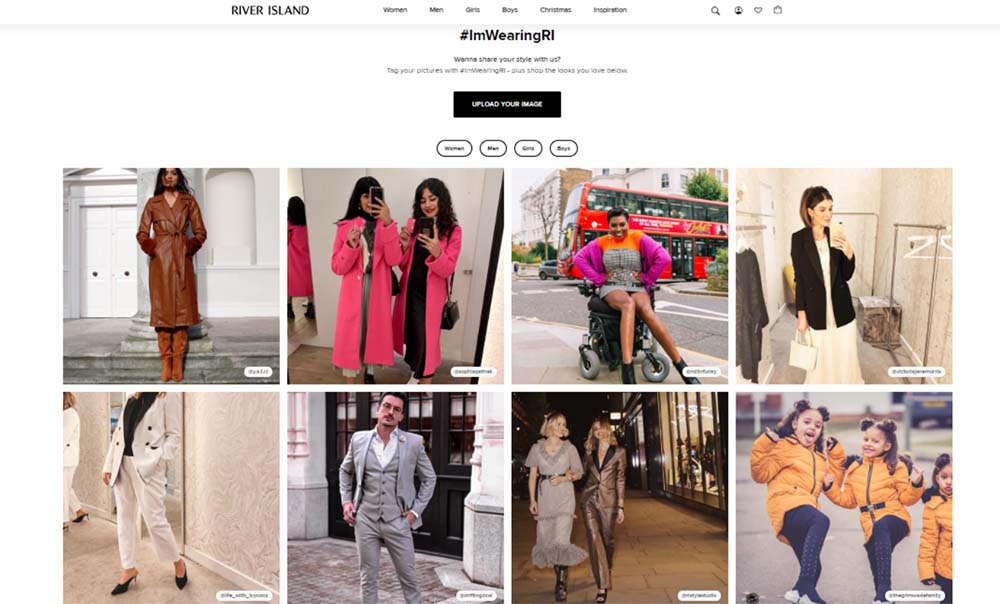 6) Create Ads
Why spend money on stock photos and shoots for ad campaigns if you have real people posting content surrounding your brand?
Creating an ad campaign with user-generated content is not only more powerful but is also cost-effective. This humanises your brand and makes it more relatable.
One of the most successful case studies in this regard is that of Virgin Holidays' #SeizeTheHoliday. After having gathered user-generated content from customers, they created a live TV ad which featured real-time customer experiences. This campaign resulted in a 260% increase in online bookings.
Conclusion
While user-generated content is a valuable asset and should be part of every brand's marketing strategy, it's extremely important to seek permissions from the customers before using their content on your channels to avoid getting into any legal battles.
It's advisable to send customers a private message on social media channels or email them asking for their consent while letting them know how you plan to use their content.
Considering the benefits it offers, brands need to actively encourage customers to post user-generated content and build a diverse library of such authentic content that speaks volumes.