Automated emails get a 70% higher open rate than your average email broadcasts. Let that sink in for a moment.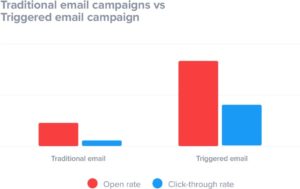 This is because you catch subscribers when they're most interested in you and your business.
Think about it:
They've just signed up for your mailing list to grab a juicy download or to get the latest updates from you so you are fresh in their mind. This makes your trusty welcome email the perfect opportunity to build a connection with your subscribers and convert them into long-term customers.
When studies show that welcome emails have a 45.7% open rate, a 9.7% click-through rate, and a 1% conversion rate compared to 0.17% of other emails, you'd be doing yourself a disservice by not having one.
What Your Welcome Email Needs to Do
You should have three key goals with your welcome sequence, with every email carefully crafted to hit one of these goals or at least work towards it.
1) Let new subscribers know who you are and how you can help them
2) Help you get to know your audience so you can better serve them
3) Encourage subscribers to take action through your emails, whether that's downloading content, reading a blog post, signing up for a demo, or buying something from you
If you can smash all three of these goals with your welcome email, you're onto a winner.
Here's how you can do that:
Tips for Boosting Conversions With Your Welcome Email
---
1) Leverage the Power of Calls-to-Action
Calls-to-Action (CTAs) are your most powerful tool in a welcome email if you want to increase conversions.
How will your subscribers know what you want them to do if you don't ask them?
The key to writing a successful CTA is to really think about the next steps you want your readers to take.
Where do you want them to go after they've read the email? What information do they need to help cement you as an expert in their mind?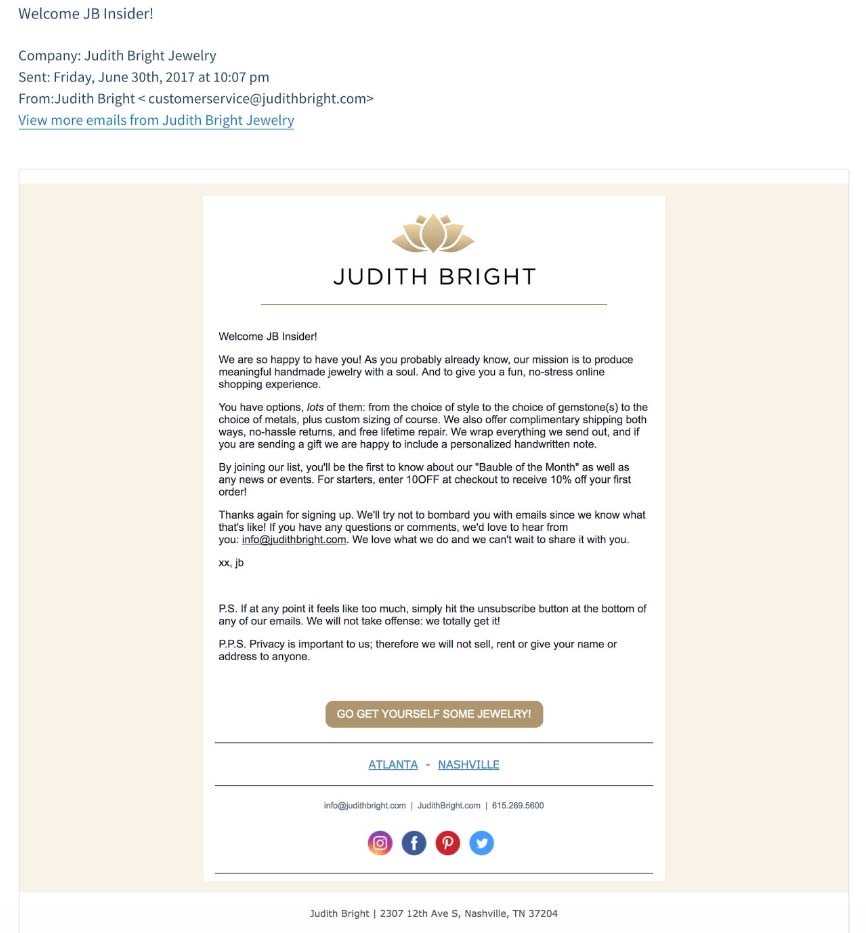 This welcome email from Judith Bright Jewelry encourages readers to "go get some jewelry", but you might want be more subtle and ask your subscribers to "download a free ebook" or "watch this demo video".
It's important that you have just one main CTA in your welcome email otherwise you risk giving your readers option paralysis. In fact, emails with a single CTA increased clicks by 371% and sales by 1617% in one study.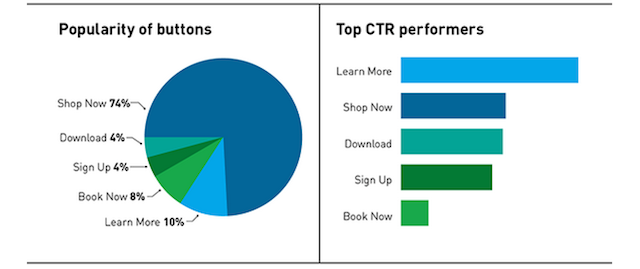 [Source]
2) Track Email Behavior
I mentioned earlier that your welcome email is a great place for you to get to know your audience and get a deeper insight into their needs.
This means you can improve your products, create better solutions for them, and generally help out more.
The best way to do this is to segment your subscriber list depending on the struggles your readers are currently facing.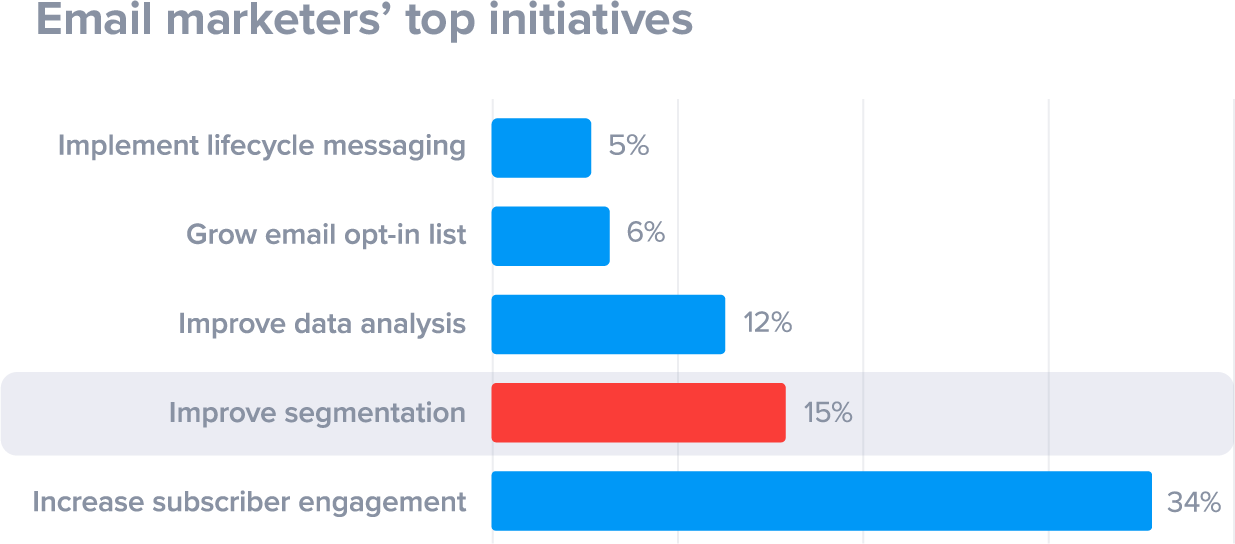 For example, most email providers give you the option to insert a link into your email that, when it's clicked on, adds a "tag" to the subscriber who clicked it within your email dashboard.
Let's look at a hypothetical scenario. Say, for example, you run a recipe brand. you might ask subscribers what they struggle with when it comes to cooking and then give them clickable options like:
Creating quick meals that are cheap but delicious
Making healthy meals every night of the week
Learning the basics of cooking
You can then send personalized content and sales copy to the subscribers who clicked on each different option (according to one report, 80% of shoppers are more likely to buy from a company that offers personalized experiences).
3) Offer a Welcome Gift
Everyone likes to feel special, and a great way to do that is to offer your new subscribers something exclusive. This might be a discount on their first order or it might be a free gift they can claim at checkout.
This not only provides your subscribers with an incentive to go and check out your stuff, it also pushes them further down the sales funnel.
You see, when someone buys one thing from you, they're more likely to come back for more.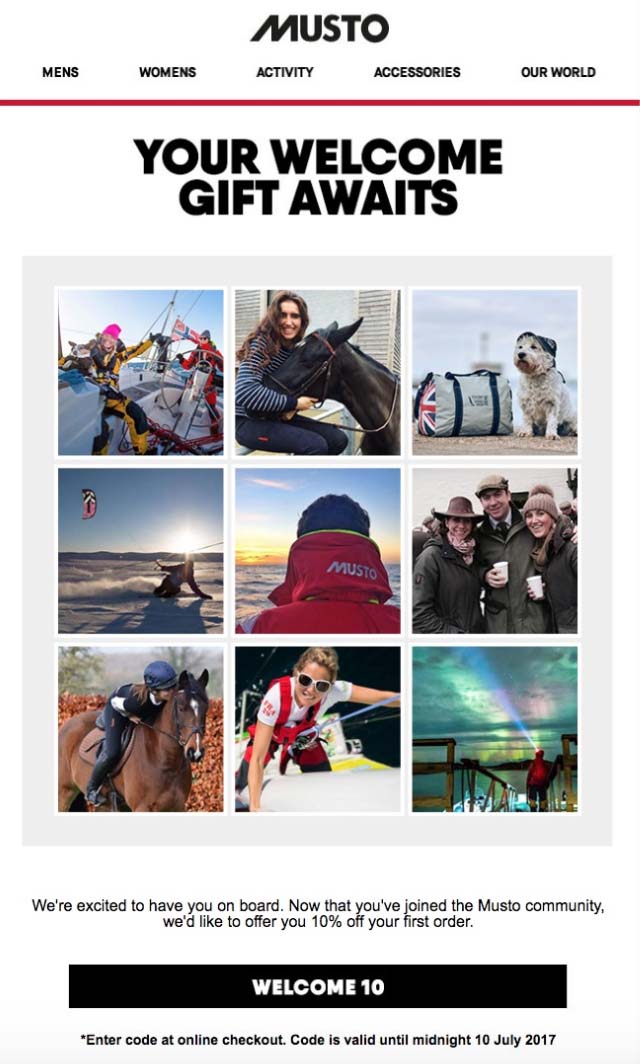 This welcome email from Musto offers new subscribers 10% off their first order by giving them a special code to use at checkout.
You'll notice that a lot of brands are doing this at the moment, and there's a good reason for that – it works.
4) Show, Don't Tell
It's all well and good reeling off paragraph after paragraph about who you are, the history of your brand, and why subscribers should be buying from you rather than your competitors, but it's better to show them this stuff.
There's an old saying in the fiction writing world that goes "show, don't tell" which should be transferred into your welcome emails (and every other piece of communication you write).
This is because words are empty. Think about how many emails your subscribers get a day from other brands. They're bored with reading. They want proof.
And video is a great way to provide them with this proof.
You can use the power of videos (seriously, it's a really powerful marketing tool at the moment – some brands have recorded a 41% increase in click-through rates when they include a video in their emails) to show new subscribers the value you offer and to give them an insight into your brand personality.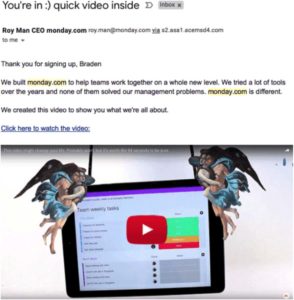 This welcome email from Monday.com features a short spiel about what the brand does, but the main event is a video that shows subscribers how it all works, which is much more powerful and engaging.
5) Show Off Your Expertise
Expertise builds trust – fact.
Your subscribers joined your mailing list for a reason, either because they want to hear from you because they like what you're saying, or because they wanted to access a valuable piece of content.
Either way, they assessed the value of your expertise and decided they needed it in their lives (or their inboxes), so don't let them down with your welcome email.
You want to keep up the value you're offering and continue to showcase your expertise. To do this, you can link out to your best content or share stats and studies related to your industry.
This will boost your authority and start building trust with new subscribers.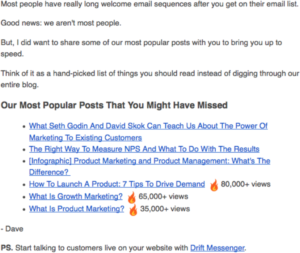 This welcome email from Drift shares a selection of the most popular posts on the site, which gives new subscribers a whole load of value to dig into right from the get-go.
Make Your Welcome Email Work For You
Your welcome email is the first piece of intimate, one-on-one contact you have with new subscribers.
It's the first piece of communication they'll receive directly to their inbox, so it's vital that you make it count.
By including a CTA, sharing your expertise and the value you can offer, and offering something exclusive, you're making the most of being fresh in your subscribers' minds. You'll start building trust and authority which eventually leads to more sales and long-term customers.
Guest post by Ryan Gould, Vice President of Strategy and Marketing Services at Elevation Marketing