Building a site and/or a blog that helps you stand out from the crowd, generate leads and attract a lot of visitors is (nearly) a full-time job. However, it's always worthwhile to take a step back and analyse your website or blog from the user's perspective.
Specifically, ask if you are paying enough attention to your contact page? Did you invest enough time in order to create the perfect page to turn visitors into leads?
Can you create it with lead generation in mind? Can you make it your most potent piece of website marketing?
Yes, you can. And, with this article, I am going to show you how and why. Let's dig in!
Why is the contact page important? Why invest time in designing the perfect contact page?
When it comes to a website or a blog, there's no communication tool as good as the contact form. It is the main gateway for the visitors that land on your page which allows them to contact you, share their opinions and ask you questions that are relevant to your marketing plan.
Let's take a look at some of the benefits of having a good contact page.
It offers your customers/visitors an easy way to contact you. And, this is one option you cannot ignore as it may be critical to your business's success. Consider that your potential customers may be hesitant at some time, not knowing exactly what they need or what to expect from you.Having a contact page allows them to get in touch with you and learn about your product or services, your prices, and promotions. If you get back to them and know how to sell yourself, you are one step closer to closing a deal.
It allows you to learn more about your customers. At this point, you already have some sort of analytics on your website. This will provide you with valuable information on your visitors and the pages they read. A contact form will allow you to collect even more data.
It may help you generate leads and convert visitors into customers. Visitors on your website are most of the time anonymous. Sure, you get to collect some data in the form of cookies but it may not help you a lot since you don't know any personal detailsThe contact page provides you with exactly what you're missing. It will provide you with the opportunity to respond to users' request and engage in active communication to convert them into paying customers.
It may be your best option for a landing page. Landing pages are as important as your website, especially if you plan to market your business on social media or pay for digital advertising. As long as it is focused on conversion, contains minimal distractions and it is designed as simple and intuitive, your contact page may help you convert easier than any other page on your website.
How can you add and set-up a contact page?
The available options depend on your Content Management System, obviously. Since WordPress is the most popular CMS these days, I will use it as a reference for advice regarding the technical aspects.
You have three options:
1) Buy a theme that already features a contact page and adjust its design
2) Code the contact page yourself from scratch and design it by yourself
3) Install a contact page plugin and adjust the design of the page only
This is not an article about coding. Therefore, I am going to talk about the visual aspects and the design of the contact page only, as well as the elements that should not miss ofit. Here are my best pieces of advice regarding this issue:
1. The placement of the contact page
You want people to get in touch with you and contact you for quotes, more information on your products and services, etc. Should you place the contact form on the "About" page? Or, should you place it on a dedicated "Contact" page?
Well, it depends on your website and of course, on your audience. The most obvious place to add a contact form is on a dedicated "Contact" page, of course. People see it on your main menu and access it with ease. If you don't want to create a dedicated page, however, you can add your form on the "About" page as well.
However, when someone accesses such a page, they will more likely seek out more information about you or your business. Placing the form on top of the page will push down the description. Placing it at the bottom will make it invisible for all those who do not have the patience to read everything you've written about yourself. The conclusion is that a dedicated page will be more suited.
However, in case your website's main page is based on a portfolio or a business design, with all the information right up there for the clients to see them, it may be suitable to include the form right there.
If you are writing on a blog that is intended for content marketing and it is somehow separated from your main website, you might consider including the form on your sidebar so that people who land on your most popular blog pages could access it.
Let's see some examples:
Hootsuite, welcomes its users with an easy to notice "Contact Page" link right in the header menu of the website: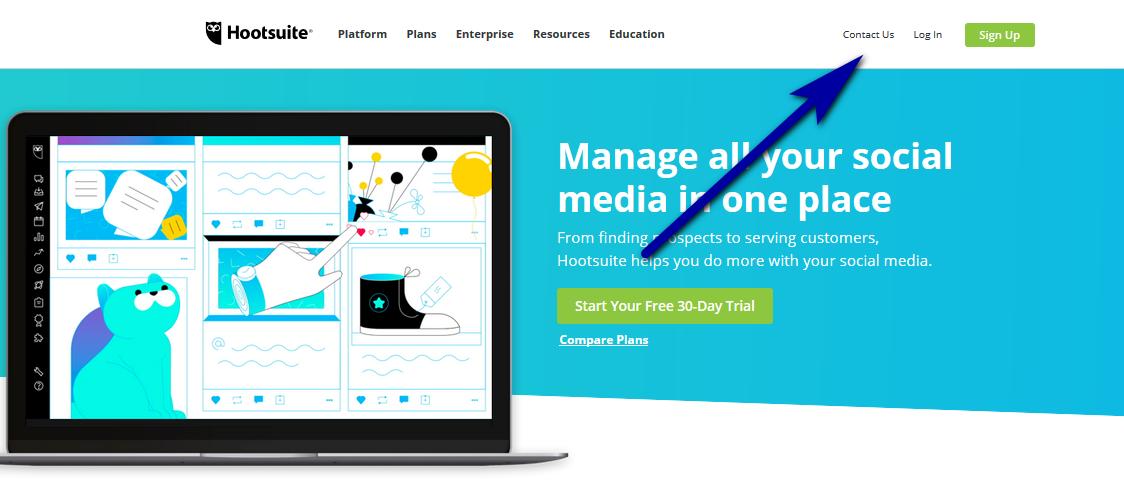 On Scribd, on the other hand, the Contact link is available in the footer section of the main page:
2. Use as few form fields as possible
The length of the form matters a lot. The size matters as well but as long as you have access to accelerated pages, it shouldn't be bothering you that much.
The length, on the other hand, comes with a series of other issues you need to solve. These days, when people's patience and attention span is limited, you need to make sure they don't have to work a lot in order to convey a message to you.
You need to reduce the number of fields they have to fill in order to send a message to you.
If it is too long, users will stop and evaluate whether it is worth it or not to complete it. If it's short enough, they'll just complete it and send you the message.
And yes, you can increase the number of conversion with up to 120 percent if you reduce the number of fields in your contact form.
And, here's an example of a simple, convertible contact form from Neil Patel's website: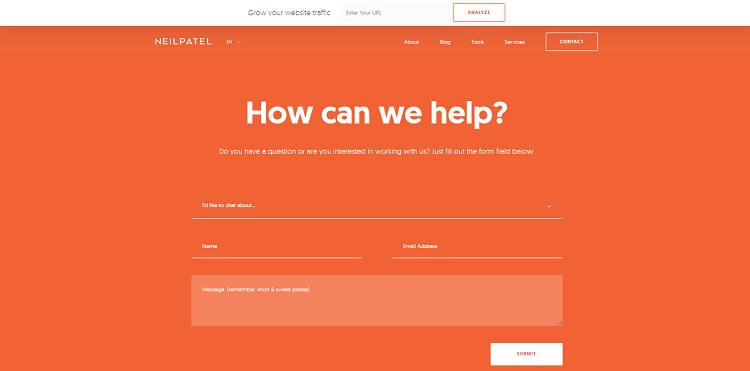 As you can see, the owner of the website does not require from their visitors/customers a lot of effort.
All you need to do is fill in your name and email address.
Of course, you can add one or two more fields if you want to collect more data from your visitors/customers but always make sure that there is not a lot of effort to fill in these fields.
3. Don't ask for sensitive information
You don't need to know your customers' pet names, their zip codes, their goals in life and so on. For a quick conversion, all you need is an email and a name. Stick to that. Later, as they convert to regular customers, you'll get more information about your demographics. Until then, stick to what's important.
Look at this simple yet effective contact form published by Zendesk: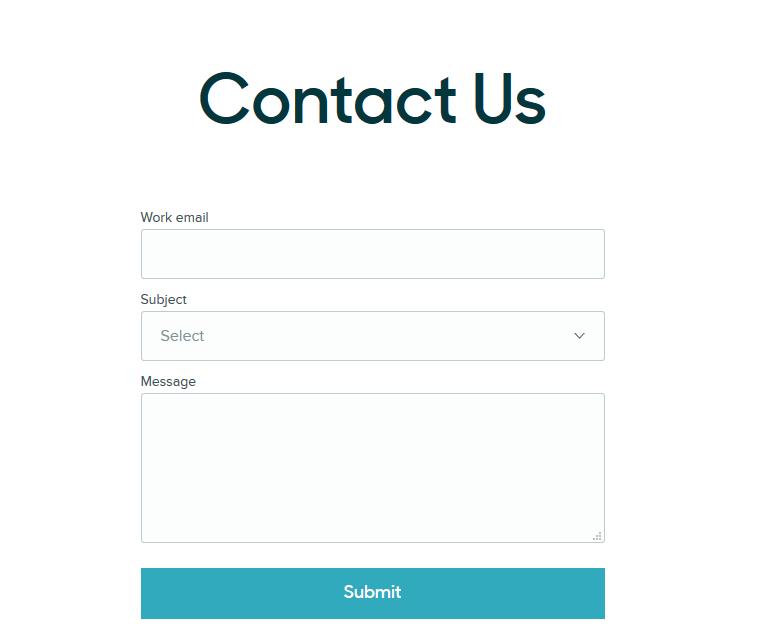 What's even greater is that they have everything they need in this simple contact form. They have a subject and a message and again, the single most important personal information for getting back to the user: Their email address. Most of the time, this email address will be more than enough for customer acquisition and retention.
4. Ditch all the "required" fields
Some people are not willing to give up all the information the contact form fields require. Therefore, instead of making some of your fields mandatory, just live them as regular forms and only ask for the email address as a required field.
Let your users decide what kind of data they are willing to make public and what not.
In the end, you need conversions aren't performing a census.
And, here's the example. It comes from Melonfree.com.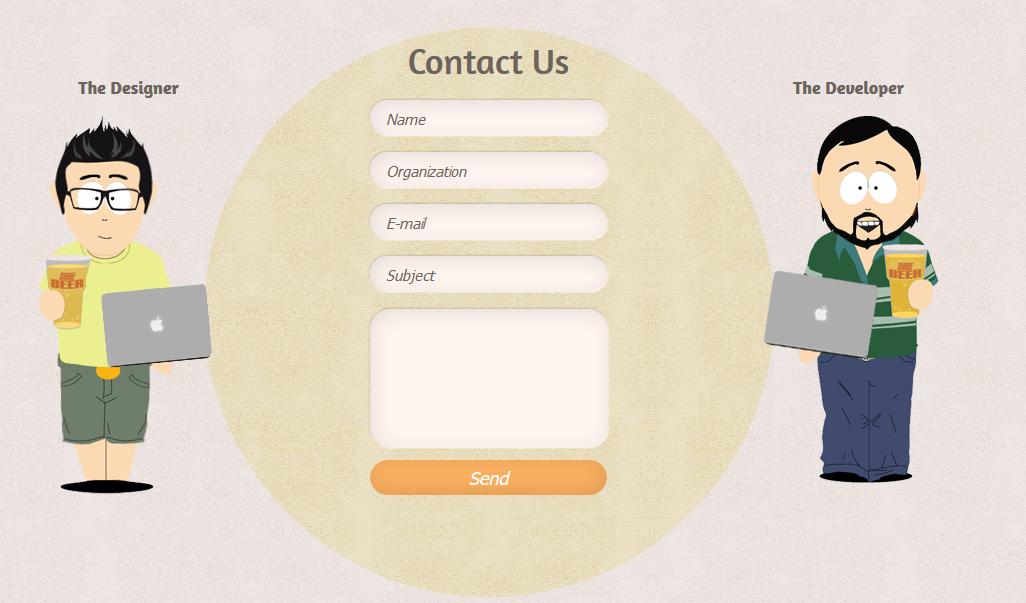 As you can see, there is no required field there. You just input what you think matters for you in order to receive a response and that's all. Also, you can get inspired from the previous example as well. Zendesk's contact form misses the required fields as well.
5. Help your users complete the forms
Just in case you need more information from the people who use your contact form, make sure you provide additional information along the way.
To this end, you can add descriptions inside your forms or, add a few pop-ups that follow the user's journey and help them input the right information. Or, you can just design a FAQ-type contact page that follows the user through their journey that leads them to finding answers, just like the Scribd contact page does: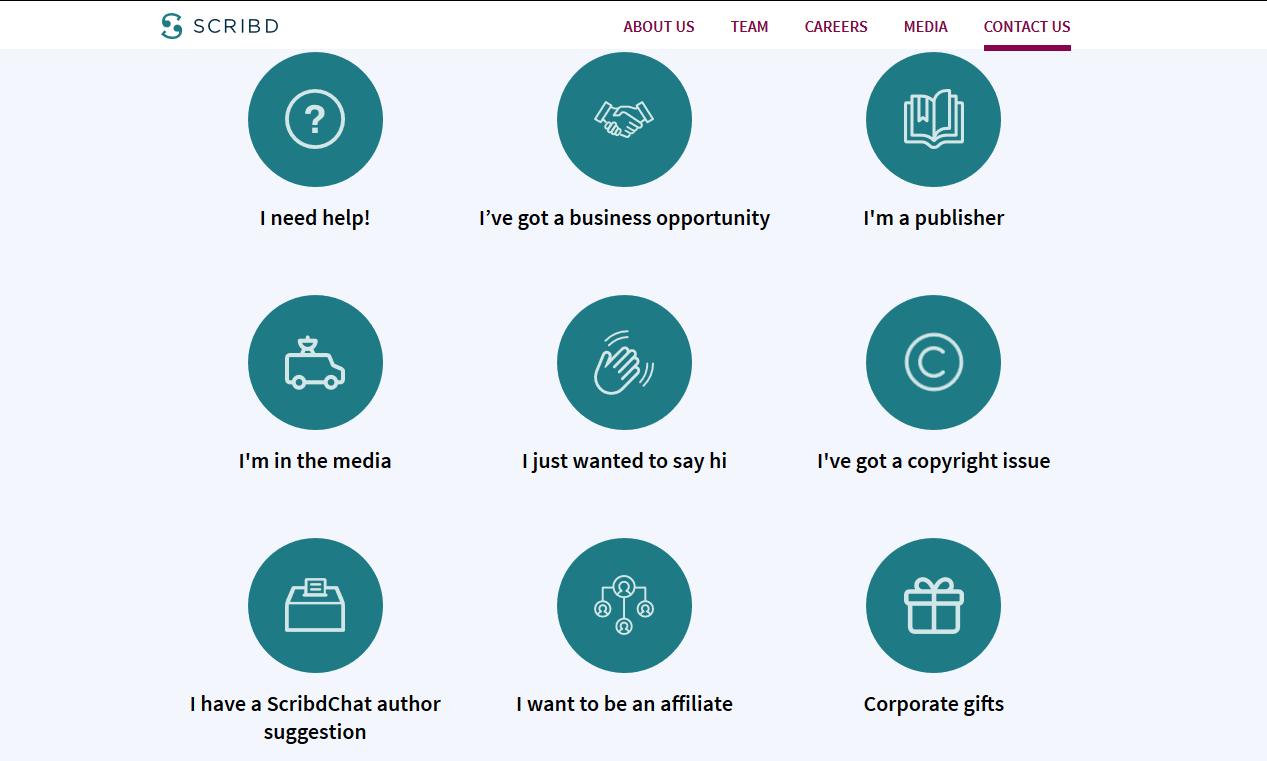 6. Come up with a solid call to action
Most of the contact pages you will come across, feature CTA buttons with a simple message. "Send" is probably the most common CTA in these cases.
However, you can spice up a little bit and greet your users with something different. You can go with anything starting from "Send your message", "give me a price Quote", "Send it", "Let's get things working" or "Let's get your laptop fixed", "Let's get you a new phone" and so on. The chosen message depends on what you are selling, be it a service, a product or a brand.
Bake Suarez's example is more than perfect for this concept. His call to action is original, out of the box and inspiring at the same time. "High Five!"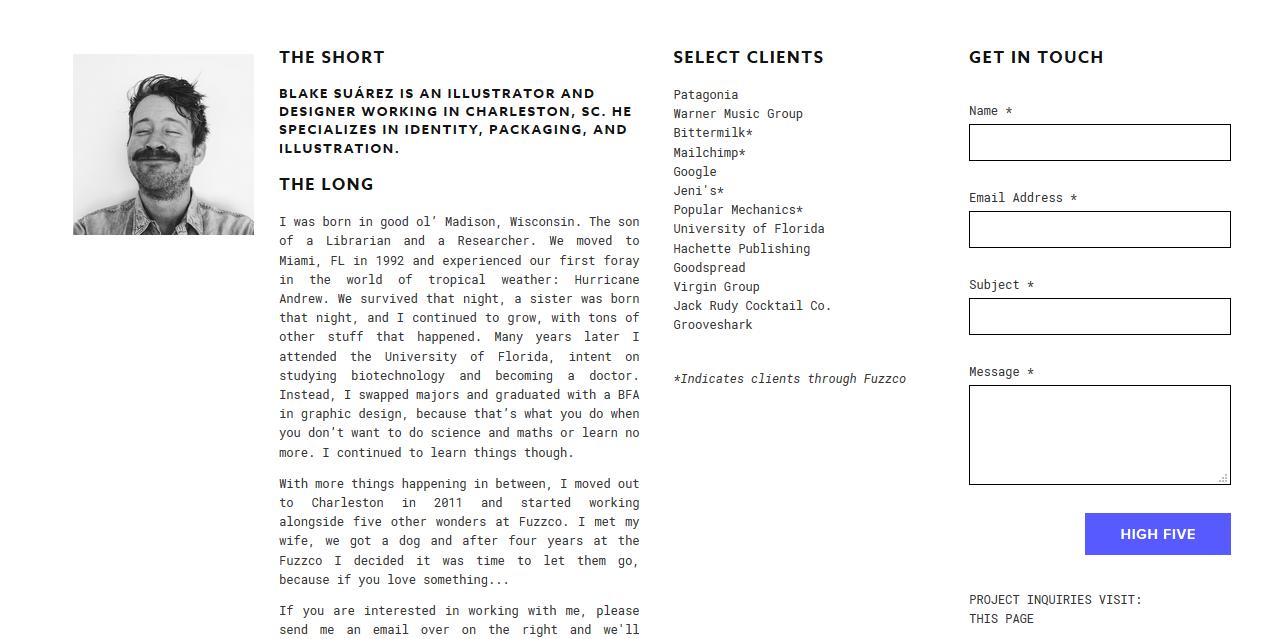 7. Adjust the surrounding space
Typography is important but at the same time, it is important how you integrate that specific typography into your page. You should choose readable fonts at a readable size but at the same time, you should choose carefully your white spaces and make sure your page is not cluttered.
You need a professional design. And, a professional design starts with the white spaces.
The guys at White Frontier did a good job regarding typography and the surrounding space.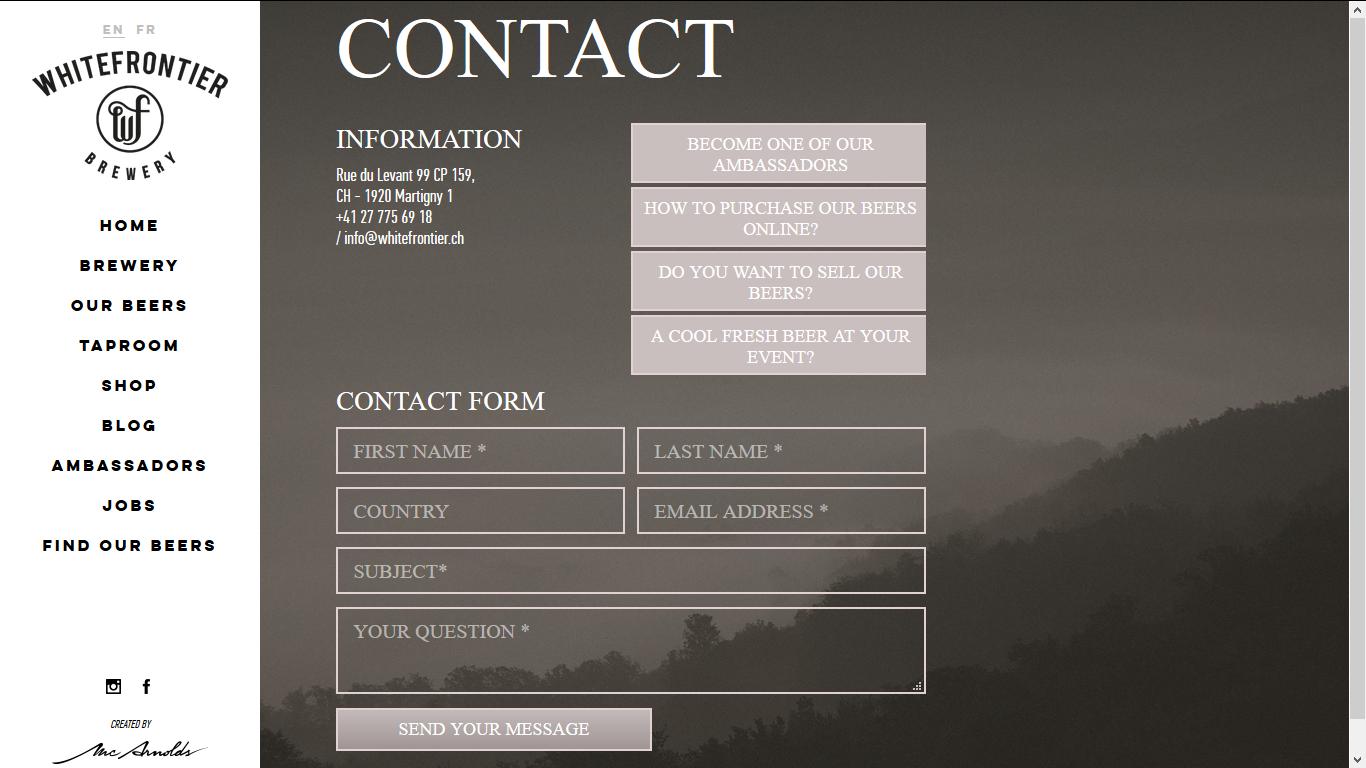 The space surrounding the contact form gives the whole page elegancy. Also, the typography is similar to the logo of the company and the general script of the website. It shows consistency and attention to branding as well.
8. Test your forms
You might be amazed at how many marketers and webmasters forget this step.
It's even more amazing, considering that this is one of the most important steps in the entire process of designing and coding a contact page.
You need your readers, fans, customers, and followers to be able to convey a simple and effective message. You've considered all the above pieces of advice and you expect them to get in touch with you.
Yet, no message is received.
Why? Well, check out the code. Check out the email address you have used. Check out every single piece of code and make sure nothing is amiss. A tiny error may make all your efforts useless.
9. Confirmation message
Another important part of the contact page is the confirmation message. This message can be automated or you can write back to each one of your customers, thus personalising your response.
You can add a thank you note to the submit button or you can send a whole new mail to the person who contacted you.
Here's a great example from Kentucky Guild of Brewers that might show you exactly what I meant when I've mentioned the confirmation message.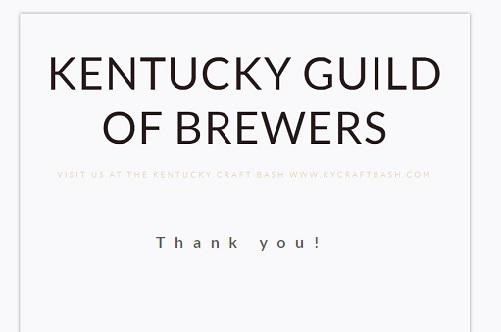 10. Give your users a reason
Explain to them why should they contact you and what the benefits are for doing so. There are a lot of motifs for a client or a blog reader to make contact.
Make these reasons obvious on your contact page. Fill it up with text explaining why they should make the contact and what are the benefits coming from this action.
Here's an example from Infinum: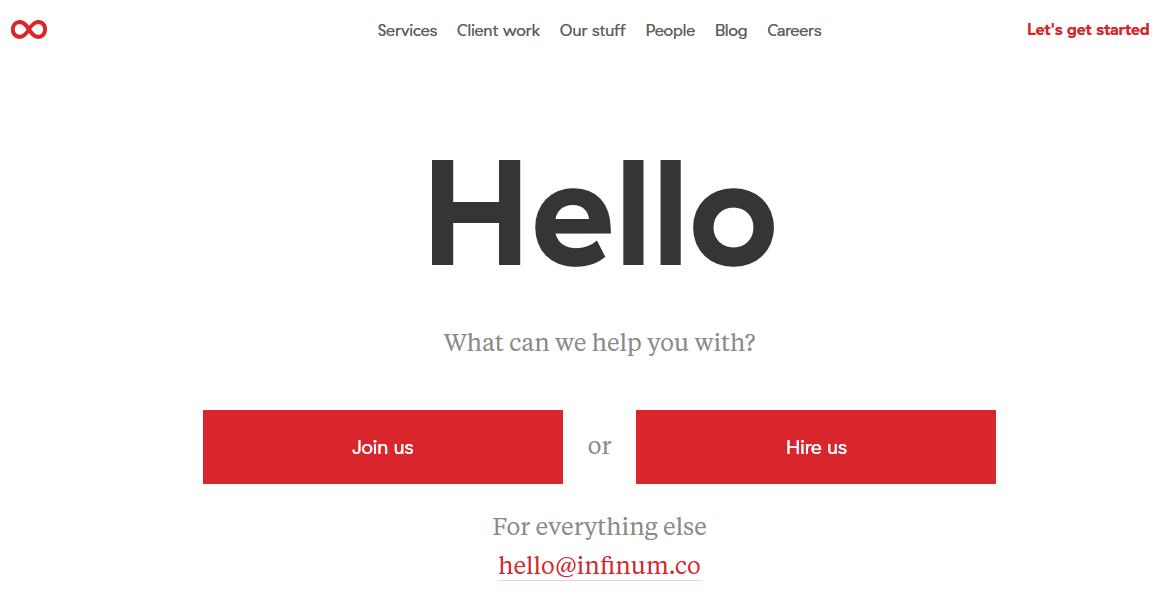 Their contact page features two main areas, two buttons that personalise the user experience. You can either choose to send a commercial message or join their network. This is a simple yet effective contact page that should inspire you.
11. Highlight your social media profiles
There will always be users that will want to contact you via social media. More than half of the Internet users are already following brands and businesses on social media. They will contact you on Facebook, Twitter or Instagram.
A lot of people who will find your website via search engines. More likely, they all have social media accounts. Leverage this knowledge and turn it into a lucrative marketing strategy. Let the people who love email to contact you via email and those who use social media to contact you via a social media channel.
Here's an example from Panache, a French company, that includes the social media profile ito this beautifully designed contact page: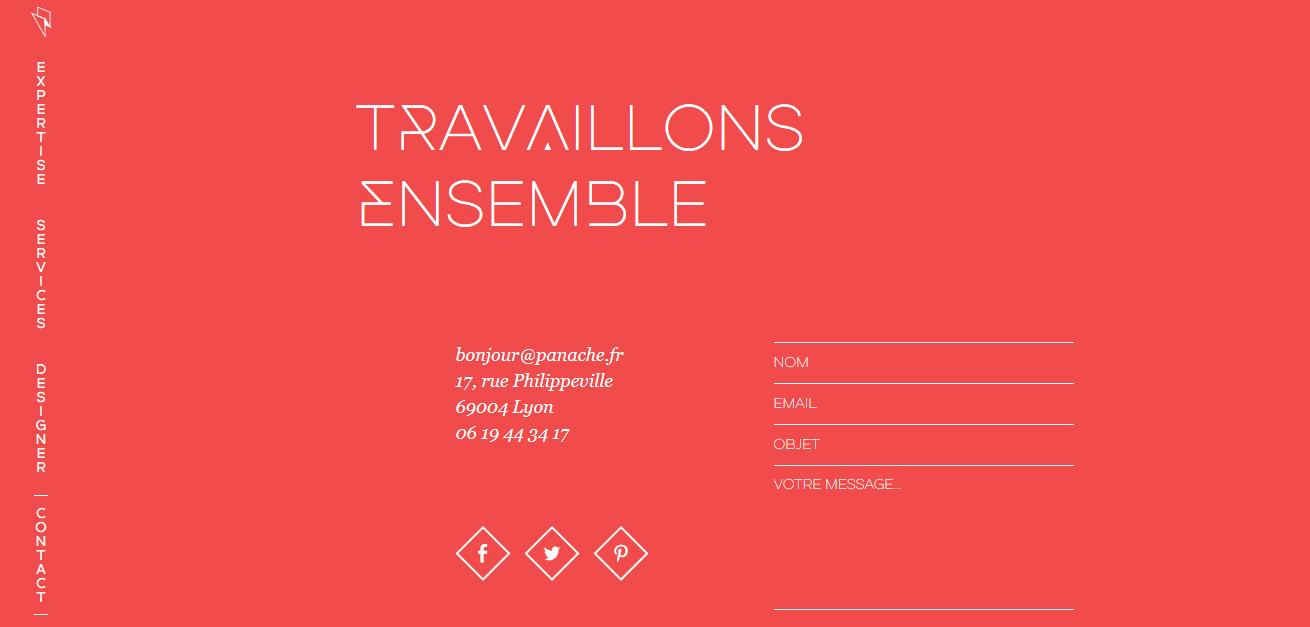 12. Lose the CAPTCHA
For me, the CAPTCHA option is a major step down. Most of the time, you have to deal with hard to read sequences of letters and numbers which you don't always get right. You get frustrated, angry, anxious and possibly you leave the page without submitting your question.
A page without CAPTCHA, on the other hand, is easier to complete and the "Submit" button will more likely deliver the user's message right away.
All the above examples are of pages that do not contain CAPTCHA and allow the messages to be sent instantly. If you want to see yet another example, here's one from Mark Jaworski Studio: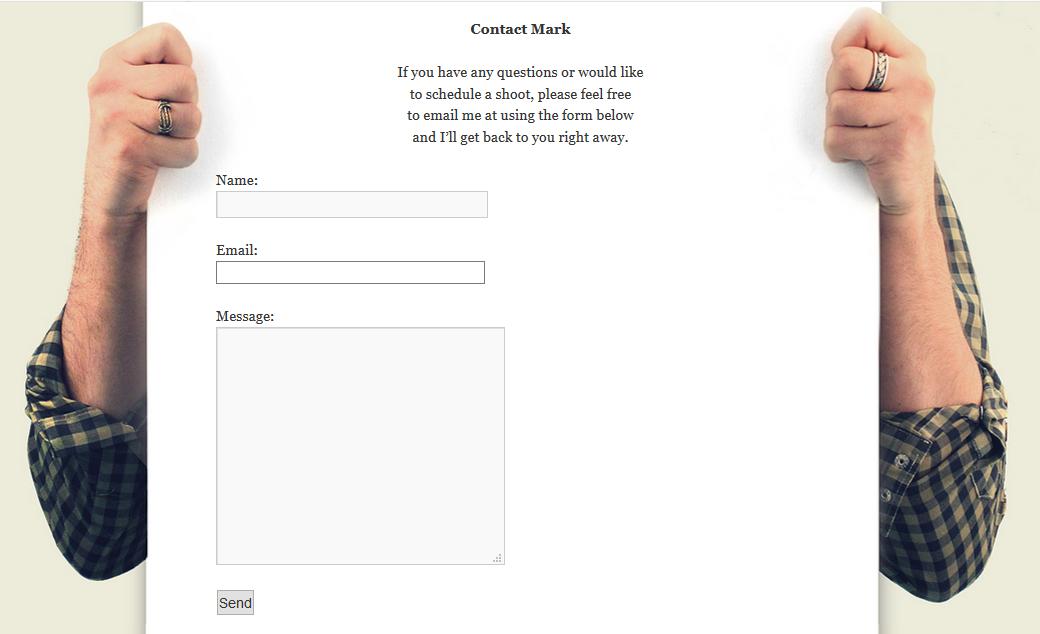 13. Use it as a landing page
Social media is great for promotion, marketing, and advertising. However, in most of cases, you will need a landing page for those ads and marketing focused posts. Considering that more than 50% of the overall success of a social media promotion comes from the landing page and considering that you need the audience to contact you and engage actively in making a commercial decision, you can leverage the landing page as one of the most powerful landing pages you have.
At the same time, you can include your contact page as a landing page into your social media account and allow your fans or customers to contact you without leaving that environment.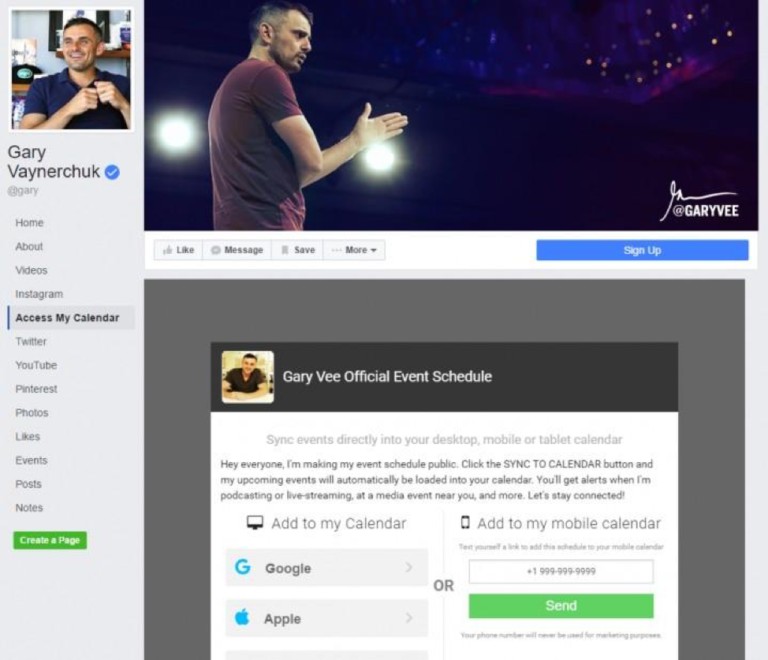 14. Consider branded visual elements for your landing page
Start by acknowledging that every landing page should feature some type of visual content. Your contact page can easily be the landing page for your social media marketing campaigns or merely the landing page for those who seek out more information on your business, your products or services.
There are at least five visual elements you should include in your website and implicitly, on your contact page. These elements include branding elements, featured images, author's bio, social proof, and CTAs.
Our final example, comes from Mooze Design and shows us how simple yet effective the branded elements inclusion is on a contact page. As you can see, we have the branded logo character and the branded colors as well, all mixed together into a beautifully designed page. Get inspired from their choices and try to copy the idea when designing your own contact page or forms.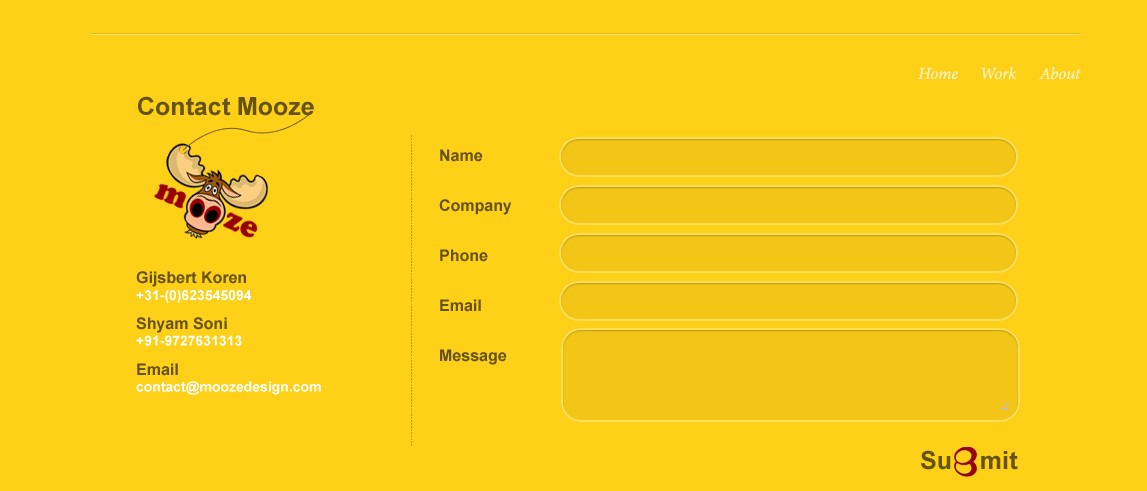 Conclusion
Contact pages are essential for your marketing success. They allow your customers to get in touch with you, they allow you to engage in active communication with your customers.
With this article, I tried to come up with some of the best strategies for building an effective contact page that converts and generates leads. I hope that my advice was easy to understand and follow.